Career Summary:
Masahiro Hasemi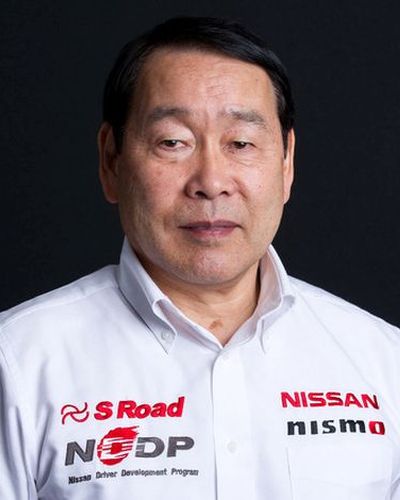 November 13, 1945

73

Japan

Not Active

435

41

104

34

3

9.43%

23.91%
The former racing driver and team owner Masahiro Hasemi is one of the greatest and most versatile Japanese racers ever, with many championship titles in different disciplines on his account. He was successful in all sorts of racing, from touring cars and GT cars to prototypes and formulas, winning championship titles in the Japanese Formula Junior, Japanese Formula 2, Fuji Grand Champion Series, Japanese Touring Car Championship and Japanese Sports-Prototype Championship.
Hasemi won the Japanese Grand Prix in 1975 when it was a non-championship race. A year later, he recorded his only Formula 1 World Championship start by participating in the Japanese Grand Prix with Kojima.
Some other Hasemi's notable wins were at Macau Guia Touring Car race in 1990 and at Daytona 24 Hours in 1992. Hasemi ended his racing career in 2000, at the age of 55.
Masahiro started to race in motocross
Born in November 1945 in Tokyo, Masahiro Hasemi raced in a motocross as a teenager. In 1964, he switched to car racing, driving Nissans in touring car races. In the late 1960s, he gained some success in sports car races driving a Porshe 906 or Lola T70-Chevrolet.
In the early 1970s, Hasemi was combining touring cars and sports cars, including Nissan Fairlady Z,  Lola T212-Ford or March 73S-BMW.
First championship titles in 1974
In 1974, Hasemi proved his versatility successfully competing in different disciplines and winning his first championship titles. He won Fuji Grand Champion Series at the wheel of March 73S-BMW and Japanese Formula Junior 1300 at the wheel of March 733-Nissan.
He also won one race in the Japanese Top Formula Championship (Formula 2), driving Surtees-Ford or March-BMW for Kojima Engineering and finishing second in the points.
Japanese Grand Prix victory in 1975
In 1975, Hasemi defended his championship title in the Formula Junior and finished third in the Formula 2000 after he won two times in four races. He was also active in the Fuji Grand Champion Series but without any success.
The highlight of the season was a victory in the Japanese Grand Prix that took place at Fuji Speedway. It was the last Japanese Grand Prix in the pre-F1 era.
Hasemi recorded one and only F1 attempt in 1976
In 1976, the Japanese Grand Prix became a part of the Formula 1 World Championship and Hasemi participated in that race, driving the #51 Kojima KE007-Cosworth for Kojima Engineering.
After starting tenth on the grid, he finished the race in 11th place, seven laps behind race winner Mario Andretti and the last among drivers who didn't retire. Due to a measurement mistake, it was announced that Hasemi set the fastest lap in the race but a few days later that mistake was corrected.
Earlier that season, Hasemi raced with Kojima in the Japanese Formula 2000, scoring two podiums and finishing second in the points.
Four championship titles from 1978 to 1980
Hasemi's unsuccessful attempt in Formula 1 didn't interrupt his successful career in Japan. In the following years, he won three championship titles in two single-seater competitions – Formula 2 and Formula Pacific.
He was Formula Pacific champion first in 1978, driving a Chevron B40 (Nissan), and then again in 1980, driving Chevron-Nissan and March-Nissan for his own team. In 1980, Hasemi was also Formula 2 champion with March-BMW.
The season 1980 was fruitful for Hasemi because he was a triple champion that year, also taking a title in the Fuji Grand Champion Series for the second time.
Hasemi and Paul Newman raced together at Riverside
In April 1981, Hasemi had an interesting guest appearance at Riverside 6 Hours, the round of the World Championship and IMSA Championship.
He was sharing the #33 Bob Sharp Racing's Datsun 280ZX Turbo with famous actor-racer Paul Newman. They didn't finish the race.
Two attempts at Bathurst 1000 with Nissan
In 1981, parallel to his commitments in Formula 2 and Formula Pacific, Hasemi reactivated himself in touring car races, participating in the greatest Australian race, the Bathurst 1000. He was sharing the #56 Nissan Bluebird Turbo with Kazuyoshi Hoshino, not finishing the race.
Hasemi and Hoshino returned to Mount Panorama in October 1982, again in the #56 Nissan Bluebird Turbo. Hasemi secured the third spot on the starting grid. They finished eighth overall and as the winners in B class.
Le Mans 24 Hours debut in 1986
In 1983, Hasemi raced with Nissan Skyline Turbo in Japan only, including FIA WEC round at Fuji. In 1984, his main race car was a Group C prototype LM 04C-Nissan. Hasemi intensified his sports car activities in 1985 but still without any notable success.
Then, in 1986, Masahiro Hasemi made a debut at 24 Hours of Le Mans. He was driving the #32 Nissan R85V for a factory team, sharing a car with James Weaver, Takao Wada and Aguri Suzuki. They finished 16th overall. Next year, the trio Hasemi/Wada/Suzuki returned to Le Mans in a Nissan R87E, not finishing the race.
Four championship titles in four seasons
After a long period without championship titles, Hasemi reached the top again in 1989, triumphing in the Japanese Touring Car Championship at the wheel of legendary Nissan Skyline GT-R which he was sharing with Anders Olofsson. In the same year, he also raced in national and global sports car championship but also in the Japanese Formula 3000. He recorded one more DNF at Le Mans, driving a Nissan R89C.
In 1990, Hasemi was fifth in JTCC but won a title in the Japanese Sports Prototype Championship driving a Nissan R90CP. In that car, he also recorded a good result at Le Mans, finishing in the fifth place, together with Kazuyoshi Hoshino and Toshio Suzuki.
In 1991, Hasemi clinched his second JTCC title, together with Anders Oloffson in a Nissan Skyline GT-R.  The third JTCC title and the fourth title in four years came in 1992. This time, Hasemi's partner in a Nissan Skyline GT-R was Hideo Fukuyama.
Sensational victory at Daytona 24 Hours in 1992
In February 1992, Hasemi scored one of his greatest wins in a career, triumphing at Daytona 24 Hours. His partners in the victorious #23 Nissan R91CP were Kazuyoshi Hoshino and Toshio Suzuki. It was the first and only time in a history that Japanese drivers won the greatest American sports car endurance race.
In August 1992, Hasemi also participated for the first time at Spa 24 Hours, driving the #1 Nissan Skyline GT-R. He was sharing a car with Anders Olofsson and David Brabham. They retired after a fire in the pits.
Masahiro Hasemi ended a racing career in 2000
In the following few years, Hasemi raced in Japan only, driving Nissan Skyline GT-R or Nissan Primera for his own team. He was a runner-up in the Japanese GT Championship in 1994 and 1995, both times behind another Nissan driver Masahiko Kageyama.
In the 1996 Japanese Touring Car Championship, Hasemi made an unusual switch to Opel Vactra but the results were disappointing. In 1996, he also returned to Le Mans with Nismo, driving the #23 Nissan Skyline GT-R LM and finishing in the 15th place.
Hasemi raced with his own team in the Japanese GT Championship until 2000. In August 2000, he had a one-off attempt with Team Take One's McLaren F1 GTR at Suzuka 1000, finishing in the second place together with Hideki Okada and Tetsuya Tanaka.