Best Electric Adult Trike for City Riding: Addmotor Grandtan City
Are you looking for a convenient and eco-friendly way to get around your city? Instead of cars, buses, or even electric scooters – one of the best ways to get from A to B is on an electric adult tricycle! Addmotor Grandtan City E-Trike is one of the top models available on the market, offering riders a comfortable ride with great speed & range. With its 3-inch mini fat tires, 750W electric motor, and EB 2.0 UL-certified battery pack, it's designed perfectly for commuting in town streets.
This article will give you an in-depth review of everything that makes this e-tricycle a great choice for newcomers and experienced cycle commuters alike.
Addmotor GRANDTAN CITY E-Trike Review
Get ready to experience the revolutionized GRANDTAN CITY 3 Wheel Electric Bike and take your urban rides to the next level! This top-of-the-line electric tricycle features 24″ (F)/20″ (R) x 3″ fat tires designed specifically for city and urban road riding. A 48V*750W Bafang brushless motor powers it, so you won't have to worry about running up hills during your adventures. Its upgraded battery can travel anywhere from 90+ miles per charge when using the pedals assistance system (PAS1). Not only this, but with a massive 350+100lbs payload capacity, you can bring along all of your gear without any worries.
Additionally, Grandtan City is compatible with the latest EB 2.0 electrical system, G5 head tube, and G3 controller protector, ensuring you enjoy smooth and enjoyable rides every time!
For leisurely cycling in the city, buy Grandtan City on Addmotor.com
Whether navigating busy cities or zooming around small neighborhoods, you can have all the confidence of a three-wheeled ride without any hassle. Its adjustable backrest and low step-through frame make this e-trike easy to get on and off, regardless of your ability level. You can even pick from 6 different colors to find the look that's just right for you.
Grandtan City's 3-inch fat tires are perfect for your city exploration. With their flame-like patterns and varying wheel sizes front and back, three-wheel electric bike is designed for a smooth and powerful ride, even on paved paths and roads. It won't skid or roll over easily, and with these tires, you'll be able to navigate an urban environment easily. The mini fat tires provide stability and control so you can enjoy the sights of the city worry-free!
With today's technology, powering through and conquering the toughest terrain is a piece of cake. Fat tires, a powerful 750W motor, and front suspension (80mm of travel) give you the confidence to flatten hills, blaze through grassy fields, and speed up your commute. Have a long ride ahead? The large rear basket will provide plenty of room for all your necessities: day packs, picnics, or extra layers to protect you from the cold. With nothing weighing down your shoulders or hands, no journey will be too difficult to take on.
Addmotor Grandtan City Features
24″ (F)/20″ (R) x 3.0 Mini Fat Tires
48V*750W Addmotor brushless motor
90+ Miles Per Charge when using PAS 1 mode (8 mph)
350+100lbs payload capacity
Compatible with the latest EB 2.0 electrical system
G5 head tube, G3 controller protector
Adjustable backrest
Low step-through frame with footrest
6 color options
Pros
Smooth and powerful ride
Stable and easy to navigate
Flat Tire protection
Plenty of room for all your necessities
Cons
FAQs
Does the Grandtan City 3 Wheel Electric Bike come with a warranty?
Yes, the Grandtan City 3 Wheel Electric Bike comes with a one-year limited manufacturer's warranty.
Can this e-tricycle handle uneven terrain?
Yes, this e-tricycle features fat tires and a powerful electric motor that makes it suitable for riding on all surfaces. But it would the best for riding on paved roads. For tough terrains, Grandtan Plus e-trike, with 4-inch fat tires, is the best.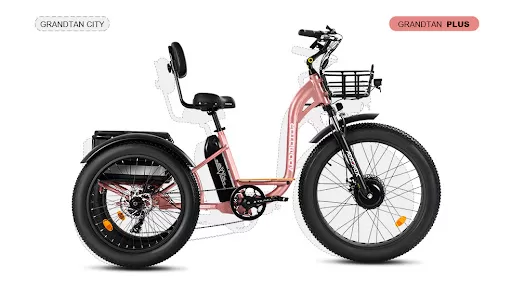 For adventure riding, buy Grandtan Plus on Addmotor.com
What is the maximum speed of this tricycle?
The Grandtan City 3 Wheel Electric Bike has a maximum set speed of 20 mph, which complies with U.S. legal.
Conclusion
Whether you're looking for a way to get around town or want to explore the great outdoors, the Grandtan City 3-wheel electric bike is one of your best options. With its powerful motor, large payload capacity, and fat tires that provide superior stability and control, you can be sure your urban rides will be smooth and enjoyable. So don't wait any longer and get yours today! You won't be disappointed.