Circuit Ricardo Tormo Valencia
The Circuit Ricardo Tormo, also known as the Circuit de Valencia and officially named the Circuit de la Comunitat Valenciana Ricardo Tormo, is a motorsport race track located in Cheste near Spanish town Valencia. The track is named after the two-time motorcycle world champion Ricardo Tormo and was built in 1999.
The race track was officially opened on the 19th September 1999 and it has become an iconic racing venue and has received many awards over the years. It has become one of the best racing circuits in the world.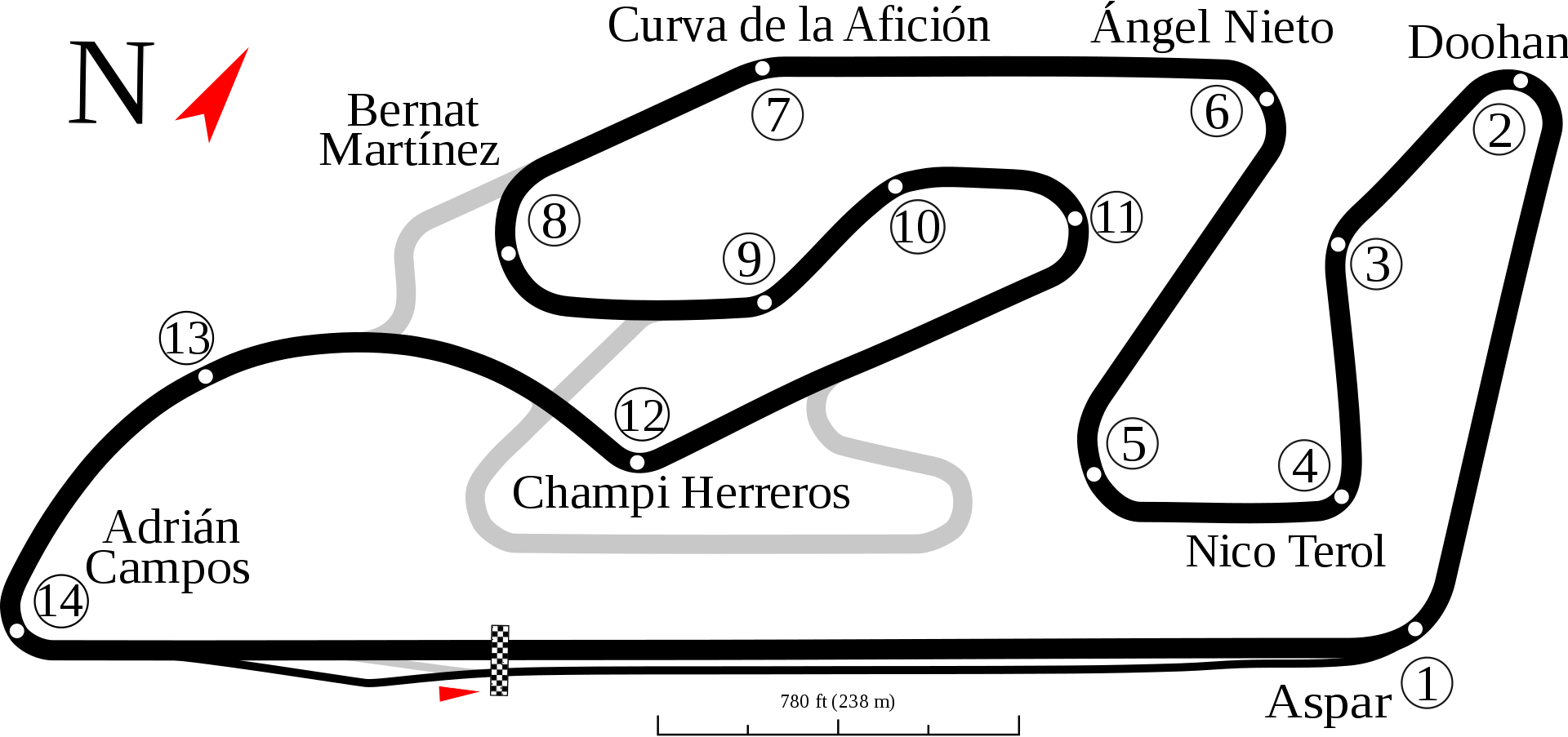 Formula One teams often had tests in Valencia
The circuit has a layout with the track inside the stadium. The entire track can be seen from the 65,000 seats in the stands, ensuring that fans do not miss out on any of the on-track actions. The full capacity is 120,000 places.
Demanding track layout and excellent facilities have made the circuit very busy with a 95% track occupation throughout the year with events and different activities. Due to excellent climate conditions during the winter this track is often used as a test track by the Formula One teams.
Dani Pedrosa won six times
The main racing event on the Circuit de Valencia since its opening was the MotoGP Valencian Community Grand Prix. It has always been the last race of the MotoGP season and many motorcycle champions were crowned there. The record-holder with six victories is Dani Pedrosa, who won three times in MotoGP and three times in the supporting categories.
The venue of many car racing competitions
When it comes to car racing, the Valencia track has hosted FIA GT Championship (2000 and 2004), World Touring Car Championship (from 2005 to 2012), European Le Mans Series (2007) and DTM (from 2010 to 2012). In 2015, the track hosted NASCAR Whelen Euro Series, TCR International Series, European Truck Racing Championship, King of Drift Europe and Ferrari Challenge Europe.
Pedro Lamy set the official fastest lap time
The length of the track is 4005 meters, with 14 turns (9 left and 5 right). The unofficial lap record is set by Anthony Davidson in F1 racecar Honda RA106 back in 2006, with a time 1.08.540 min. The official record of 1.25.234 was set in 2007 by Pedro Lamy during the Le Mans Series race with a Peugeot 908 HDi.
---
Address: Autovía A3 Valencia-Madrid, Salida 334. 46380, Cheste (Valencia), Spain
Phone: +34 902012899
Official website: www.circuitvalencia.com
---
Photos: flickr.com/euronascar, geocaching.com