Career Summary:
Benjamin Stewart 'Benny' Parsons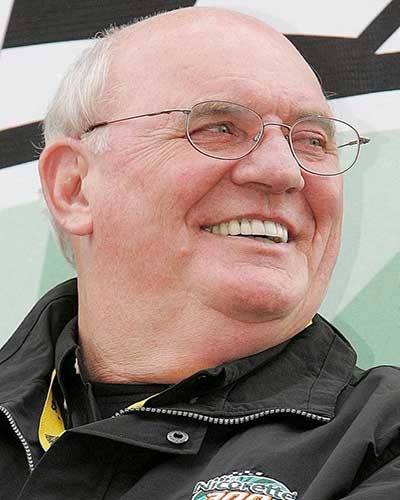 July 12, 1941

January 16, 2007

United States

Not Active

545

23

106

21

4.22%

19.45%
Benny Parsons was a NASCAR Winston Cup champion, but he is probably best known as one of the most popular and most respected TV commentators and racing analysts in the US. He was also the older brother of Phil Parsons, also former NASCAR racer and team owner.
Late start of racing career
His full name was Benjamin Stewart Parsons and he was born on 12th of July 1941 in Wilkes County, North Carolina. As a boy, he was more interested in American football than in the racing but when he moved to Detroit, to attend high school, he became more interested in cars. His father was the owner of the taxicab company in the city and Benny started to work for him.
He started to race at local tracks and relatively quickly debuted in NASCAR. It was in 1964 when he entered one single race with another future star, Cale Yarborough. However, Parsons had to be patient to get a proper chance in the most popular American racing series. Over the years, he won two ARCA Championship title in 1968 and 1969 what was confirmation that he is ready for a higher level.
1970 was Parson's first full-time season in NASCAR
His first full-time season in NASCAR was in 1970. Driving a DeWitt's car #72, Parsons finished in top 10 in half of the races that year and took 8th position in the overall standings. In the following year, he won his first race, at South Boston Speedway, and finished 11th in the championship. The season of 1972 again was very good for Benny who moved up to the 5th position in the standings and became considered as one of the best drivers in the series.
Benny Parsons - 1973 NASCAR champion
What he is capable of was seen in 1973 when Parsons won his only NASCAR Winston Cup Series title. Interestingly, this result was achieved after Benny Parsons won only one race that year, comparing to 11 scored by David Pearson. Anyway, Parsons drove at a high level over the whole year, scoring 21 top 10 finishes and 15 top 5 finishes in the 28 races he has entered.
What is also very interesting, he secured the title in the final race of the season despite finishing 28th. Luck was on his side after his biggest rival Richard Petty finished at 35th position after engine failure.
One of NASCAR legends
That was the biggest success in Parson's racing career, but before retirement in 1988. Parson had a total of 21 race wins in his career, including Daytona 500 in 1975 and World 600 in 1980. During 21 years, Benny raced in 526 NASCAR events, scoring 283 top 10 finishes. Parsons finished no lower than fifth in the Drivers' Championship between 1972 and 1980 what is another interesting fact.
In 1994 he became a member of the International Motorsports Hall of Fame, in 1998 he was named one of NASCAR's 50 Greatest drivers while in 2005 Parsons became a member of Motorsports Hall of Fame of America. Finally, in 2016 he was inducted into the NASCAR Hall of Fame.
Parsons had brilliant career as a TV commentator
Parson's career of TV commentator and analyst started when he was still racing in the mid-80's. Actually, for the beginning he worked as a pit reporter but when he has retired from driving in 1988, he became a broadcaster. He worked for various TV stations and always was highly respected. Working as an analyst for ESPN, he was awarded an Emmy in 1996.Until his death, Parson also worked as a co-host of a popular radio show called 'Fast Talk' on Performance Racing Network.
Video - Tribute to Benny Parsons
Parsons knew how to spot the talent
Except his racing and commenting abilities. Parsons always had a nose to find talented drivers at local racing courses. Former NASCAR's Truck and Busch Series champion Greg Biffle is just one of them.
In the summer of 2006, Benny Parsons was diagnosed with lung cancer and after complications, he died on 16th of January 2007. His death was a very sad moment for almost every fan of NASCAR because Benny was a lovely person, always positive and helpful.
Photo: midwestracingarchives.com foxsports.com nascar.nbcsports.com diecastcrazy.com