Career Summary:
Dale Earnhardt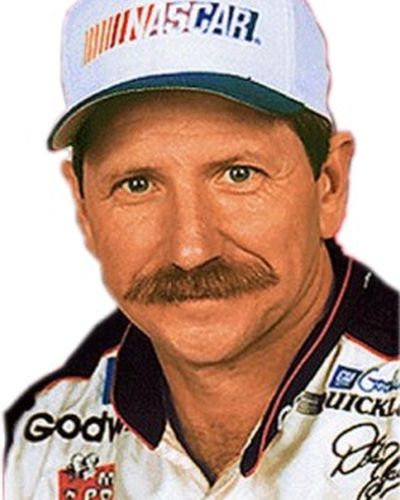 April 29, 1951

February 18, 2001

United States

Not Active

872

108

277

29

12.39%

31.77%
Without any doubt, Ralph Dale Earnhardt, what was his full name, also known as 'The Intimidator', is one of the best and most successful drivers in the history of NASCAR.
In his career Earnhardt won seven Winston Cup Series title, almost 80 races including Daytona 500, and also was four-time International Race of Champions winner. For his achievements, he was inducted into the NASCAR Hall of Fame in 2010. He was a true star of the most popular racing series in America.
Left a school to become a racing driver
Dale Earnhardt was born in Kannapolis, North Carolina, on 29th of April 1951. He grew up in hardcore NASCAR surrounding, with a father who was a well-known racer, so it wasn't surprising that Dale followed his father's footsteps and started competing in his teenage years. He left a school early, started to work as a mechanic and at the same time competed on the local tracks. His father, also called Ralph, wasn't happy with son's decision to become a racer but never prevented him from becoming a racer.
Earnhardt changed wives more often than he changed teams
Dale married early when he was 17 and soon became a father. The marriage didn't last for long and the pair divorced after two years, in 1970. The following year, Dale Earnhardt married for the second time and later in that marriage was born Dale Jr. future successful NASCAR driver and team owner. Sadly, in 1973 Ralph Sr. died of a stroke, without seeing his son conquering the ovals across America. A year later, Earnhardt divorced for the second time, soon after the birth of Dale Jr.
Debut in Winston Cup for Dale Earnhardt arrived in May of 1975, in the World 600 race at Charlotte Motor Speedway where he finished 22nd. Until the end of 1978, Earnhardt appeared in only eight races, without much success.
When Rookie of the year became NASCAR Series champion
In 1979 Dale Earnhardt for the first time drove a full NASCAR season for Rod Osterlund Racing. Osterlund was racing sponsor from California and he had full confidence in the abilities of his new protege. His decision to give a chance to Dale quickly proved as good. In his rookie year, Earnhardt managed to win the race at Bristol and continued with good results until the end of the season, becoming a first driver who earned $200.000 in his rookie year and, logically, was named NASCAR Rookie of the Year.
That was just the beginning of a remarkable career. In 1980, Earnhardt won his first NASCAR title. He scored five race wins that year and became the first and still the only driver who managed to win Rookie of the Year award and championship title back-to-back.
Move to Richard Childress Racing
He left Osterlund Racing to join Richard Childress' team, but the team owner suggested him to join Bud Moore Engineering. Dale spent there two years (1982 & 1983), had some good moments, but never was close to winning another title. For 1984 campaign, Dale returned to Richard Childress racing team and stayed there till the end. 'The Intimidator' in the same time married for the third and last time.
Two titles in-a-row
Before taking his second crown he had two pretty good years behind the wheel of Chevrolet Monte Carlo. In 1986, Earnhardt scored five race wins and 10 Top 5 finishes to clinch his second title and the first title for Richard Childress Racing. The season of 1987 was probably the best in Dale's career. He defended the title after being the winner of 11 races and finishing in Top 5 in 21 of 29 races what was a brilliant achievement.
Dale Earnhardt was a popular bad guy
He was popular as a self-promoted bad guy, he was respected by the fans, but it is hard to say that he was beloved. He earned his nickname after reckless driving style and many of his colleagues looked to stay away from Dale. Many times he was accused of deliberately pushing his rivals out of the race, just to take a win. Luckily, during 1987, he was warned by the NASCAR president and after that, he slightly changed his behaviour on the track and improved relationship with other drivers.
Video - Dale Earnhardt, The Intimidator
In 1988, Earnhardt earned another nickname, 'Man in Black', after the new color of his car. He won just three races that year to finish third in the championship. The following year Dale did better, clinched five race wins, but lost the title narrowly after a huge battle with Rusty Wallace.
Back-to-back titles in 1990-1991 and 1993-1994
Earnhardt was crowned Winston Cup champion for the fourth time in 1990 when he won nine races, narrowly beating Mark Martin and in the same time setting new earnings record of $3.083.056. Without too much pressure, Dale Earnhardt earned his fifth title and already had Richard Petty's success of seven titles in sight.
Championship winning streak was broken in 1992 in which 'The Intimidator' finished only 12th, mainly because mechanical failures. Earnhardt wasn't discouraged with that result and quickly bounced back. In 1993, Dale won his sixth Winston Cup title after some brilliant performances in the mid-season and at the end, he was 80 points ahead of Rusty Wallace. For the third time in his career, Dale Earnhardt managed to defend his crown. In 1994, his main rival was Mark Martin, but at his home race in North Carolina, a driver of Richard Childress Racing secured the seventh title to equal a record held by Richard Petty.
NASCAR legend - Shoulder to shoulder with Richard Petty
Earnhardt failed in an attempt to become the first driver with eight titles in the stock cars racing but set many records. In 1996, he became the first driver to start in 500 consecutive races while in the following year he became the first driver who earned more than $30 million. But, he was still missing one jewel in his crown – win at Daytona 500. He finished second for three times in his career in one of the most prestigious races and desperately wanted to reach top spot at the podium. He finally did it in 1998 and in the same year Dale finished in Top 10 overall for the 18th time in 20 years.
Earnhardt finds a missing piece of the jigsaw
Earnhardt fulfilled all his dreams with a win at Daytona but continued to race at a very high level. In 1999, he was 7th overall while in 2000 was runner-up. He won only one race that year but drove consistently throughout the whole season. Anyway, that wasn't enough to overtake Bobby Labonte who won his only title that year.
Tragic death at Daytona
Sadly, on 18th of February 2001, Dale Earnhardt was killed in an accident at Daytona. His car was involved in the last-lap crash with other two cars, then hit the wall and slid out of track. Earnhardt was immediately hospitalized, but doctors couldn't do anything and soon he died after head injuries. That was a death of which fears almost every racing driver...
During his 27 years long NASCAR career, Dale Earnhardt scored 76 race wins from 676 starts and had 428 Top 10 finishes. He also competed in Busch Series, starting in 136 races over 13 years and scoring 21 victories.
Video - Dale Earnhardt's final win, 2000 Talladega
For his achievements Dale, Earnhardt got many awards. In 1994, he was awarded the Order of the Long Leaf Pine by the governor of North Carolina while four years later he was named one of the 50 greatest drivers in NASCAR. Ironically, in 2001, he was posthumously voted NASCAR's most popular driver for the first time. Earnhardt later was inducted into the Motorsports Hall of Fame of America and in the International Motorsports Hall of Fame in 2008.
Photo: speedwayfreaks.com roadandtrack.com stockcar.racersreunion.com johnsoncitypress.compopularspeed.com nydailynews.com