Career Summary:
Lee Petty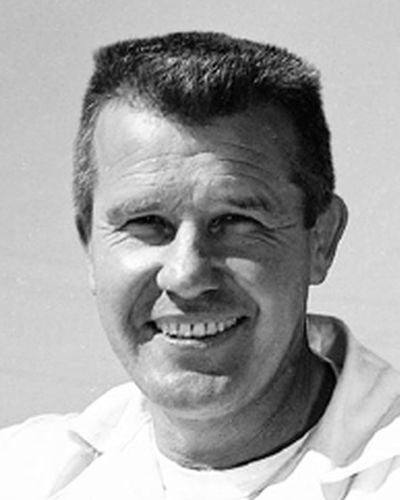 March 14, 1914

April 05, 2000

United States

Not Active

444

59

159

18

13.29%

35.81%
Lee Arnold Petty was one of the first NASCAR pioneers and as a three-time champion, one of the first superstars of the stock-car racing in the United States. With his sons Richard and Maurice, Lee Petty is the founder of Petty Enterprises, the most successful team in the history of NASCAR.
Hard way to learn a lesson
Petty was born on March 14, 1914, near Randleman, North Carolina. He was 35 years old when he debuted in the world of racing, at Charlotte Speedway's dirt track, driving a borrowed Buick Roadmaster. Petty was near the top of the grid but his radius bar broke. The car crashed and was damaged heavily while Lee suffered cut on his face. Later, Petty said he learned two important lessons in this race. The first lesson was to tow race car with another and the second was that whatever he needs to do to win, he must always save the car.
Winning in a Plymouth
In 1949, Lee Petty scored his win in Heidelburg and finished as a runner-up that year, driving a Plymouth. That car soon became Petty's trademark as he was frequently faster than the drivers in more powerful Cadillacs. In 1953, Petty switched to Dodge and was the first one in NASCAR to install a roll bar on it. His fascinating driving skills can be demonstrated best by the fact that between 1949 and 1959, Petty was never below fourth place in any NASCAR Grand National event.
Petty scores controversial victory at first Daytona 500
Petty became the star in 1959 when he won inaugural Daytona 500 race at new Daytona International Speedway. That was a really close race in which the winner was decided after photo-finish. Petty won the race driving an Oldsmobile Dynamic 88, beating Joe Weatherly and Johnny Beauchamp, who was unofficially declared as the winner, but Petty protested and after three days of assessment and analysis, he was promoted as the winner.
Speaking about this famous race 40 years later, Petty said he was sure that the NASCAR founder Bill France Sr. intentionally declared Beauchamp as the winner of the race, with an aim of creating a controversy and generating publicity for NASCAR.
Another controversy at Lakewood
That wasn't the only race with a controversial outcome and Petty's victory. At Lakewood 500 same year, Petty was racing against his son Richard. Petty Jr. passed his father with less than 10 laps remaining and managed to win the race. But, Petty Sr. surprisingly lodged a protest after the race, claiming that Richard was credited with an extra lap. The officials decided to change the result of the race, giving the victory to Lee who later stated that he was ready to protest against his own mother if it was needed.
First driver in the history with three NASCAR titles
During his career, Petty started in 427 races, claiming 54 wins, 159 podiums, 332 top 10 finishes, and 18 pole positions. He has won three NASCAR championship titles in 1954, 1958 and 1959. In 1990, Lee Petty was inducted into the Motorsports Hall of Fame, six years later he became a member of Motorsports Hall of Fame of America and finally in 2011, he was inducted into the NASCAR Hall of Fame. With his son Richard, Petty was selected as one of the NASCAR's 50 Greatest Drivers in 1998.
Video - Lee Petty's career ending NASCAR crash at Daytona
Petty was ready to do everything for the win
All the other drivers of that time had a huge respect for Lee Petty and his driving style. In the same time, they were probably afraid of his hunger for victory. He was really ready to do anything that he thought necessary to win the race. He went so far to attach door plates bare bolt ends sticking out a little to tear into opponents tires.
Lee Petty died on 5th of April 2000 in Greensboro, North Carolina, just three days after his grandson Adam debuted in NASCAR Winston Cup. He was buried in Randleman.
Photo: stockcar.racersreunion.com racingjunk.com thirdturn.wikia.com nbcsports.com