Career Summary:
Mark Donohue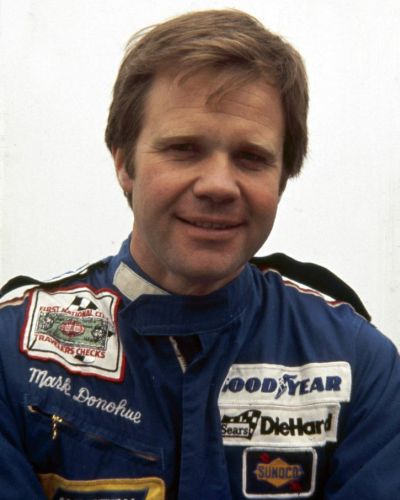 March 18, 1937

August 19, 1975

United States

Not Active

146

40

67

20

14

27.40%

45.89%
Mark Donohue was one of the racing icons in the US, probably best known as the best engineer among drivers and the best driver among engineers, as he was able set up his own race car and drive it to victory.
The list of his achievements is long. His greatest success in a career is a victory at 1972 Indianapolis 500 when he was driving McLaren-Offy for Penske Racing. Donohue recorded 14 starts in Formula One World Championship with Penske, scoring one podium at 1971 Canadian Grand Prix. Unfortunately, Donohue lost a life after an accident during practice for 1975 Austrian Grand Prix.
SCCA national champion early in a career
Donohue was born in New Jersey on March 18, 1937, and became involved in racing as a senior at college. He was just 22 years old when he had won his first race, a local hill climb. In 1959, Donohue graduated from Brown University with a bachelor's degree in mechanical engineering.
SCCA was the first major competition in which Donohue had competed and he quickly achieved good results. Driving Elva Courier, he became the SCCA national champion in 1961 and his talent was immediately spotted by Walt Hansgen, an experienced driver who became a kind of a tutor of Donohue's.
Working as an engineer and racing in the same time
Three years later, Donohue was hired by Griffith Motors as a Design engineer and worked on many projects, but at the same time, he was also active as a driver, competing in the SCCA with Shelby 289 Cobra. In 1965, he was named Comptroller at Griffith Motors but in the following year he was spirited away from Griffith Motors by another well known name – Roger Penske.
Ford Motor Company immediately signed the young Donohue and gave him one of their GT40 cars. He was set to make a debut at 24 Hours of Le Mans, driving alongside Hansgen, but his close friend died during the testing of GT40. Previously, they were good at 24 Hours of Daytona where they finished third, while at 12 Hours of Sebring they finished second.
Call from Roger Penske
In the year of 1966, Roger Penske contacted Donohue to drive for him. After a couple of ups and downs, in 1967, Mark Donohue finally shone driving Penske's brand new Lola T70 Spyder in the United States Road Racing Championship.
He raced in seven of eight races that year, winning six and finishing third at Laguna Seca, which was enough to take the title that he has defended a year later, despite mechanical failures in three races.
Trans-Am and Can-Am master
Mark Donohue also took a part in the Trans-Am series. Debuting in 1967, he won three of 12 races driving Penske's Chevrolet Camaro. A year later, with the same car, Donohue had brilliantly won 10 out of 13 races, setting a record which wouldn't be broken until 1997 by Tommy Kendall who won 11. His third and last Trans-Am title Donohue had won in 1971, this time driving an AMC Javelin.
In the late '60s and early '70s, Donohue started to experiment with his cars and discovered that dipping the car in acids made them lighter, allowing greater speeds on the track. Race stewards discovered what he did and wanted to take away a victory from Donohue, but Roger Penske warned that Chevrolet could break their support to the Trans-Am series and that saved his driver.
During 1972/1973, Mark Donohue also raced in several NASCAR Grand American and Winston Cup series races, as well in Can-Am series in which he was absolutely dominant, winning every race but one in 1973, driving a Porsche 917-30 in which development he was hugely involved in and with which he had a big crash during tests at Atlanta Road. Amazingly, he only suffered a broken leg in that accident.
First winner of the International Race of Champions
Donohue will also be remembered as the first winner of the International Race of Champions in 1973/1974, driving Porsche RSR and beating superstars like Emerson Fittipaldi, Richard Petty, Bobby Unser, A.J. Foyt, Denny Hulme, etc.
Earlier in 1973, Donohue announced retirement, but that was short-lived as he returned back to racing.
Five starts and one victory at Indianapolis 500
Donohue had five consecutive starts at the legendary Indy 500 race, between 1969 and 1973, all of them driving for the Roger Penske team. He managed to win a race in 1972, which was the first win for Penske in the Indy behind the wheel of McLaren.
Two years earlier, Donohue was second at the Indy 500 race. During the 1972 race, Donohue set the record speed of 162 mph which was beaten 12 years later.
Third place in Formula One debut
Donohue made his debut in Formula 1 in the Canadian Grand Prix at Mosport in September 1971, driving a Penske-sponsored #10 McLaren M19A. His debut was fantastic as he finished in the third place after starting fourth. He was one of just three drivers who ended a race in leading lap, behind race winner Jackie Stewart and second-placed Ronnie Peterson.
When Penske formed its own F1 team in 1974, Donohue participated in the last two rounds, finishing 12th at Canadian Grand Prix and retiring in the US Grand Prix.
Crash in Austria stopped brilliant career
Donohue was finally able to compete for the full season of 1975 in the most prominent racing series. Results weren't as good as they were expected to be, so Mark had planned to finally quit racing at the end of the season. But, he lost his life before the Austrian Grand Prix.
Driving a March 751 during free practice, Donohue lost control of his car after a tire failed, sending him careening into the catch fencing at the fastest corner on the track. Race steward was killed in that accident, but it looked like the American racer wasn't injured significantly. It is said Donohue struck his head probably on the fence catching post. A headache resulted and worsened. The next day, he went to a hospital in Graz and lapsed into a coma. Donohue died there on August 19, 1975.
A legacy lived through book and Mark's son
In 1973, 'Captain Nice' or 'Dark Monohue', which were Donohue's nicknames, was presented with the Engineering and Science Award of Drexel University. In 1990, Donohue was inducted into the International Motorsports Hall of Fame. His racing career and engineering approach were described in detail in the book called The Unfair Advantage.
Donohue's racing tradition has been continued by his son David, born in 1967, who was successful sports car racer with an overall win at Daytona 24h and GT2 class win at Le Mans 24h as his best results.
Video: Indy 500 Legends - 1972 winning McLaren M16/B
Photo: suggest-keywords.com, stevemckelvie.wordpress.com, 95customs.com, flickriver.com, sportscardigest.com, listverse.com, exoticars-usa.com, grandprixhistory.org.