Career Summary:
Masten Gregory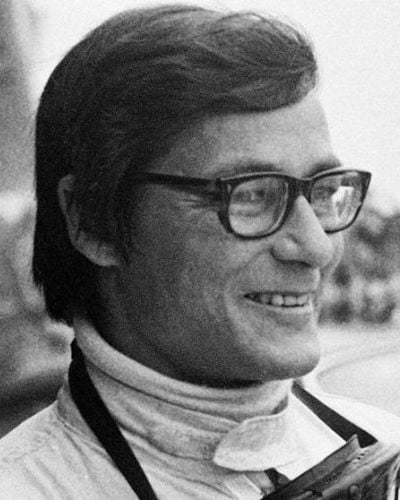 February 29, 1932

November 08, 1985

United States

Not Active

75

2

7

2.67%

9.33%
Masten Gregory (1932-1985) was a racing driver from the United States. He raced in Formula One between 1957 and 1965, starting in 38 World Championship events and numerous non-Championship races.
He was the first American driver who reached the F1 podium and he made that in his first Grand Prix race in 1957 at Monaco. In total, he scored three podium finishes in Formula One, but his major international achievement was the victory at the 1965 24 Hours of Le Mans.
Masten was nicknamed Kansas City Flash
Masten Gregory was born in Kansas City, Missouri, so later in his career his most known nickname was 'Kansas City Flash'. Masten was the youngest of three children, and his elder brother Riddelle L. Gregory Jr. was also a race car driver. His parents divorced soon after his birth and his father died when he was three years old. His mother sold insurance company business, so Masten inherited a good amount of money. In 1952, he used this inheritance to buy his first race car – the Mercury-powered Allard.
He started the racing career in the 50-mile SCCA race in Caddo Mills in November 1952. He retired from that race due to head gasket failure, but installed a new Chrysler Hemi-powered engine in his car to race at Sebring in 1953, where he again retired, this time due to a rear suspension failure. He was successful in his third race, in Stillwater, Oklahoma, and he claimed his first victory.
First international race in Argentina
During 1953, he raced with Jaguar C-Type across America and won a few times, becoming the best Jaguar driver in the US. At the beginning of 1954, Gregory was invited to his first international sports car race - the 1000 km Buenos Aires in Argentina, which he finished in 14th place due to water pump problems on his Jaguar C-Type.
Throughout 1954 and 1955, Gregory competed in European races, mostly driving Ferrari 375 MM. Some of the notable results were the victory at Daily Telegraph International Meeting at Aintree and 2nd place at Goodwood International.
Unsuccessful debut at the Le Mans 24-hour race
In 1955, he recorded his first participation at 24 Hours of Le Mans, together with Mike Sparken in Ferrari 750 Monza, but he didn't have a chance to drive because Sparken retired early, after just 22 laps. Driving the same car, Gregory finished 3rd in the Eifelrennen Nürburgring earlier that year and 2nd at Portugal Grand Prix in June.
Moving back to America in 1956, Gregory entered several SCCA events, often winning. That year he drove various Ferraris, Maserati 300S and Porsche 550. In January 1957, he went to Argentina and won 1000 km Buenos Aires, together with Eugenio Castellotti and Luigi Musso in the Ferrari 290 MM. In February, Gregory competed at the famous Gran Premio de Cuba, finishing 8th with Ferrari 500 TR.
Impressive Formula One debut in Monaco
Good performances got him a drive with Scuderia Centro Sud, a privateer Formula One team using the Maserati 250F. He debuted with an F1 car in April at the non-championship Pau Grand Prix and finished 4th. Gregory's F1 championship debut was even better: he scored an impressive 3rd place finish and became the first American to score a podium at an F1 Grand Prix race.
In June 1957, he returned to the Le Mans 24-hour race and achieved 6th place overall driving a Jaguar D-Type together with Duncan Hamilton. Later during the year, Gregory participated in three more Grand Prix events (Nürburgring, Pescara and Monza) and with only four races he ended the 1957 F1 season in 6th place in the championship.
Four GP events in the 1958 F1 championship
Gregory competed in four Grands Prix in the 1958 season, driving Maserati 250F of Scuderia Centro Sud and two privateers (H.H. Gould and Temple Buell), but his best result was achieved at the non-championship BRDC International Trophy, where he finished 3rd. He missed most of the season because of injuries sustained at the sports car race at Silverstone. In the last two races of the season, he finished fourth at Monza (sharing the car with Carroll Shelby) and sixth at Moroccan Grand Prix.
At 1958 Le Mans, he paired Jack Fairman in the Ecurie Ecosse Jaguar D-Type, but they raced only seven laps. At the next year's Le Mans endurance race, the D-Type lasted 70 laps and retired, this time with Innes Ireland as Gregory's co-driver.
1959 was the career best F1 season
In 1959 Formula One season Gregory moved to Cooper, driving a Climax-powered Cooper T51 at six Grand Prix events alongside Jack Brabham and Bruce McLaren. Season 1959 became Gregory's most successful Formula One season, with two podiums and a championship title for the team.
He finished 3rd at Dutch Grand Prix and 2nd at Portuguese Grand Prix, which remained his best ever F1 result. Gregory finished 8th in the drivers' standings but he missed the chance to place himself even better as he didn't compete at the final two races of the season due to injuries.
There was no place in Cooper for Masten
Although satisfied with results, Gregory's contract with Cooper wasn't renewed for 1960. He started the championship driving Behra-Porsche for Camoradi International and finished 12th in Argentina. Later in the season he moved to the Maserati-powered Cooper T51 of his old team Scuderia Centro Sud. Gregory failed to qualify for Monaco Grand Prix, but raced in France, Great Britain and Portugal. His best result was 9th place at French Grand Prix at Reims.
At the 1960 Le Mans, M.Gregory recorded one more DNF. He paired Chuck Daigh in Camoradi's Maserati Tipo 61 Birdcage and they were raced just 82 laps. It's interesting that Masten made an overall best lap time in that race. In 1961, he switched to Porsche at the Le Mans race, driving factory's 718/4 RS Spyder alongside Bob Holbert. They finished 5th overall and 1st in class.
In the 1961 Formula One season, he participated in six Grands Prix with Camoradi's Cooper T53 (Climax) and UDT Laystall Racing Team's Lotus 18/21 (Climax). In 1962, Masten was driving various Lotus cars only for UDT Laystall, with 6th place at Watkins Glen as best finish.
Formula One career was over in 1965
One more dissapointing result at Le Mans followed in 1962. M. Gregory and Innes Ireland competed in UDT Laystall's Ferrari 250 GTO and retired after 165 laps. The next race was much more successful. Gregory was again driving 250 GTO, paired by David Piper, and they finished 6th overall and 3rd in GT class. In 1964, Masten paired Richie Ginther in the factory's Ford GT40 Mark I, but they failed to finish.
Season 1963 in Formula One was a year to forget, with four retirements and just one completed race – British Grand Prix at Silverstone. Gregory was driving for Reg Parnell's team with two cars – Lotus 24 (BRM) and Lola Mk4A (Climax). In 1964, Masten skipped the F1 championship races and finished his F1 career with four races in the 1965 season, driving BRM P57 for Scuderia Centro Sud.
Sensational win at the 1965 24 hours of Le Mans alongside Jochen Rindt
While his F1 career was going down, he reached the peak at Le Mans. Masten Gregory/Jochen Rindt was one of two North American Racing Team's crews in Ferraris (the other was Pedro Rodriguez/Nino Vaccarella). Gregory and Rindt were driving 250LM and they fought against Pierre Dumay and Gustave Gosselin in a similar car.
Early afternoon on second day of racing it seemed that a close finish will follow, but the tire blew up on the Belgian team's Ferrari and damaged the bodywork. They lost five laps to fix the problem, so Gregory and Rindt scored a comfortable win. Interesting to note, to this date the 1965 win was the last time a Ferrari has ever won Le Mans.
Video : Masten Gregory wins the 1965 24 Hours of Le Mans, the last overall win for Ferrari
The only Indy 500 attempt with stepfather as a sponsor
Since 1965, M. Gregory didn't compete any more in Formula One and he focused on sports cars and Le Mans. 1965 was also the year in which Gregory raced in the Indianapolis 500, driving George Bryant sponsored BRP-Ford. George Bryant was Masten's stepfather. Masten started from the back of the grid and worked his way up to 5th before being forced to retire due to an engine problem.
Six consecutive Le Mans retirements
Between 1966 and 1972, M. Gregory participated in six more Le Mans events with different teams, cars and co-drivers, but he didn't finish any of those races. He was driving four different Ferraris of North American Racing Team, Lola T70 of Scuderia Filipinetti and Alfa Romeo T33/3 of Autodelta. His co-drivers were Bob Bondurant, Charlie Kolb, Jo Bonnier, Toine Hezemans, George Eaton and Luigi Chinetti Jr.
Career was over after Jo Bonnier's death
One of them, Jo Bonnier, was a close friend of Masten. Following Bonnier's death at the 1972 24 Hours of Le Mans, Masten immediately stopped racing and retired. He moved to Amsterdam, where he worked as a diamond merchant before operating a glassware business. On November 8, 1985, Gregory died in his sleep of a heart attack at his winter home in Porto Ercole, Italy, at the age of 53. He had four children - Masten Jr., Debbie, Scott and Michael.
Photos: Masten Gregory FB page, formula1blog.com, jcna.com, motorsporthistory.ru.