Career Summary:
Paul Gentilozzi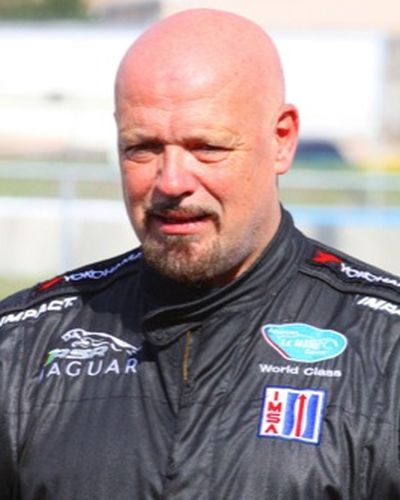 February 06, 1950

71

United States

Not Active

219

37

74

36

35

16.89%

33.79%
Paul Gentilozzi is an American businessman, former racing driver and current team owner. He was most successful in the Trans-Am Series, winning five championship titles between 1998 and 2006. As an owner of Rocketsports Racing, he also won several Trans-Am titles with other drivers.
Gentilozzi also gained some success in sports car racing, scoring two wins at Daytona 24 Hours. In 1994, he was an overall winner with Cunningham Racing's Nissan 300ZX and then, in 2002, he was GTS class winner with Rocketsports Racing's Jaguar XKR.
Racing debut in 1969, founding a team in 1985
Born in February 1950 in Lansing, Michigan, Paul Gentilozzi started his racing career in drag racing in 1969. He competed in NHRA national events in the next ten years. In that period, he graduated from Michigan State University and developed a business. In 1981, he started sports car racing career with Dodge. In 1983, he made a debut at Sebring 12 Hours, driving a Chevrolet Camaro for Dave Heinz Racing.
Two years later, Gentilozzi founded his own team Rocketsports Racing, entering several races of the IMSA GTU Championship with Porsche 924 Carrera GTR. He failed to finish at Daytona 24h, Sebring 12h and Pocono Grand Prix.
1986 – the first full season in the IMSA Championship
In 1986, Gentilozzi spent his first full season in the IMSA Camel GTO Championship, driving the #72 Whitehall Rocketsports Oldsmobile Toronado. He was on a podium just once, at Portland, finishing 18th in the final classification.
He stayed one more season in an Oldsmobile Toronado, scoring no wins or podiums in 1987. In 1987, Gentilozzi also entered Trans-Am Series with Oldsmobile Toronado, finishing eighth in the final standings.
Trans-Am Series as the main competition since 1988
In 1988, Gentilozzi participated in just one race of the IMSA GTO Championship, recording DNF at Daytona 24 Hours in a Mercury Merkur XR4Ti. That year, he fully focused on the Trans-Am Series, scoring his maiden victory in the season-opening race at Long Beach, driving the #7 Oldsmobile Cutlass. Later in the season, he scored just one podium to finish ninth in the final points.
In the following two years, Gentilozzi was racing just occasionally. In February 1989, he came to Daytona 24h with Oldsmobile Cutlass, not finishing the race again. In 1990, he was driving a Chevrolet Camaro in just one IMSA race at Long Beach.
GTS class podium at 1992 Daytona 24 Hours
He returned full-time to Trans-Am Series in 1991, still driving an Oldsmobile Cutlass. He finished ninth in the points. In the 1992 Trans-Am season, he won Portland's round in a Chevrolet Camaro but his main competition was the IMSA Championship.
He competed in GTS class with Oldsmobile Cutlass. He finished tenth overall and second in GTS class at Daytona 24 Hours, sharing a car with Jeff Kline, George Robinson and Darin Brassfield. Later in the season, he was GTS class winner three times, finishing second in the championship and losing a title by four points to Steve Millen.
Gentilozzi continued to combine IMSA races and Trans-Am races in 1993. He was IMSA GTS class winner two times in an Oldsmobile Cutlass, finishing fourth in the points. In the 1993 Trans-Am season, he scored no wins with Chevrolet Camaro.
1994 – victory at Daytona 24h, debut at Le Mans 24h
In 1994, Gentilozzi started a season with a victory at Daytona 24 Hours where he was driving the #76 Nissan 300ZX Turbo for Cunningham Racing, sharing a car with Scott Pruett, Butch Leitzinger and Steve Millen. He was a member of Cunningham's team in two more classic endurance races – at Sebring 12 Hours and Le Mans 24 Hours, not finishing both races.
In his Le Mans debut in June 1994, Gentilozzi was sharing the #76 Nissan ZX300 Turbo with Eric van de Poele and Shunji Kasuya. They stopped after just 25 laps. Besides driving Nissan for Cunningham Racing in 1994, Gentilozzi scored one IMSA GTO win with his Chevrolet Camaro at Phoenix and two Trans-Am podiums to finish fifth in the points.
Rocketsports ran with Ferrari at 1996 Le Mans 24h
In 1995, Gentilozzi focused again full-time to Trans-Am Series, scoring two podiums in Rocketsports Camaro to finish 8th in the points.  In the 1996 Trans-Am Series, he was a race winner once and then he was without wins again in 1997.
Outside Trans-Am, he was driving Scandia Racing's Ferrari 333 SP at Daytona 24 Hours, not finishing the race. Next year, in June 1996, Rocketsports was running Ferrari 333 SP at Le Mans but Gentilozzi wasn't one of three drivers.
Three Trans-Am titles with three different cars
In 1998, Gentilozzi finally reached the top in the Trans-Am Series. He was a dominant driver over the season, winning seven races in a Chevrolet Corvette to take his first championship title. Next year, he switched to Ford Mustang and defended a title, winning six races during the season.
In both championship-winning seasons, Gentilozzi defeated Brian Simo. In 2000, Simo won Trans-Am title ahead of Gentilozzi. That year, Gentilozzi was using a Jaguar XKR for the first time, winning three races.
In 2001, Gentilozzi returned to the top podium spot in the Trans-Am Series, winning his third title and the first with Jaguar XKR. He was a race winner four times, defeating Brian Simo again in a title fight.
Class victory at 2002 Daytona 24 Hours
In 2001, Gentilozzi returned to Daytona 24 Hours for the first time since 1995. His team as running the #5 Saleen S7-R, not finishing the race.
A year later, in February 2002, Rocketsports came to Daytona with Jaguar XKR, finishing fifth overall and taking a victory in GTS class. Gentilozzi was sharing the #3 Jaguar with Scott Pruett, Mike Lauer and Brian Simo.
Four more Trans-Am titles for Jaguar
After Boris Said took the Trans-Am title in 2002 with Panoz Esperante, Rocketsports Jaguar XKR became a dominant car and captured four more titles from 2003 to 2006.
Paul Gentilozzi was a champion two times in that period, in 2004 and 2006. His teammates Scott Pruett and Klaus Graf won titles in 2003 and 2005 respectively.
Besides racing in Trans-Am, Gentilozzi entered selected races of the 2006 Rolex Sports Car Series with Rocketsports Racing'a Crawford DP03-Ford prototype. He and Tomy Drissi participated in five races in the #50 Crawford but without notable results.
Founding a new team in 2009
The Trans-Am Series had been discontinued in 2007 but it started again in 2009. Rocketsports Racing continued his domination by taking one more championship title with Jaguar XKR, driven by Tomy Drissi.
In 2009, Paul Gentilozzi founded a new team, the RSR Racing, together with his sons Anthony and John. The team was operating a Jaguar program in the American Le Mans Series, starting with the season-closing race in October 2009 at Laguna Seca.
Racing with Jaguar in ALMS and Le Mans 24h
In 2010, Gentilozzi was racing with RSR Jaguar XKR-S in the American Le Mans Series but also at Le Mans 24 Hours. In the ALMS, Gentilozzi participated in five rounds, including Sebring 12 Hours, but without notable results.
At 2010 Le Mans 24 Hours, he was sharing the #81 Jaguar XKR-S with Ryan Dalziel and Marc Goossens, not finishing the race. In October 2010, he also recorded DNF at Zhuhai 1000 Kilometers, a part of the Intercontinental Le Mans Cup.
Retiring from racing at the age 61
Gentilozzi' last race was the ALMS round at Long Beach in April 2011. After that, he retired from racing and stayed in motorsport as a team owner only. The team was running Jaguar ALMS programme until the end of 2011, switching to Prototype Challenge class with Oreca FLM09 in 2012.
In 2015, Gentilozzi started a new project with an aim to run Lexus GT cars in the IMSA SportsCar Championship. One of the partners in a new 3GT Racing team is his former teammate Scott Pruett.
Photos: 3gt-racing.com, Michael L. Levitt/imsa.com, Mark Windecker, motorsport.com,