Career Summary:
Pedro Rodriguez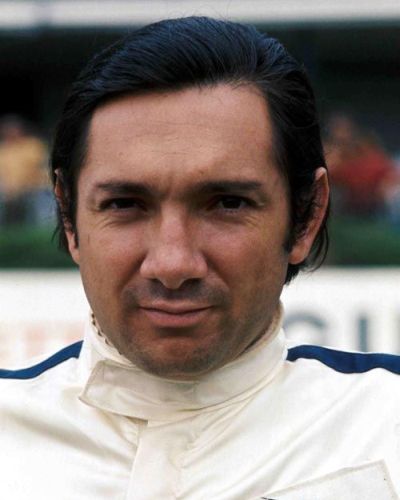 January 18, 1940

July 11, 1971

Mexico

Not Active

100

Ferrari,NART,BRM,Lotus,Cooper,JWA

4

13

1

3

4.00%

13.00%
Pedro Rodriguez was a racing driver from Mexico recorded 54 starts in the Formula One World Championship between 1963 and 1971, winning two races. He was also successful in sports car races, recording wins at Le Mans 24 Hours in 1968 and Daytona 24 Hours in 1970 and 1971.
He was the older brother of Ricardo Rodriguez who was also a famous racing driver and by many he was considered as the more gifted racer than his brother. Actually, they were first racing superstars in their country. Ironically, both of the brothers met a fatal end in separate racing accidents in 1962 and 1971.
Pedro considered retiring after brother's death
Pedro Rodriguez de la Vega was born on anuary 18, 1940, in Mexico City. As a teenager, he had already become a Mexican motorcycling champion, but soon after, his father sent him to the military academy in Alton, Illinois, in order to learn English and become more disciplined.
After his brother Ricardo was killed in an accident during a practice session of the Mexican Grand Prix, Rodriguez considered retiring from racing, but never actually did. After the tragedy, he returned home and started his own business of cars importing. At the age of 18, he made his debut at the 24 Hours of Le Mans and came back every year, fourteen times in total, mostly with Ferrari, claiming one victory, in 1968 with Belgian Lucien Bianchi driving a Ford GT40 in 1971.
Nowhere without the Mexican flag
Pedro Rodriguez is best known as a Formula 1 driver. He has competed in 54 Grands Prix, taking two wins and seven podium finishes. His first appearance in the F1 championship was at the United States Grand Prix in 1963 while his maiden victory was achieved four years later at Kyalami, driving for Cooper team. If truth be told, he scored that win with a lot of luck but that victory secured him a full-time seat in Formula 1.
There is an interesting anecdote related to his win; the organizers didn't have a record with the Mexican anthem, so after that event, Pedro traveled everywhere with a Mexican flag and an audio record of the Mexican anthem.
Talent was there, but he missed proper cars in his career
The following few seasons were full of ups and downs for the Mexican driver who definitely had the potential to become one of the best drivers of all times, but was never lucky enough to have cars which could match his qualities.
His best achievement at the end of the season was the sixth place in 1967 and 1968.
1971 was Pedro's best year in Formula 1 World championship
Driving for Yardley Team BRM in 1970, Rodriguez won his second Formula 1 Grand Prix at Spa and that was probably his most consistent season.
Post that, there was reason enough for him to be considered as one of the title contenders in 1971, but fate had other plans for the Mexican racer. Except two wins, Rodriguez also scored the total of seven podium finishes during his Formula 1 career.
Two-time Daytona 24 Hours winner
The season of 1970 was probably the most successful in Rodriguez's career as he scored four wins at big races like 24 Hours of Daytona, 1000 km of Brands Hatch, 1000 km of Monza and 6 Hours of Watkins Glen. He was also second in the legendary Targa Florio while at the 12 Hours of Sebring he finished fourth.
Pedro Rodriguez scored two wins in 24 Hours of Daytona, in 1970 and 1971, both while driving the Porsche 917k for John Wyer team, while in 1967 he was third driving the Ferrari 412P.
Horrible death at Norisring
On July 11, 1971, Rodriguez was killed during the Interserie sports car race at Norisring in Nuremberg. While he was driving for the lead, a slower car edged him into the wall and his Ferrari 512M burst into flames. Unfortunately, the Mexican died shortly after he was pulled out of the car.
Video - Fatal crash at Norisring 1971

Pedro Rodriguez was considered as the best driver on the wet tracks of his time and apart from Formula 1 World Championship, he has also successfully competed in NASCAR championship, Ice racing, rallies, etc. How good he was at wet turf could probably be described by the words of his teammate Chris Amon who said: 'Why doesn't anyone tell Pedro it is raining?'.
Circuit renamed after Rodriguez brothers
The brothers legacy for motorsport in Mexico is huge. They put Mexico on the world's racing map and inspired many Mexicans to began racing. In 1973, the racing circuit in Mexico City was renamed to Autodromo Hernanos Rodriguez, in honor of Pedro and Ricardo. Also, the first hairpin at Daytona International Speedway is named Pedro Rodriguez curve.
In 2006, Carlos Jalife, Secretary General of the Scuderia Rodriguez, who kept the memory of Ricardo and Pedro Rodriguez alive, published a biography book of the Rodriguez brothers which was awarded Motor Press Guild Book of the year award three years later.
Photo: nascar.com ivegotmytowel.tumblr.com pinterest.com formula1.com sportscradigest.com tumblr.com carloscastella.wordpress.com