Career Summary:
Peter Collins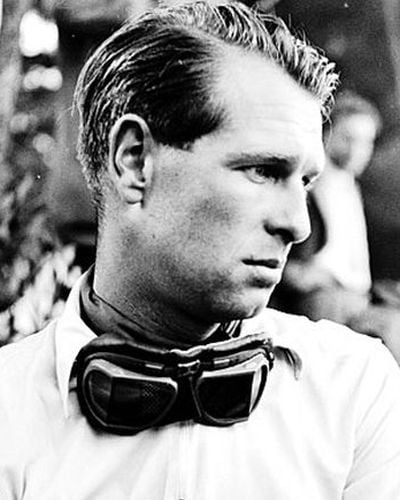 November 06, 1931

August 03, 1958

United Kingdom

Not Active

76

10

31

1

4

13.16%

40.79%
Peter Collins was the British racing driver and one of the stars of early Formula 1 but he was also very successful in many other racing disciplines.
He recorded 32 starts and three victories in the Formula 1 World Championship between 1952 and his premature death at German Grand Prix in August 1958. In sports car races, he was second at 24 Hours of Le Mans two times, in 1955 and 1956, and won Sebring 12 Hours in 1958.
Beginning of the Racing Career
Peter John Collins was born in November 1931 in Kidderminster, Worcestershire, and ever since he was a child he was interested in cars. He worked as an apprentice in his father's garage but was never really interested in learning more about mechanics and the car set-up. Soon after he began to race in some local events but Peter's real racing career began in 1949 and he immediately achieved some success winning the 100 miles race at Silverstone.
Before he made a debut in the World Drivers Championship, Collins raced in many events with considerable success. In 1950, he finished 2nd in the Goodwood International Trophy and was 3rd in Royal Meeting Grand Prix d' Europe, while in 1951 Peter finished 3rd in the British Formula 3 Championship, driving a Cooper-Norton.
International Breakthrough
In 1952, Collins debuted in Formula 1. As a driver of HW Motors, he managed to finish only one out of five races he entered and took the 6th place in the French Grand Prix at Rouen. He also finished 2nd in the non-championship Sable Grand-Prix but the highlight of the year was a victory in the endurance race 9 Hours of Goodwood when he was behind the wheel of Aston Martin DB3.
The following year was pretty the same. Collins finished 2nd at Goodwood but he triumphed at RAC Tourist Trophy race at Dundrod Circuit in Northern Ireland. He also continued to compete in Formula 1 but the results still weren't at the highest level. However, he finished 3rd in the non-championship Eifelrennen race, while in the championship his best result was the 8th place in the Dutch Grand Prix.
Peter Collins Prepares for Success
Collins left HW Motors at the end of 1953 and joined Tony Vandervell's team, to drive a powerful Vanwall car. Unfortunately, he appeared in only two F1 events that year. After retiring from the British Grand Prix, Peter finished 7th in the Italian Grand Prix at Monza which was below the expectations.
Nevertheless, Collins showed how good he is in other races. Driving a Ferrari-Thinwall, he won the Whitsuntide race, WECC Trophy, and Woodcote Trophy. He also had numerous podium finishes, including 2nd places at Goodwood Trophy and Crystal Palace Trophy, as well the 3rd place in 1000 km of Buenos Aires, when he was driving Aston Martin DB3S.
Triumph in Targa Florio
In 1955, Collins proved that he is one of the best drivers in the world. British racer drove a Maserati in Formula 1 but again had a poor season, retiring from both races he entered but won the non-championship BRDC International Trophy race.
Meanwhile, in other racing disciplines, he was almost brilliant. The major achievement was a triumph in Targa Florio, one of the most dangerous races in the world. Driving a Mercedes-Benz 300 SLR alongside Stirling Moss, Collins won the race with a margin of 4.5 minutes ahead of Juan Manuel Fangio and Karl Kling.
The same year Collins also triumphed in London Trophy, Chichester Cup, and BARC Trophy. After unsuccessful tries in 24 Hours of Le Mans in the last two years, in 1955, Peter finished 2nd overall and 1st in the class driving an Aston Martin DB3S. He also finished 3rd in the Oulton Park International and 9 Hours of Goodwood.
Move to Ferrari
Those results weren't unnoticed and Ferrari signed Collins in 1956. It was no secret that Peter became the favorite of Enzo Ferrari who lost his son Dino in June that year. Many were saying that Collins was like a family member to Enzo.
British driver became a part of the most successful and the most popular racing team. His first season in Formula 1 with Scuderia was very good. Peter finished 2nd in the Monaco Grand Prix, later won the Belgian and the French Grand Prix. Later he finished 2nd in the British Grand Prix and the Italian Grand Prix, eventually taking the 3rd place in the Drivers' Championship, behind his teammate Juan Manuel Fangio and Maserati driver Stirling Moss.
In 1956, he also won popular Giro di Sicilia race and he finished 2nd in the Mille Miglia. He was 2nd overall and 1st in the class in 24 Hours of Le Mans, again driving alongside Moss. The 2nd place in the Swedish Grand Prix and the 3rd place in Gran Premio di Siracusa were the other notable results he has scored that year.
Partnership with Mike Hawthorn and the Rivalry with Luigi Musso
Peter's compatriot Mike Hawthorn was brought in Ferrari in 1957 and the two were pretty successful partners. They also became close friends but at the same time fierce rivals with their teammate Luigi Musso. Without knowledge of Enzo Ferrari, the two British drivers had an agreement to share the prize money. That was an unfair battle in which Musso had to take more risks in the races.
In terms of results, the season of 1957 wasn't as good. Collins finished 9th in the Formula 1 World Championship. He won the non-championship races in Naples and Syracuse but when he was racing for points, Peter couldn't find the proper rhythm.
Meanwhile, in the sports car races he won the Grand Prix of Venezuela, finished 2nd in the 1000 km of Nurburgring and the Swedish Grand Prix, and was 3rd in 1000 km of Buenos Aires.
Video - Peter Collins wins 1956 French Grand Prix
12 Hours of Sebring Winner
The beginning of 1958 was an excellent one. Driving a Ferrari 250 TR 58 alongside Phil Hill, Collins won the 12 Hours of Sebring. Later added a win in BRDC International Trophy in his books, it was followed by the 2nd place in 1000 km of Nurburgring and Sussex Trophy and some good results in Formula 1.
Despite his variable form, he was one of the title contenders for the F1 title that year. The Ferrari driver finished 3rd in the Italian Grand Prix and later won the British Grand Prix at Silverstone, in the race held soon after the death of Luigi Musso in the French Grand Prix.
Fatal crash at Nurburgring and the End of an Era
Collins was full of confidence before the German Grand Prix at Nurburgring, on the 3rd of August, 1958. Sadly, that was his final race. Chasing a car Tony Brooks, Peter lost control of his Ferrari and flipped into the air and the car landed upside-down, while the poor driver was thrown out of it. He struck a tree and sustained head injuries.
He was immediately transported to the hospital but despite quick intervention, Collins died the same day. Ferrari lost two wonderful drivers in a short period of time while Hawthorn was devastated by the death of his close friend. He won the championship title that season and immediately retired from racing. Twist of fate was that Hawthorn himself was killed next year, in a traffic accident near the town of Guildford in England.
Photo: gettyimages.com pinterest.com grandprix.com mercedes-benz.com grandprixfashions.tumblr.com barcboys.com