Career Summary:
Pierre-Henri Raphanel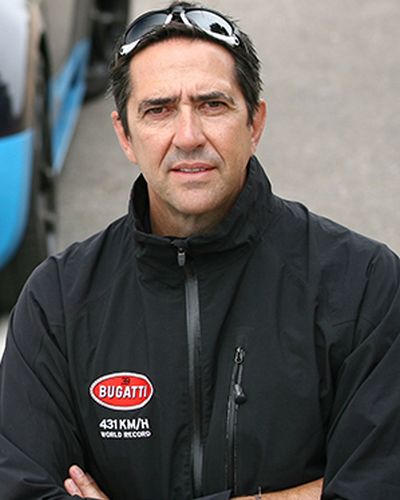 May 27, 1961

61

France

Not Active

167

8

43

14

7

4.79%

25.75%
Pierre-Henri Raphanel is a French former racing driver who achieved the most in sports car racing, recording three overall podiums at Le Mans 24 Hours with three different teams.
He also recorded one start in the Formula One World Championship, driving for Coloni at 1989 Monaco Grand Prix. In total, he entered 17 F1 Grand Prix races but managed to qualify just for one race.
Early success in Formula 3
Born in May 1961 in French Algeria, Pierre-Henri Raphanel started his racing career in the Formula Renault in 1983. Next year, he moved to the French Formula 3 and finished third in the points.
In 1985, he reached a peak in Formula 3 by winning the French championship and triumphing at F3 Monaco Grand Prix. He was driving a Martini MK45-Alfa Romeo for Oreca team.
Le Mans debut in 1986, podium in 1987
Raphanel's next competition was the International Formula 3000 Championship in which he was driving a March-Cosworth for Oreca, scoring one podium to finish 12th in the points. The same year, he made a debut at 24 Hours of Le Mans, driving a Cougar C12-Porsche for Primagaz Team Cougar. He didn't finish the race.
Next year, he returned to Le Mans with Primagaz and reached the podium, finishing in the third place in the #13 Cougar C20-Porsche. His teammates were Yves Courage and Herve Regout. In the 1987 F3000 season, Raphanel finished 13th with Onyx team.
Formula One debut with Larrousse in Australia
In 1988, Raphanel rejoined Oreca in the F3000 Championship and finished 13th in the points. He recorded one more start with Primagaz at Le Mans, recording DNF in a Cougar C20B-Porsche.
And the, in November 1988, he made an F1 debut with Larrousse, driving the #29 Lola LC88-Cosworth in the Australian Grand Prix. He failed to qualify for the race.
 A season in Formula 1 with Coloni and Rial
For the 1989 Formula 1 World Championship season, Raphanel joined the Italian team Coloni to drive the #32 Coloni FC188B-Cosworth alongside Roberto Moreno as his teammate in the #31 car. Raphanel was too slow to qualify in Brazil and San Marino and then, in May, he finally made his first F1 Grand Prix start in Monaco. He started 18th on the grid and retired after 19 laps with a broken gearbox.
The team switched to Coloni C3-Cosworth later in the season but Raphanel didn't qualify for either one Grand Prix race. After ten rounds, he left the team and joined Rial Racing for the last six rounds. He recorded six DNQs and ended his F1 career.
Moving to Japan in 1990
In 1989, Raphanel raced at Le Mans 24 Hours with Joest Racing, driving a Porsche 962C together with Frank Jelinski and Louis Krages. They didn't finish the race. In 1990, Pierre-Henri moved to Japan and raced with Toyota Team SARD in the Japanese Sports Prototype Championship. At Le Mans, he was sharing Toyota 90C-V with Roland Ratzenberger and Naoki Nagasaka, not finishing the race.
In 1991, Raphanel raced with Toyota in Japan, scoring one victory at Suzuka 1000, but joined Peugeot Talbot Sport at Le Mans. Sharing the #6 Peugeot 905 with Keke Rosberg and Yannick Dalmas, he recorded his third consecutive DNF at Circuit de la Sarthe.
Le Mans podium with Toyota in 1992
The season 1992 was one of the most successful in Raphanel's career. The highlight was the second place at Le Mans in the #33 Toyota TS010. He was sharing a car with Kenny Acheson and Masanori Sekiya, losing a race six laps behind Peugeot's crew.
In the Japanese Sports-Prototype Championship, Raphanel finished third that year. He also raced with Toyota in the Japanese Touring Car Championship. Then, in 1993, his only competition was the Japanese Touring Car Championship with Toyota Corolla Levin. Scoring four podiums, he was 7th in the points. At 1993 Le Mans race, he retired in a Toyota TS010.
Joining Gulf Racing in 1995, Le Mans podium in 1997
Raphanel left Japan in 1994 and raced only at Le Mans with Courage Competition, not finishing the race in the #2 Courage C32-Porsche. In 1995, he joined Gulf Racing to race with McLaren F1 GTR in the Global GT Championship and at Le Mans. He had the same programme in 1996, finishing fifth at Le Mans in the #34 McLaren F1 GTR which he was sharing with David Brabham and Lindsay Owen-Jones.
Next year, in June 1997, Raphanel scored his third overall podium at Le Mans but also GT1 class victory. He finished in the second place overall in the #41 Gulf Team Davidoff McLaren F1 GTR. His co-drivers were Anders Olofsson and Jean-Marc Gounon.
Three more seasons in Japan before retirement
After three seasons with Gulf Racing and McLaren, Raphanel returned to Japan in 1998 to race with Inging team in the Japanese GT Championship. Driving a Toyota Supra, he scored no wins or podiums. At 1998 Le Mans race, he joined Porsche factory team to drive the #8 Porsche LMP1-98 together with James Weaver and David Murry. They retired after 218 laps.
In 1999, Raphanel was driving Toyota Supra for Team Tom's in the Japanese GT Championship, scoring just one podium. He stayed with the same team in 2000, scoring again just one podium.
In June 2000, Raphanel recorded his last attempt at Le Mans, driving the #12 Panoz LMP-1 Roadster S and finishing in the fifth place. His partners in that race were Hiroki Katoh and Johnny O'Connell.
Test driver for Bugatti
In his post-racing career, Raphanel was working for Bugatti as a test driver and product specialist. He participated in a development of a Bugatti Veyron. In July 2010, he drove Bugatti Veyron Super Sport to speed record of 431.072 km/h.
Photos: LAT Photo, Getty Images,