Addmotor Herotan 65X Electric Fat Bike 2023
Electric bikes have been around for a while but in recent years, the popularity of these battery-powered environmentally friendly bikes has skyrocketed. Whether it's post-COVID time when you'd like to be isolated from the world or just want to stay active in a healthy manner, adult electric bikes offer plenty of benefits.
With fat tires and more comfort to offer, fat electric bikes are the latest addition to the electric bike family. There are plenty of plus points that these bikes can offer compared to traditional thin-tired e-bikes.
Addmotor Herotan 65X Electric Fat Bike Review 2023
Started back in 2011, Addmotor is an electric bike company that specializes in a wide range of electric bikes and trikes. All the bikes from Addmotor are designed to offer top-notch quality and performance for everyone. Getting started with electric bikes can be as easy as riding a cruiser electric fat bike. These cruiser-moped electric bikes are cheaper than mountain bikes but still are capable of providing powerful assistance and plenty of advantages. In this blog, we are looking to review a solid fat tire electric bike from Addmotor, the HEROTAN 65X.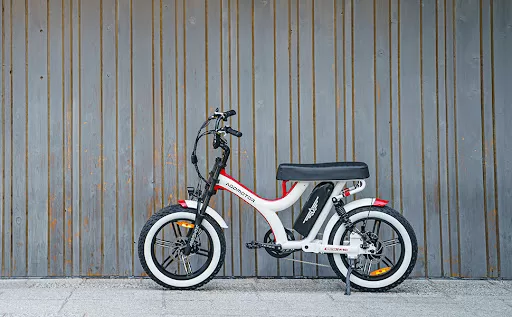 65X E-Bike Design
The HEROTAN 65X is a distinctive cruiser electric bike that offers a retro look combined with classy colors. It is fast, powerful, and fun to ride and is an excellent choice for commuting and leisure rides. The cruiser e-bike offers a wide range of features and top-quality components, making it a popular electric bike.
The bike isn't only superb in performance but is also equally aesthetically pleasing. The frame design is available in 4 different colors: Pearl White, Black, Yellow, and Orange. In addition to the bright colors, the Herotan 65X has a classy appearance.
Unique Ebike Frame
The HEROTAN 65X offers a retro 1970s design with a solid, strong, and convenient step-over frame. The retro fat tire electric bicycle offers a wide range of benefits and is considered one of the most impressive mopeds available. With its strong frame, you can take this cruiser electric bike anywhere you want. Conquering uneven roads, beaches, snow, uphill rides, or commuting, the bike is capable of providing equal comfort and power.
Motor & Battery
In terms of power, the HEROTAN 65X is equipped with a rear-mounted Addmotor 750-watt motor that is capable of providing 80N.M. The motor is strong enough to provide good power to ensure a smooth ride anywhere you want. You can choose between throttle mode and pedal assist on this moped. With this motor, you can reach a top speed of 25 mph.
The fat tire electric bike is extremely comfortable and efficient in performance. In terms of battery, Addmotor relied on the latest UL-certified 48V*20Ah battery pack that has Samsung's 21700 battery cell combination to ensure continuous power for uninterrupted rides. According to Addmotor, the bike can deliver up to 105+ miles per charge. The max load capacity on this bike is 300 lbs, which is ideal for everyday tasks.
Features
Addmotor bikes are regarded as some of the top-rated e-bike options on the market. The HEROTAN 65X has a strong case to be the finest in the business with plenty of extra features as compared to other options. First, there's a 5-inch display on the handlebar, which helps you to monitor your bike's insights such as battery bars, speedometer, odometer, PAS level, and light indicators. Aside from the display, the main feature of this cruiser bike is its EB 2.0 system, which improves battery, control, light, mechanical, and integrated systems.
The HEROTAN 65X has a solid dual suspension feature thanks to its 6061 aluminum alloy frame. To add to its comfort, the bike features 20" x 4" fat tires with high-quality improvements over previous versions. Credit to these fat tires and dual suspension system, the bike is capable of providing comfortable rides over rugged or bumpy terrains.
The bike also features a long banana seat that can seat two people comfortably. The leather seat is quite comfortable and allows you to take anyone with you on the ride. Furthermore, there's a 5-in-1 unique patented light system that provides a driving light, left and right turns, danger light, brake light, and flashlight to offer safety for the rider.
Bottom Line
In conclusion, the HEROTAN 65X is an exceptional moped-style electric bike for everyday use. For people of all ages, the bike delivers excellent performance and offers a smooth riding experience. If you are considering switching to electric bikes, you can trust Addmotor bikes to be your first choice.