Career Summary:
Mike Spence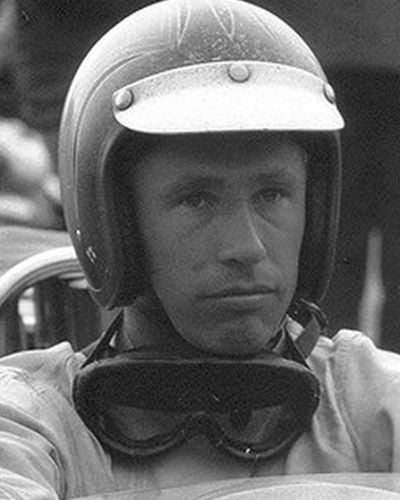 December 30, 1936

May 07, 1968

United Kingdom

Not Active

79

Lotus,BRM

4

12

1

2

5.06%

15.19%
Mike Spence was a British racing driver who competed in various motorsport categories but was best-known after his days in Formula 1. He recorded 36 starts in the Formula One World Championship between 1963 and 1968, scoring one podium.
Michael Henderson Spence was born on December 30,1936, in Croydon, Surrey, and since early age was involved in the world of cars after his family owned a garage in Maidenhead. Spence raced in the late 1950s driving a father's cars before he moved in the open-wheels racing. His progress through the Formula Junior was fast and after a couple of years, he became a member of Lotus Junior team.
Mike Spence's Formula 1 debut with Lotus
In 1963, Mike unexpectedly got a chance to race in Formula 1. He replaced injured Trevor Taylor in the Italian Grand Prix and qualified 9th for the race which he failed to finish due to the failure of his Lotus 25.
Spence stayed with Lotus in 1964 but competed mostly in Formula 2. However, in the mid-season, he jumped to the seat of Peter Arundell's car and drove in six Formula 1 Grand Prix races alongside Jim Clark, picking points in Italy and Mexico before finishing 12th in the championship.
The season of 1965 was Spence's last with Lotus team. The start of the season was really good as he won prestigious non-championship Race of Champions at Brands Hatch. He drove full Formula 1 season and picked a total of 10 points, eventually finishing 8th in the points. That year Mike scored his only podium finish taking 3rd place in Mexico but that wasn't enough to secure his place with Lotus for another campaign.
Moving to BRM team in 1966
After departure from Lotus, Spence signed with British Racing Motors but BRM sent him to Reg Parnell Racing. The season of 1966 was pretty poor and the British driver retired from six out of eight races but finished 5th at Zandvoort and at Monza, eventually taking the 13th place overall. In the non-championship events, Spence performed better and even managed to win South African Grand Prix.
In the following year, Mike was promoted to the BRM factory-backed team to drive alongside Jackie Stewart. That was a year of mixed fortune for the Croydon-born driver. He retired from five races but also scored on five occasions. He collected a total of nine points to finish 10th in the final classification.
Sports cars racing career
During 1967, Spence was more successful in the sports cars racing. He was driving the innovative Chaparral 2F alongside Phil Hill. They were good in 12 Hours of Sebring and 1000 km of Spa but the best performance was at Brands Hatch where they dominantly won BOAC 500, a 1000 km race. In the following team, Mike moved to Alan Mann Racing team which was running infamous Ford P68 which was extremely fast but totally unreliable, so Spence and Jochen Rindt retired from BOAC 500.
Fatal crash at Indianapolis
In 1968, Spence got a call from Colin Chapman to join Lotus team for the second time, as a replacement for Jim Clark. Mike was planned to race in Indianapolis 500 but was killed in a crash during the test on 7th of May. Driving a turbo car, he misjudged entry to turn one and crashed heavily into the concrete wall. The right front wheel hit Spence in the head. The injuries were horrible and the poor driver died in the hospital later that night.
Video - Spence's fatal crash at Indianapolis