Career Summary:
Parnelli Jones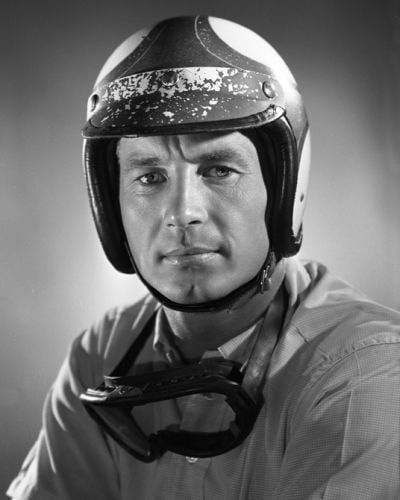 August 12, 1933

90

United States

Not Active

167

27

42

15

2

16.17%

25.15%
Parnelli Jones is an American racing legend, a former driver and team owner who was active from the 1950s to the early 1970s. His greatest achievement is a victory at 1963 Indianapolis 500. He was also the three-time USAC Sprint Car Series champion and one-time USAC Stock Car champion.
In the major American open-wheel championship, sanctioned by USAC in that time, Jones recorded 59 starts and six victories. On the other side, he recorded 34 starts in the NASCAR Grand National championship, winning four times.
His other notable achievements are 1970 Trans-Am title with Ford and two wins at Baja 1000 off-road race in 1971 and 1972.
Parnelli started to race at the age 17
Rufus Parnell Jones was born on August 12, 1933, in Texarkana, Arkansas. As a kid, he moved with a family to Torrance, California, where he grew up and still lives. He was nicknamed Parnelli by a friend.
Parnelli started to race at the age 17, entering Jalopy race at Carrell Speedway in Gardena, California. His parents didn't know that their son race cars. During the 1950s, he participated in different racing disciplines, being the most successful in the late models stock car races.
NASCAR Grand National debut in 1956
Jones made his debut in the NASCAR Grand National in June 1956, driving a Ford for Vel Miletich at Merced Fairgrounds. He was 13th in his first race. In the next race, at Bay Meadows Speedway, he finished in the second place. He started one more time in 1956, crashing out at Darlington Raceway's Southern 500.
Maiden NASCAR Grand National victory in 1957
In 1957, Parnelli participated in ten Grand National races, what remained his most active NASCAR season in a career. He was driving the #11 Ford for Oscar Maples, scoring three top 10 results. He collected his first victory in August at Kitsap County Airport in Bremerton, Washington.
In 1958, Jones rejoined Vel Miletich to drive his #97 Ford in three races. He scored his second win in a career at California State Fairgrounds in Sacramento. In 1959, he participated in just two events with #97 Ford, winning the race at Los Angeles' Ascot Stadium. The season 1960 was Parnelli's last year with Vel Miletich. He participated in three races, finishing best in the sixth place at Arizona State Fairgrounds in Phoenix.
USAC National Championship debut in 1960
From 1960, Jones focused his career more to another discipline than stock car racing. He participated in the USAC National Championship, what was the main North American open-wheel competition in that time. He was driving for two different teams, scoring one podium (2nd in Sacramento) to finish 18th in the points. The champion was A.J. Foyt.
Three-time Sprint Car champion
Besides racing in the USAC National Championship, Jones contested in the Midwest division of the 1960 USAC Sprint Car Championship, becoming a champion for the first time.
In 1961, the USAC Sprint Car Championship hasn't divided into Midwest and East divisions anymore. Parnelli became the first winner of the unified championship. He defended a title one more time in 1962.
Maiden victory and Indy 500 debut in 1961
After a successful debut in 1960, Jones continued his USAC National Championship career with J.C. Agajanian, driving the #98 Willard Battery-sponsored car and finishing 9th in the final standings. Jones took his first pole position at Illinois State Fairgrounds while the maiden victory came in the season's finale at Arizona State Fairgrounds in Phoenix.
In May 1961, Jones debuted at Indianapolis 500, starting 5th and finishing 12th. He shared Indy 500 Rookie of the Year honor with Bobby Marshman. Jones was leading for 27 laps during the race until he was hit in the face with a stone so he had to slow down and dropped to 12th.
Pole position at 1962 Indianapolis 500
In the 1962 USAC National Championship, Jones continued to race with the #98 car for J.C. Agajanian. At Indianapolis 500, he became the first driver in a history to qualify over 150 mph, winning the pole position at a speed of 150.370 mph (241.997 km/h). In the race, he was leading for 120 laps until a brake line failure slowed him down. He finished in the seventh place.
Later in the season, he managed to win in Indianapolis, at the Indiana State Fairgrounds' one-mile dirt track. At the end of the season, Jones was third, behind Rodger Ward and A.J. Foyt.
Pole position and victory at 1963 Indianapolis 500
In 1963, his third season with J.C. Agajanian, Jones was the fastest qualifier again at the Indianapolis 500, setting the average speed of 151.153 mph. In the race, Parnelli's main rival was Jim Clark in the rear-engined Lotus-Ford. Although Jones was a step from disqualification due to oil leakage, he won the race.
It remained his only win of the season. He scored six top 10 results, finishing fourth in the final standings, behind A.J. Foyt, Rodger Ward and Jim McElreath.
Two wins in the 1964 USAC National Championship season
The season 1964 was the last full season for Jones in the USAC National Championship. He was driving the #98 car for J.C. Agajanian but also for Team Lotus. Although he was on the pole five times and scored two wins, more than in any other season, he finished only sixth in the championship. He was the race winner with Lotus-Ford at Milwaukee Mile and Trenton Speedway.
In 1964, Jones was also successful in the USAC Stock Car Championship, winning seven races on his way to the championship title.
Last USAC National victory at Milwaukee Mile
In 1965 USAC National Championship season, Jones participated in just three races with J.C. Agajanian's #98 Lotus-Ford. At Indianapolis 500, he was second behind Jim Clark. Jones won the Rex Mays Classic at Milwaukee Mile, what was his last win in the major open-wheel championship.
Jones participated in two races in 1966 with J.C. Agajanian Shrike-Offenhauser, including Indianapolis 500 where he was 14th. In 1967, he recorded his last participation at Indianapolis 500, finishing sixth with Andy Granatelli's revolutionary STP-Paxton turbine car. He led for 171 laps but gearbox failure prevented him of victory.
Last NASCAR victory in 1967 at Riverside
Since focusing his career to open-wheel racing in 1960, Jones was appearing occasionally in NASCAR, recording thirteen starts between 1963 and 1970. In January 1967, Jones scored his fourth and last NASCAR Grand National victory by winning the Motor Trend 500 at Riverside International Raceway. He was driving the #115 Ford for Bill Strope.
A year later, Jones was third at Riverside with the same car. His last NASCAR race was the 1970 Moor Trend 500 at Riverside with Wood Brothers' #21 Mercury. He finished in the 11th place.
Jones secured 1970 Trans-Am title for Ford
In the late 1960s, while slowing down with his racing commitments, Jones entered some other competition besides USAC National and NASCAR Grand National. In 1966, he participated in midget races, winning five times, but also in four races of the Canadian-American Challenge Cup.
In 1967, he re-entered Can-Am races but also participated in few races of the Trans-Am Series. In 1970, Jones spent a full season in the Trans-Am with Ford Mustang. He won five races to secure championship title for Ford. Drivers' title wasn't awarded in that time.
Two-time winner of the Baja 1000
In 1968, Jones participated in the NORRA Mexican 1000 (today Baja 1000) for the first time, with Bill Strope as his co-driver in a Ford Bronco. In 1970, Jones won the Baja 500 and then, in 1971, he won for the first time in the Baja 1000, setting a new record time of 14 hours and 59 minutes.
In 1972, he and Bill Stroppe defended the Baja 1000 victory in a Ford Bronco. Jones had won two more off-road races in 1973 (Baja 500, Mint 400) before he retired from racing following a major accident at 1974 Baja 500.
Three USAC titles and two Indy 500 wins as team owner
As a team owner, Parnelli was the most successful in the USAC National Championship, winning three consecutive titles from 1970 to 1972 and winning the Indianapolis 500 two times in 1970 and 1971.
The Vel's Parnelli Jones Racing (or VPJ) was formed by Jones and his business partner Vel Miletich in 1969. They scored immediate success in 1970 when Al Unser won both Indy 500 and the championship. In 1971, Unser was the Indy 500 winner while Joe Leonard took the championship. In 1972, Leonard defended his championship title.
Unsuccessful attempt in the Formula One
In 1974, Jones formed a Formula One team to run the #55 Parnelli VPJ4-Cosworth for Mario Andretti. They debuted at 1974 Canadian Grand Prix, missing a point for one place as Andretti finished seventh. At the US Grand Prix, Andretti qualified third but an engine of his car stalled on the start and he was pushed by his crew, causing a disqualification.
In 1975, the team participated in twelve (of fourteen) races. Andretti scored points at Swedish Grand Prix (4th) and French Grand Prix (5th) to finish 14th in the final standings. The team was 10th among twenty teams which took part in the championship.
In 1976, Mario Andretti took one more point with a sixth-place finish at the South African Grand Prix, The team left the championship after the second round.
Photos: IMS, Ford Performance, IndyCar, motorsport.com, historicracing.com,