Career Summary:
Peter Gethin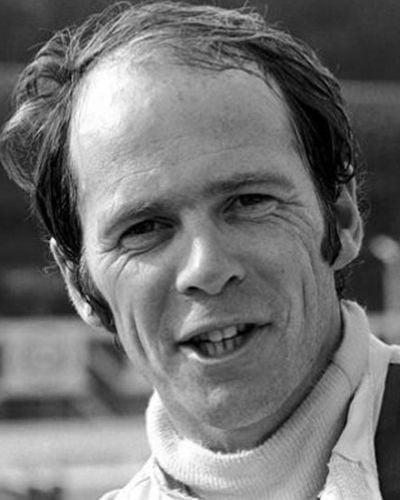 February 21, 1940

December 05, 2011

United Kingdom

Not Active

203

McLaren,BRM,Embassy Hill

35

71

36

38

17.24%

34.98%
Peter Gethin (1940-2011) was a British racing driver, best known as the Formula 1 pilot in the 1970s. The highlight of his career was the victory at 1971 Italian Grand Prix.
In total, he recorded 30 starts in the Formula One World Championship between 1970 and 1974, driving for McLaren, BRM and Embassy Hill.
Success in Formula 3 and Formula 2
Peter Kenneth Gethin was born in Ewell, Surrey. He was the son of a successful jockey but didn't follow his father's footsteps. He was more interested in cars and successfully competed in Formula 3 and Formula 2 series. Good results propelled him into the new, expanding and growing British Formula 5000 in 1969 while in the following year he was called by McLaren to replace the team's founder Bruce who had died in a crash at Goodwood Circuit. On the same day at the same place, Gethin was testing the F1 McLaren M14.
Formula 1 debut with McLaren in 1970
Gethin, already quite experienced racer, made his Formula 1 debut relatively late, at the 1970 Dutch Grand Prix. At Zandvoort circuit, he was faster than his veteran teammate Dan Gurney but was forced to retire on lap 19. His first top 10 finish was at the Austrian Grand Prix at Osterreichring where he managed to finish 10th, missing a chance to finish in a higher position.
He continued to improve and became a versatile racer, but he never managed to achieve top-class racing results which didn't prevent him from being well-respected by the other drivers and the fans. Gethin finished ninth at Monza and sixth at the Canadian Grand Prix at Mont-Tremblant which was his first race where he scored points. In the 1970 season finale in Mexican Grand Prix, at Hermanos Rodriguez circuit, Gethin was 10th in qualifying and looked ready for another scoring, but McLaren's reliability issues prevented him from finishing the race.
Second year with McLaren team
In 1971, McLaren decided to reduce the number of cars to two, but retained Gethin's services, while Danny Hulme was the first pilot of the team. The start of the new season didn't go well as Gethin retired at Kyalami, but at the Spanish Grand Prix, he clinched 7th place in qualifying which was his career best. But, the race performance wasn't impressive and the Britton finished 8th with a bit of luck. Things were far from perfect after Gethin retired in his only race in Monaco while in the French Grand Prix he was ninth.
Highlight of Peter's career was a brilliant victory at Monza
But, before the Austrian Grand Prix, Gethin left McLaren due to the bad relation with team principal Teddy Mayer and joined Yardley BRM as a replacement for Pedro Rodriguez. Driving BRM 160P, he finished 10th at Osterreichring, but the following race was the one with some of the most surprising outcomes of that time.
The Italian Grand Prix at Monza was the one and only championship race win and a podium finish in Gethin's Formula 1 career. That was one of the memorable races as Gethin won passing from fourth in the final lap, beating Ronnie Peterson by only 0.01 seconds. Another interesting fact of that race is that Gethin set the fastest average speed in Formula One history (242.615 km/h) until the record was broken by Michael Schumacher in the same race in 2003.
"I deserved to win at Monza. Some people thought I was lucky, but in a sport like motor racing you make your own good fortune to a very great degree. I thrashed the life out of that BRM V12 engine for much of the race to catch the leading bunch. And I was the one positioned in the right place at the right time as we came out of Parabolica for the final time and just managed to squeeze out Ronnie Peterson to take the win," said Gethin once, speaking of the fabulous triumph.
Video - Gethin reaches the stars at 1971 Italian Grand Prix at Monza
Later in the 1971 season, Gethin scored another narrow win, over the 1972 world star and champion Emerson Fittipaldi, in the non-championship John Player "Victory Race" at Brands Hatch. That race should have been a celebration of Jackie Stewart's title, but ended in sadness as Gethin's team-mate Jo Siffert was killed in an accident.
Race of Champions winner
In 1972, Gethin stayed with BRM, competing in selected races, with sixth place at Italian Grand Prix as the only considerable result. In the following two years, he had only two guest starts in the Formula 1 championship and both were disappointing as he retired in Canadian Grand Prix in 1973 and in Great Britain in 1974. He also won the 1973 Formula 1 non-championship event called Race of Champions at Brands Hatch, driving Chevron-Chevrolet.
Working with Senna
After leaving the Formula 1 championship, Peter Gethin won the Tasman series, a Formula 5000 competition held in Australia and New Zealand. Later on, he raced CanAm sports cars in the US before returning to live in England, where he had a stint as the Toleman team manager in 1984 during Ayrton Senna's freshman season in Formula One.
Fun-loving and always popular, Gethin died at the age of 71, in December 2011, after a long illness.
Photo: wikipedia.org, independent.co.uk, theguardian.com, eurosport.com