Career Summary:
Raimund Baumschlager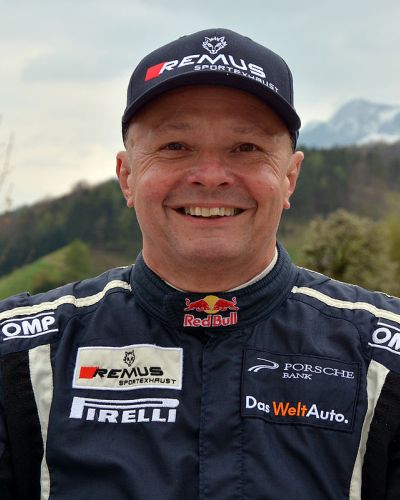 November 25, 1959

63

Austria

Austrian Rally Championship

252

83

143

32.94%

56.75%
Raimund Baumschlager is the most successful Austrian rally driver ever. He won fourteen national championship titles, the most recently in 2017. He's the only driver in the world to do such a thing.
Baumschlager captured his first title in 1993 when driving Ford Escort RS Cosworth. In 2003, he started a winning streak of eight consecutive championship titles, driving different variants of Mitsubishi (Carisma or Lancer) and Škoda Fabia S2000 in that period. He added four more consecutive titles between 2012 and 2015, driving a Fabia S2000 and Fabia R5. The last trophy he won at the wheel of Škoda Fabia R5 and Volkswagen Polo R WRC.
Baumschlager's career lasts for almost 40 years, since 1978. In that period, besides collecting trophies in his home country, Baumschlager recorded ten starts in the World Rally Championship, the last one in 2007.
Starting a racing career with fresh driver license
It all begun in 1978, immediately after Raimund Baumschlager received his first driver license. He entered slalom races and various skill competitions. He made a debut in rallying in 1982, participating at Phyrn Eisenwurzen Rallye.
In the following years, he participated in the Austrian Rally Championship as a privateer, using different vehicles. In 1985, he gets a status of priority driver and his professional career started.
One victory in the Opel Manta Group B car
Baumschlager was a member of the Vredestein Rally Team in 1986, driving a Toyota Corolla GT in national and European events. His navigator was Andreas Wolf. It was the last year of Group B cars and Baumschlager managed to score one great victory in a Group B car. He won the Osterreich Ring Sprint in an Opel Manta 400.
In 1987, he continued to drive Toyota Corolla GT for Vredestein Rally Team, making the WRC debut in that car. He participated at Rally Sanremo, finishing in the 20th place.
Maiden WRC points in a Volkswagen Golf GTI
In 1988, Vredestein Rally Team switched to Volkswagen Golf GTI 16V and Baumschlager scored his maiden WRC points in that car, finishing 8th at Rallye Sanremo.
In 1989, with Ruben Zeltner as a navigator, Baumschlager recorded two DNFs in WRC events (Portugal and Greece) but also several wins in national and European Rally Championship events, including Rallye Bohemia.
Volkswagen factory driver until 1992
In 1990, Baumschlager added more WRC points to his account, finishing fifth at Tour de Corse in a Volkswagen Golf GTI. He also repeated a victory at Rallye Bohemia, which was a part of the European Rally Championship. In that event, he was driving a Volkswagen Golf G60 Rallye.
Baumschlager was signed to drive for Volkswagen Motorsport, staying with the team until the end of 1992. He was driving a Golf G60 Rallye in European, German and Austrian rally events, regularly scoring victories. In 1992, he finished third in the Austrian championship.
First championship title in a Ford Escort RS Cosworth
In 1993, Baumschlager left Volkswagen and joined Red Bull Motorsport to drive Ford Escort RS Cosworth in the European Rally Championship, but also in the national championship. He and Klaus Wicha scored two ERC wins (Barum Rally and INA Delta Rally) and captured Austrian rally title, the first in a career.
In 1994, Baumschlager attended two WRC events in a Ford Escort RS Cosworth, retiring both at Acropolis Rally and 1000 Lakes Rally. In 1995, he was driving Nissan Sunny GTI in European events and Audi Coupe S2 in Czech rally events, including Barum Rally where he was second.
Return to Volkswagen in 1996
In 1996, Baumschlager rejoined Volkswagen Motorsport and competed in a Volkswagen Golf GTI or Volkswagen Golf III Kit Car in European and Austrian rally events. In November, he finished 10th at RAC Rally, which was a part of the 2-Litre World Championship.
In November 1997, Baumschlager had the honor to drive Volkswagen Golf TDI in its rally debut at Semperit Rally, finishing in the fifth place.
Two attempts at Spa 24 Hours in a VW Golf TDI
Before using a Golf TDI in rallying, Bauschlager recorded two participations at Spa 24 Hours in a VW Golf TDI. In July 1996, he was sharing the #81 Golf TDI with Jean-Francois Hemroulle and Chris Aberdein, finishing in 22nd place.
A year later, in July 1997, Baumschlager finished fourth overall at Spa 24 Hours, sharing the #81 VW Golf TDI with Jean-Francois  Hemroulle and Jörg Seidel.
Three WRC starts in 1998
In 1998, Baumschlager participated in three WRC events in the Sawfish Racing's Volkswagen Golf GTI 16V or Volkswagen Golf Kit Car, together with navigator Klaus Wicha. Their best result was sixth place at Safari Rally. At Rally Portugal and RAC Rally, they didn't reach the finish.
In the Austrian and European rally events, Baumschlager was driving Volkswagen Golf TDI but also Seat Ibiza Kit Car.
Fourth place in the British championship
In 1999, Baumschlager remained Volkswagen Motorsport's driver. His main competition was the British Rally Championship in which he was driving a Volkswagen Golf GTI. His best result was third place at Manx Rally and he finished fourth in the championship standings.
In 2000, Baumschlager participated in five events of the Austrian championship in a biodiesel-powered Volkswagen Golf TDI.
A season with Red Bull Ford Rally Team
In November 2000, Baumschlager left Volkswagen to join Red Bull Ford Rally Team at Semperit Rallye, Austrian round of the European Rally Championship. He finished sixth in a Ford Focus RS WRC. Baumschlager stayed with the team for the entire season in 2001, driving a Ford Focus RS WRC in the European Rally Championship and Austrian Rally Championship.
The highlight of the season was second place at ADAC Rally Deutschland, behind Citroen works driver Philippe Bugalski but ahead of Ford factory driver Francois Delecour and reigning world champion Marcus Gronholm in a Peugeot 206 WRC. Baumschlader finished 15th in the ERC and third in the Austrian championship.
Breaking the 24-hour average speed world record
In 2002, Baumschlager didn't participate much in rallying, attending just a few Austrian events with different cars (Proton Pert, Mitsubishi Carisma, Subaru Impreza).
His main event in 2002 was a successful attempt at breaking the world record of average speed during 24-hour drive. Driving the Volkswagen W12 prototype at Italian high-speed test track Nardo, he set an average speed of 323 km/h.
2003 – start of an unprecedented winning streak
In 2003, Raimund Baumschlager took his second Austrian rally title and the first in the unprecedented streak of eight championship-winning seasons. His victorious car was a Remus Racing Mitsubishi Carisma GT Evo, which he was sharing with three navigators – Ruber Zeltner, Stefan Eichhorner and Klaus Wicha. They were rally winners seven times in 2003.
In 2004, Baumschlager was combining Mitsubishi Carisma GT Evo V and Mitsubishi Lancer Evo V, winning four times and taking his third championship title.
Four more championship titles with Mitsubishi
In 2005, Baumschlager clinched the third consecutive title with Mitsubishi, winning three events with Thomas Zeltner as a new co-driver. They were also successful in a Mitropa Cup, winning two times and finishing second in the points.
In 2006, Bernhard Ettel was sitting next to Raimund Baumschlager in a Mitsubishi Lancer Evo VIII, helping him to win the fifth championship title in a career. In 2007, Thomas Zeltner was again Baumschlager's navigator and they won the championship in a Mitsubishi Lancer Evo IX. In 2008, they were combining Evo IX and Evo X to take their third title together and Baumschlager's seventh title in a career.
Last WRC attempt at 2007 ADAC Rallye Deutschland
While collecting championship trophies in the Austria, Baumschlager recorded one more WRC attempt. He and Klaus Wicha participated at 2007 ADAC Rally Deutschland in the ##63 Mitsubishi Lancer Evo IX. They were 21st overall and second in the N4 class.
After six seasons with Mitsubishi, it was a time for something new in 2009. After winning the season-opening Internationale Jänner Rallye in a Mitsubishi Lancer Evo IX, Baumschlager switched to Škoda Fabia S2000 from the second round. He scored four more wins to take his 8th championship title. In 2010, he scored fantastic seven wins, not losing one event, to capture his 9th championship title.
Beppo Harrach interrupted Baumschlager's streak
And then, in 2011, a miracle happened - Baumschlager lost a championship. Beppo Harrach was a dominant driver in a Mitsubishi Lancer Evo IX, winning six events against one Baumschlager's victory.
In 2012, Baumschlager returned to the top, winning six times in a Škoda Fabia S2000 and taking his tenth championship title. His navigators were Klaus Wicha and Thomas Zeltner. Baumschlager repeated the same achievement with Škoda Fabia three more times, winning championships in 2013, 2014 and 2015. In the second part of the season 2015, he switched from Škoda Fabia S2000 to Škoda Fabia R5.
14th championship title with Ogier's VW Polo R WRC
In 2016, one more Austrian driver managed to beat Baumschlager. It was Hermann Neubauer, who won the title in a Ford Fiesta RS WRC. Baumschlager's Fabia R5 wasn't competitive enough, so he decided to switch also into World Rally Car.
Volkswagen Motorsports sold him Sebastien Ogier's championship-winning Volkswagen Polo R WRC and he had a debut with that car in the third round of the 2017 Austrian Rally Championship. Baumschlager and his new co-driver Pirmin Winklhofer clinched victories in the last two rounds, taking the championship title in the last special stage of the last rally.
The first customer of brand new Volkswagen Polo GTI R5
In 2018, Baumschlager slowed down his rallying activities, participating in only three Austrian championship events, not finishing two times and taking one podium. In the same, he worked with Volkswagen Motorsport on the development of a brand new Volkswagen Polo GTI R5. The car had its competitive premier at Rally Catalunya and then deliveries started to customer teams. BRR Baumschlager Rallye & Racing Team became the first team to receive a car which would be used in the European Rally Championship in 2019.
Raimund himself participated in just one event of the Austrian rally championship in 2019, finishing third at Rallye W4 in a Škoda Fabia R5 evo.
Photos: Volkswagen Motorsport, brr.at, Harald Illmer, Pavel Biško, Jiri Jermakov, Petr Fitz, Petr Sagner, Marek Felt, Luboš Kubele/ewrc-results.com,