Career Summary:
Marcus Grönholm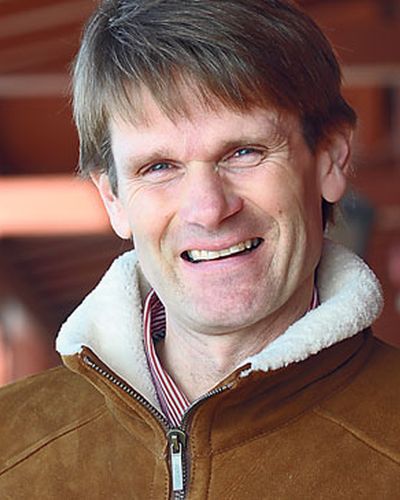 February 05, 1968

55

Finland

Not Active

191

45

84

23.56%

43.98%
Marcus Grönholm, nicknamed Bosse, is a Finnish rally and rallycross legend who captured two World Rally Championship titles in 2000 and 2002, both times driving Peugeot 206 WRC. Finland has seven world rally champions, Gronholm is the last driver from that Nordic country who was on the top of the world.
He retired from professional rallying after the season of 2007, returning in just three more WRC events in 2009, 2010 and most recently in 2019. In total, Gronholm recorded 153 starts, 30 wins and 61 podiums in the WRC.
He started his international rallycross career in 2008 in the European Rallycross Championship. In 2011, he finished second in the inaugural seasons of the Global Rallycross Championship. Grönholm currently leads the GRX Team which is active in rallying and rallycross.
Marcus' father was Finnish rally champion
Marcus Ulf Johan Grönholm was born on February 5, 1968, in Kauniainen, near Finland's capital Helsinki. His father Ulf Grönholm (born 1943) had a successful rally career, winning two Finnish rally championship titles and participating in four WRC events. Ulf was killed during a practice run in February 1981. Marcus was only 13 years old at the time of his father's death.
As a teenager, he participated in motocross races and then switched to boxing after a serious knee injury in a race. Marcus entered rallying in 1989, supported by a seven-year-older cousin Sebastian Lindholm, who was a very active driver in the ERC and WRC at that time.
WRC debut in the first season of rallying
Together with a co-driver Ilkka Riipinen, Marcus had a WRC debut in his first year of rallying, participating at 1989 1000 Lakes Rally with Lancia Delta Integrale. He finished 23rd overall and fifth in Production class.
Between 1990 and 1993, Gronholm had occasional appearances in rally events, driving Toyota Celica GT-4 and returning to 1000 Lakes Rally every year. In 1992, he added Swedish rally to his schedule, not finishing the race because of an accident.
Five Finnish rally titles for Marcus
Even though he wasn't so successful in the international rallying, he won the Finnish Group N title in 1991 and then four more times Group A titles from 1994 to 1998.
The first notable international success came in 1994, when Gronholm finished in fifth place at 1000 Lakes Rally, collecting plenty of points. His co-driver in Toyota Celica was Voitto Silander.
Timo Rautiainen joined Marcus in 1995
In 1995, Timo Rautiainen became Gronholm's navigator and they stayed together until his retirement. Since 1996, they started collecting WRC points regularly, driving Toyota Celica GT-4 for Toyota Castrol Finland or HF Grifone team.
At 1997 Rally Finland, Gronholm jumped into Toyota Corolla WRC for the first time, but he didn't finish the event. Good performances in the following period brought him several offers from factory teams, so he participated for the first time with Toyota Castrol Team in the closing round of the 1998 championship, at Network Q Rally GB. It was the event mostly remembered because of Carlos Sainz's retirement a few hundred meters before the finish line, which is why he lost the title.
Gronholm joined Peugeot WRC team in 1999
At the beginning of the 1999 WRC season, he participated in Swedish Rally with Seat Sport's Cordoba and at Rally Portugal with Mitsubishi Ralliart's Carisma. After trying three factory teams, Marcus had chosen a full-time ride with Peugeot Esso team that freshly entered the championship in 1999.
His first event with Peugeot 206 WRC was at Acropolis Rally, where he retired because the clutch was broken. In the next event, at Rally Finland, Gronholm and Rautiainen finished in fourth place. With one more good result, the fifth place in Australia, Gronholm was 15th in the 1999 WRC classification.
Marcus was the 2000 World Rally Champion
After a tough year for Peugeot, fantastic season followed in 2000, with two world championship titles both for the team and for Marcus. Gronholm scored his maiden WRC victory at 2000 Swedish Rally. Later in the season, he won three more times (New Zealand, Finland, Australia) and added three podiums and took world's title ahead of Richard Burns.
Peugeot Esso took teams' title, winning six times. Besides Gronholm's four wins, Gilles Panizzi added two wins at Corsica and Sanremo. Francois Delecour was third Peugeot's driver during the season, with Gronholm's cousin Sebastian Lindholm participating in one event.
Three WRC wins and fourth place in 2001
In 2001, Peugeot Total defended its title ahead of Ford, winning six events. Marcus was a winner three times, other three drivers (Didier Auriol, Gilles Panizzi and Harri Rovanpera) took one victory each.
Gronholm won in Finland, Australia and UK, finishing fourth in the final WRC classification, behind Richard Burns, Colin McRae and Tommi Makinen.
Gronholm's domination in the 2002 World Rally Championship
In 2002, Richard Burns joined Gronholm in the Peugeot Total team. With two world champions in a team, plus Gilles Panizzi and Harri Rovanpera as asphalt and gravel specialists, Peugeot easily captured third consecutive world's title, with nine wins in 14 events.
Gronholm was a dominant driver during a season, winning five times and taking his second world championship title with more than a double advantage over a second-placed Petter Solberg. One of Marcus' triumphs was the third consecutive victory at Rally Finland.
In 2003, the same four drivers were competing for Peugeot but the team lost a title fight against Citroen. In the drivers' standings, Gronholm was in the sixth place. He added three wins to his account: Sweden, New Zealand and Argentina.
Two seasons with Peugeot 307 WRC
For the 2004 WRC season, new Peugeot 307 WRC was prepared. Gronholm spent a full season in the #5 car, with Freddy Loix, Harri Rovanpera and Cedric Robert as teammates in the #6 car. With just one victory, at his home event in Finland, Marcus was fifth in the points at the end of the season. He was close to a victory at Cyprus, where he was the fastest but Peugeot drivers were disqualified after the event because of illegal water pumps.
In 2005, his last season with Peugeot, Marcus Gronholm scored two wins with Peugeot 307 WRC, finishing tied in the points with Petter Solberg behind Sebastien Loeb. Gronholm was the winner in Finland (fifth time) and Japan.
Manufacturers' title for Ford, Marcus lost by one point
Peugeot withdrew from WRC in 2006, so Gronholm had to move to another team. He was hired by BP Ford World Rally Team to drive all-new Ford Focus RS WRC 06 with Mikko Hirvonen as a teammate. Gronholm started the season with Monte-Carlo victory, his first in a career. A few weeks later, Gronholm added Swedish victory to his account.
Later in the season, Sebastien Loeb and Marcus Gronholm were dominant drivers, sharing fifteen wins among two of them. Loeb collected eight wins before he withdrew from the championship because he had an injury in a biking accident, missing the last four events. Gronholm was a winner three times in those four events, finishing second in the championship, just one point behind Loeb. Gronholm and Hirvonen secured Manufacturers' title for Ford.
2007 – one more Ford's triumph, Gronholm was a runner-up again
One more Manufactures' title for Ford followed in 2007, again with Gronholm and Hirvonen as main drivers. In the drivers' championship, Gronholm was in the second place again, losing a title to Sebastien Loeb.
Gronholm won five events in 2007. He was the winner in Sweden, Italy, Greece, Finland and New Zealand.
Record holder with seven wins at Rally Finland
Gronholm's victory at 2007 Rally Finland was his seventh in a career in that event, so he became the record-holder with most wins at the famous gravel rally, together with Hannu Mikkola.
In 2007, Gronholm set one more record. At New Zealand, he beat Loeb for 0.3 seconds, which was the closest ever winning margin in the history of the World Rally Championship.
In September 2007, while still fighting for the title, Gronholm announced retirement, saying that he wants to stop while he still has a speed to win rallies. His last event was the 2007 Wales Rally GB, where he finished in second place, not winning his third title.
Two more WRC events as a privateer
In the next couple of years, Gronholm switched his focus to rallycross, competing in the European Rallycross Championship and US-based Global Rallycross Championship. In rallying, he participated a lot in various show events, such as Memorial Bettega, Rallylegend or Monza Rally Show.
Gronholm returned two more times to WRC event, participating as a privateer at 2009 Rally Portugal with Subaru Impreza WRC and at 2010 Rally Sweden with Ford Focus RS WRC.
Victories in the European and American rallycross competitions
In the 2008 European Rallycross Championship, Gronholm was driving Ford Fiesta ST, scoring a victory in the Swedish round. He participated in two more rounds, finishing 16th in the final ERX classification.
Gronholm's next rallycross project followed in 2011, in the inaugural season of the Global Rallycross Championship. He participated in six events with Olsbergs MSE's Ford Fiesta, winning three times and finishing second in the points behind his teammate Tanner Foust.
Injury at 2012 X Games stopped Gronholm's career
In 2012 GRC season, Gronholm won first two events at Charlotte Motor Speedway and Texas Motor Speedway. He was driving Ford Fiesta for Swedish Olsbergs MSE team.
In the next round, at X Games in Los Angeles, Gronholm suffered severe injuries in a crash during a practice session. Marcus spent a week in the hospital in LA recuperating and was unable to continue the season.
Race of Champions and Nations Cup winner
Besides being successful in rallying and rallycross, Gronholm clinched two wins in the Race of Champions. In 2002, at Gran Canaria, he became Champion of the Champions winning the individual competition, beating Sebastien Loeb in the final round.
In 2006, at Stade de France, Gronholm won ROC Nations Cup together with Finnish F1 star Heikki Kovalainen. They beat Team USA in the Final.
Niclas Gronholm is continuing family racing tradition
The 2012 GRC season was the last competitive season for Marcus Gronholm. After that, he focused on developing a portfolio of different activities, including filming work with motoring television programmes, working with automotive manufacturers testing cars, and advising manufacturers on their sporting strategies.
Marcus also devoted himself to a career of his son Niclas (born 1996). Niclas Gronholm debuted in the FIA World Rallycross Championship in 2014, participating in one race of the RX Lites Cup. In 2015, Niclas debuted in the Supercar class, moving to Olsbergs MSE team in 2016 to drive full season with Ford Fiesta.
Gronholm RX has a big target - the top of the world
In 2017, Marcus Gronholm entered the World Rallycross Championship with his own team GRX (Gronholm RX), running the #68 Ford Fiesta Supercar for Niclas.
In 2018, the team switched to Hyundai i20 Supercar and expanded its operations to two cars, taking former ERX champion as the second driver Timur Timerzyanov. Niclas finished seventh in the championship, the best among drivers out of three factory-supported teams.
Ahead of 2019 World RX season, three manufacturers (Peugeot, Audi, Volkswagen) withdrew from the championship, leaving GRX as one of the main teams in the fight for the championship title.
One more WRC start for the 51st birthday
Marcus Gronholm had an idea to celebrate his 50th birthday (in February 2018) with a one-off return to World Rally Championship but that plan failed. However, the idea became a reality in February 2019, for his 51st birthday, when he was driving factory-entered Toyota Yaris WRC at Rally Sweden. Navigated by Timo Rautianinen, who won two WRC titles with him, Gronholm experienced lots of problems during the rally and finished in 38th place.
Video : Marcus Gronholm at Pikes Peak
Photos: motorsport.com, gettyimages.com, ewrc-results.com,