Career Summary:
Michel Ferte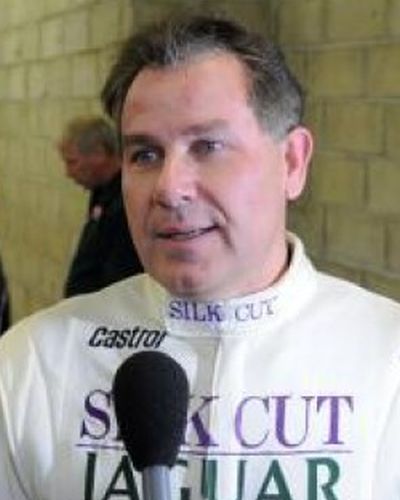 December 08, 1958

60

France

Not Active

143

10

39

6

5

6.99%

27.27%
Michel Ferte is a French former racing driver who achieved some success during the 1980s and 1990s in several racing disciplines: open-wheel racing, touring car racing and sports car racing. He made his way in the single-seater racing from Formula Renault, Formula 3 and Formula 2 to Formula 3000. He was the French F3 champion in 1983 and second in the European F2 Championship in 1984.
In touring car racing, Ferte was the French vice-champion in 1990. In the sports car racing, he recorded thirteen starts at 24 hours of Le Mans, with second place overall in 1991 as the highlight. He reached Le Mans podium in a Jaguar XJR-12.
Competing against brother early in a career
Born in December 1958 in Falaise in northwestern France, Michel Ferte started his racing career in 1978, entering the French Formula Renault. One of his rivals was his older brother Alain (born 1955).
In 1982, Michel Ferte made a debut in the French Formula 3 Championship, finishing second in the final classification, behind Pierre Petit. He also participated in some international races, including F3 Monaco Grand Prix, where he finished 8th.
Formula 3 champion and Le Mans debut in 1983
In 1983, driving a Martini-Alfa Romeo for Team Oreca, Ferte became the French Formula 3 champion. He was a race winner five times, taking a title with a two-point advantage over Francois Hesnault.  In the same season, he made a Formula 2 debut, driving a Martini-BMW in three rounds of the European F2 Championship.
In June 1983, Michel Ferte made a debut at 24 hours of Le Mans, alongside his brother Alain and Jean Rondeau in the #26 Rondeau M482-Cosworth. They retired after 90 laps.
Third place in the 1984 European Formula 2 Championship
In 1984, Ferte participated full-time in the European Formula 2 Championship, driving the #7 Martini-BMW for Martini/Oreca. With five podiums and no wins, he was third in the points, behind Ralt Racing's Mike Thackwell and Roberto Moreno.
In June 1984, Ferte returned to Le Mans in the #61 Porsche 962, driving for Preston Henn's T-Bird Swap Shop. His teammates were Preston Henn and Edgar Doren. They retired after 247 laps.
Five seasons in the International Formula 3000
In 1985, Michel Ferte progressed to the International Formula 3000, what was the open-wheel series just one step below Formula One. In his debut season, he was driving the #3 March-Cosworth for Equipe Oreca, scoring three podiums and finishing 5th in the final standings. He stayed with Oreca in 1986, finishing fourth in the points with five podiums.
In the 1987 F3000 season, he was driving for two teams (BS Automotive and Genoa Racing), dropping to 14th place at the end of the season. In 1988, he had a part-time schedule with Sport Auto Racing and then recorded just one F3000 start in 1989 with Cobra Motorsports.
Joining Silk Cut Jaguar in 1989
In the meantime, Ferte returned to Circuit de la Sarthe in 1988, driving a Cougar C20B-Porsche for Primagaz Competition and sharing a car with Pierre-Henri Raphanel. Due to fire on a car, they retired after 120 laps.
In June 1989, he joined Silk Cut Jaguar for the first time at Le Mans race, sharing the #4 Jaguar XJR-9 LM with his brother Alain and Eliseo Salazar. They finished the race in 8th place. A year later, at 1990 Le Mans race, he was a partner to Eliseo Salazar and Davy Jones in the #4 Jaguar XJR-12 LM. They retired after 282 laps.
Second place in the 1990 French Supertouring Championship
In 1990, Michel Ferte participated in the French Supertouring Championship, driving a BMW M3. He finished second in the final standings, behind Jean-Pierre Malcher, who was also driving a BMW M3.
In 1990, Ferte also made two starts with Ferrari France in the IMSA GTO Championship, driving a Ferrari F40 LM at Road America and Watkins Glen. He retired in both races. His partner in the second race was Hurley Haywood.
1991 Le Mans podium in a Jaguar XJR-12
In 1991, Michel Ferte reached a peak of his sports car racing career, finishing on a podium at Le Mans race. He was a member of the Silk Cut Jaguar team for the third year in a row.
This time, he was sharing the #35 Jaguar XJR-12 LM with Davy Jones and Raul Boesel. After completing 360 laps, they were second, behind factory-entered Mazda 787B.
Two more touring car seasons with BMW
Ferte's main competition in the early 1990s was the French Supertouring Championship. After finishing as a vice-champion in 1990, he spent two more seasons driving a BMW M3 in the championship. In 1991, he finished fifth in the points. Next year, he wasn't among front-runners, dropping to 14th place in the final standings.
Seven more Le Mans attempts, five DNFs
Ferte paused from Le Mans 24h for two years and then returned in 1994, driving a Venturi 600LM for Jacadi Racing. He didn't finish the race. From 1995 to 1998, he recorded four Le Mans participations with Pilot Racing, driving a Ferrari F40 LM two times and Ferrari 333 SP two times. He finished the race just once, in the 12th place in 1995.
In 1999, Ferte joined Henri Pescarolo and Patrice Gay in the #14 Courage C50-Porsche, finishing ninth overall in his penultimate race at Circuit de la Sarthe. The last attempt followed in 2003 when he was driving a Ferrari 550 Maranello GTS for XL Racing, not finishing the race.
Retiring from racing at the end of 2003
During the 1990s, Ferte occasionally competed in some sports car racing championships. In 1994, he was driving Jacadi Racing's venturi 600LM in the International GT Endurance Series, even winning the Spa 4 Hours. He also won the Autumn Gold Cup Meeting at Silverstone in a Venturi LM600.
In 1995, Ferte participated in the BPR Global GT Championship with Pilot Aldix Racing's Ferrari F40 LM, winning the 4-hour race at Anderstorp. His partner was Olivier Thevenin. Ferte spent one more season with the team in the 1996 Global GT Championship. It was his last full season in some championship.
Since then, he returned to Le Mans few more times and participated in one round of the French GT Championship in 2003, what was his last active year in racing.
Photos: autonewsinfo.com,