Career Summary:
Hurley Haywood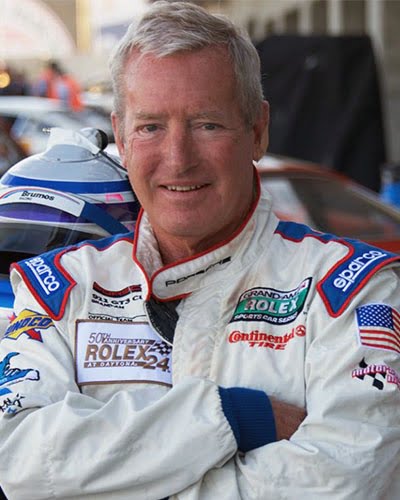 May 04, 1948

75

United States

Not Active

434

58

121

14

4

13.36%

27.88%
Hurley Haywood is a former American racing driver, one of the most successful endurance drivers in motorsport history with aggregate ten victories at major endurance events: five times at Daytona, three times at Le Mans and two times at Sebring. During his racing career which lasted from 1969 to 2012, Haywood became a synonym for Brumos Racing's Porsches, as he started and ended his career driving a Porsche for Brumos.
Hurley and Brumos - a bond for life
Hurley Haywood was born on May 4th, 1948, in Chicago. His racing career started in 1969 with Jacksonville-based team Brumos Racing and that connection is still alive, even after he ended his racing career. After the death of Brumos Racing's owner Peter Gregg, who was also a successful racer and Haywood's longstanding partner, Hurley took over the leadership of Brumos' business operations.
Haywood and Gregg together since 1969
Haywood and Gregg have met for the first time at a local autocross event in Florida. Haywood was a college student and he competed against Gregg. After the race, they became friends and formed a racing partnership that would eventually become known all over the world. They raced together for the first time at Watkins Glen 6-hour race on July 12th, 1969. Of course, they were driving Porsche. It was a #58 Porsche 911 S and they finished 8th overall, taking the victory in GT 2.0 class.
In 1970, Hurley was drafted into the Vietnam War. After completing his duty, he returned home and continued to race.
Daytona debut with #59 Porsche in 1971
In January 1971, Haywood debuted at Daytona 24-hour race, driving Porsche 914/6 alongside Peter Gregg. They changed the number on the car to 59 and it remained Haywood's number until the end of the career. They didn't finish the race due to engine failure, but later that year, Haywood and Gregg won the GTU class title in the inaugural IMSA GT championship. They won five of six races.
Two consecutive GTU titles
His second title came in the second year of competition, again in the GTU class of IMSA GT Championship, after four wins in ten races. This time, Haywood was the sole champion because he competed without Gregg in one of the races.
In 1973, Haywood partnered Gregg in the IMSA GT races at three events, but mostly focused on Can-Am Challenge Cup, and participated in seven races with the Porsche 917/10TC prototype. He finished third in the final standings.
Maiden victories at Daytona and Sebring in 1973
In 1973, Haywood scored his maiden victories at Daytona and Sebring endurance races. His co-driver in the #59 Porsche 911 Carrera RSR at Daytona was Peter Gregg while at Sebring 12-hours race they were joined by Dave Helmick.
In 1974, Hurley continued to drive Brumos Porsches but also decided to try something else, so he entered the Formula Super Vee Championship. After seven races and one victory, he finished ninth in the standings. The next year, he returned to sports car racing only.
Haywood won Daytona again in 1975
Haywood's second victory at 24 hours of Daytona followed in February 1975, again with the #59 Brumos Porsche 911 Carrera RSR and again with Peter Gregg as co-driver. At the Sebring 12-hour race, they started from the second place on the grid but retired after a suspension failure. Both races were a part of the 1975 IMSA GT Championship. Haywood won one more race at Mosport while Peter Gregg won his third consecutive title.
Third Daytona win, again with Porsche
At the 1976 24 hours of Daytona, the #59 car was again victorious, but it wasn't a Brumos Porsche. The #59 was a BMW 3.0 CSL driven by Peter Gregg and Brian Redman. Haywood was driving the #61 Brumos Porsche alongside Jim Busby and they finished 3rd. At the 1976 12 hours of Sebring, Haywood joined Gregg in the #59 BMW and they finished seventh. During the season 1976, Haywood focused on Trans-Am and competed with Vasek Polak Racing's Porsche 934.
In 1977, two major triumphs followed. In February, Haywood reached his third overall victory at 24 hours of Daytona. He was sharing the Ecurie Escargot Porsche 911 Carrera RSR with John Graves and Dave Helmick.
Dramatic victory at the 1977 Le Mans
For the 1977 24 hours Le Mans, Haywood was recruited by Martini Racing Porsche. In his Le Mans debut, Haywood took a sensational and dramatic victory, sharing the #4 Porsche 936 with Jürgen Barth and Jacky Ickx. Three-time Le Mans winner Ickx started the race in the #3 Porsche but after that car broke, he joined Haywood and Barth in the team's #4 sister car.
The broken engine nearly halted the car in the last hour but the mechanics removed the ignition and injection of the failed cylinder, and the smoking car limped around the track to finish te race for Ickx's fourth and Haywood's first victory.
Third place at the 1978 Le Mans
In 1978, Haywood achieved two podiums in three major endurance races. Bob Hagestad's Porsche 935 which he was driving retired at Daytona but took the second place at Sebring. At Le Mans, Haywood was again driving for Martini Racing Porsche team, sharing the #7 Porsche 936 with Peter Gregg and Reinhold Joest. They finished third behind Renault Alpine A442B (Pironi/Jaussaud) and #6 sister Porsche (Ickx/Barth/Wollek).
Fourth Daytona win in 1979
Fourth win at a Daytona 24-hour race followed in February 1979. Haywood partnered Danny Ongais and Ted Field in the #0 Interscope Racing Porsche 935. It seemed that Haywood could fight for one more victory at Le Mans after he and Bob Wollek secured pole position for Essex Motorsport Porsche 936, but they retired after 236 laps.
Haywood raced at the 1980 Indianapolis 500
One more retirement at Le Mans followed in 1980, with Porsche 935 K3 which Haywood was sharing with Don and Dale Whittington. At Daytona, Haywood finished 11th with Brumos Porsche, and at Sebring he finished 10th with Bayside Disposal Racing Porsche. Haywood entered the competition in the World Challenge for Endurance drivers and finished seventh in the final classification.
The season 1980 was also remembered because of Haywood's only attempt at Indianapolis 500. He was driving for Lindsey Hopkins Racing and qualified in the 25th place. The fire stopped him after 127 (of 200) laps and he was classified 18th.
Second victory at Sebring in 1981
The season 1981 started with a retirement at Daytona 24-hour race, in the #86 Porsche 935 of Bayside Disposal Racing. The same car was more successful at Sebring, where Haywood won the race with Al Holbert and Bruce Leven as co-drivers.
At the 1981 Le Mans, Haywood rejoined Porsche factory team to run #12 Porsche 936 with Jochen Mass and Vern Schuppan. They finished 12th overall in the race won by the #11 sister car of Jacky Ickx and Derek Bell.
During 1981, Haywood participated in three races of the CART Indy Car World Series, driving for Wysard Motors at three road courses (Riverside, Watkins Glen and Mexico).
17 seconds for the win at the 1983 Le Mans
Haywood's co-driver in all three major endurance races in 1982 was Al Holbert. They were partnered by Bruce Leven and finished 13th (Daytona) and 5th (Sebring). At the 1982 Le Mans, Jürgen Barth joined Haywood and Holbert in the Rothmans Porsche 956. They finished 3rd overall in a 1-2-3 victory for Porsche.
Hurley Haywood was among drivers who drove the victorious #3 Porsche 956 at the 1983 24 Hours of Le Mans. His teammates were Vern Schuppan and Al Holbert and they won with just 17 seconds advantage ahead of #1 Porsche of Jacky Ickx and Derek Bell.
Two Le Mans attempts with Jaguar
In 1984, Haywood skipped Le Mans and competed only in the IMSA GT Championship, with four different cars, scoring three podiums in 13 races. One of the cars in the 1984 season was the Jaguar XJR-5 of Group 44. With that car, Haywood competed for the full season of 1985 IMSA GT Championship and he finished 3rd in the championship. Group 44's Jaguar XJR-5 was also Haywood's car at the 1985 Le Mans. He shared the car with Brian Redman and Jim Adams. They retired after 151 laps.
Three more laps on the Circuit de la Sarthe was the result of the Silk Cut Jaguar XJR-6 which Haywood was driving at the 1986 Le Mans race, together with his teammates Gianfranco Brancatelli and Win Percy. Third Le Mans retirement in a row followed in 1987. Haywood was supposed to drive Joest Racing's Porsche 962C alongside Frank Jelinski, Stanley Dickens and Sarel van der Merwe, but the car ran for only seven laps.
Return to Le Mans with Schuppan's Porsche
In 1988 and 1989, Haywood again skipped Le Mans, competing only in the IMSA GT and Trans-Am Championships with Porsche, Jaguar and Audi. He returned to Le Mans in 1990, driving the Porsche 962C of his old friend Vern Schuppan. Haywood's teammates were Wayne Taylor and Rickard Rydell. They finished 12th overall.
In 1990, Haywood competed in his last full season of the IMSA GT Championship, in the following years he had a limited schedule of selected races.
Record-setting victory at the 1991 Daytona 24h
One of those races was the 1991 24 hours of Daytona with Joest Racing's Porsche 962C. Haywood was sharing the car with Bob Wollek, Henri Pescarolo, Frank Jelinski and John Winter. They won the race and Haywood became the record holder with five wins at Daytona. 22 years later Scott Pruett scored his fifth win and tied Haywood's record.
Haywood partnered Walter Röhrl and Hans-Joachim Stuck at the 1993 Le Mans race in the Porsche 911 Turbo S LM-GT but they retired after 79 laps. Haywood's last and victorious attempt at Le Mans followed in 1994. His partners in the Porsche factory-backed Dauer 962LM were Yannick Dalmas and Mauro Baldi.
Ten victories in major endurance races
It was Haywood's tenth and last victory in major endurance races. At the age of 46, Haywood became the most successful endurance racer in the world, but he was far from retirement.  He regularly raced at Daytona and Sebring, scoring a few notable results, such as the 4th place in 1995 and 2002.
In 2003, the Brumos Porsche team returned to Daytona and Haywood finished 5th in the #59 Fabcar FDSC/03. He also competed in the full season of the 2003 Grand American Rolex Series to finish 4th in the final classification. He remained in the competition for four more seasons, until 2007. Since then, Haywood competed in selected events, including 24 hours of Daytona.
40th and last Daytona start in 2012
His last race was the 2012 24 hours of Daytona. It was his 40th start at Daytona. He marked that historic day on the podium with the #59 Brumos Racing's Porsche 997 GT3 Cup. He finished 13th overall and 3rd in the GT class, sharing the car with Leh Keen, Andrew Davis and Marc Lieb.
Driving coach to Patrick Dempsey
Hurley was back at Daytona in 2013, this time not behind the wheel but as a Grand Marshal for the event. Although Brumos was not racing in 2014, Hurley was again at Daytona with Dempsey Racing, as a driving coach and mentor for the famous actor and racer Patrick Dempsey.
Porsche introduced a special edition of Brumos 911
Hurley Haywood was inducted into the Florida Sports Hall of Fame, the Motorsports Hall of Fame of America, the Sebring Hall of Fame and Watkins Glen's 'Legends of the Glen'. The special tribute was given by Porsche in 2012 with the introduction of an exclusive Brumos 911 Carrera GTS. The special 'B59' edition was limited to just five cars, each representing one of his five Daytona wins.
Video : Hurley Haywood and his 1973 Sebring winning Carrera
Photos: gettyimages.co.uk, sportscardigest.com, auto-motor-und-sport.de/, oldcitylife.com, dedeporsche.com, imsahistory.com.