Career Summary:
Colin McRae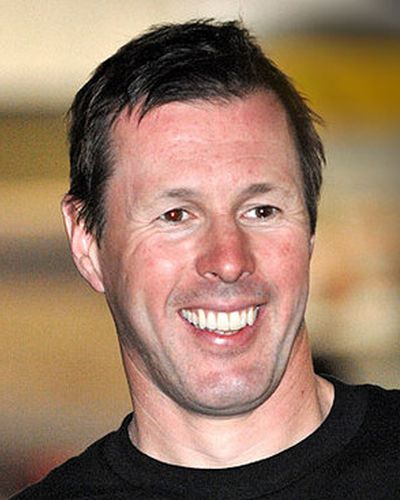 August 05, 1968

September 15, 2007

United Kingdom

Not Active

218

Subaru,Ford,Citroen,Škoda

44

71

20.18%

32.57%
The Scottish rally driver Colin Steele McRae, born on August 5, 1968, in Lanark, was the biggest world rally superstar of his time, until his death in 2007. According to statistics, with 25 wins in 146 WRC events and one world title in 1995, McRae wasn't among top 5 drivers, but his charisma made him the most popular rally driver of all time.
Colin was also known as the leader of a generation of fantastic drivers who revitalized the sport during the 1990s. He was among top 10 WRC drivers until 2003. His last WRC event was Rally Turkey in 2006. Unfortunately, on September 15, 2007, Colin was killed in a helicopter accident near his home in Lanark.
Born in a racing family and humble beginnings
As the son of the five-time British Rally Champion Jimmy McRae, and brother of the rally driver Alister McRae, Colin was destined for a career in racing and started competing at an early age. As a young boy, McRae first started riding motorbikes and thereafter moved on to cars. At the age of 16, he entered his Mini in an amateur autocross trial and that was when he got his first taste of competition.
Talbot Sunbeam was his first rally car
In 1986, driving a Talbot Sunbeam, McRae entered the Scottish Rally Championship and immediately got noticed not just because of his name and famous father, but because of his interesting driving style and aggressive approach. Very soon, in 1988, by winning the Scottish Rally Championship series title in Vauxhall Nova against more powerful and expensive cars, McRae proved that he had genuine talent.
Start of a fantastic career
During the late '80s, Colin McRae was a rising British rally star but with no recognition outside the UK. In 1987, he did participate in a WRC event but without any significant results. However, his driving caught the attention of David Richards of Prodrive who offered the young ace a 2-year contract and a chance to race at a higher level, behind the wheel of Subaru.
McRae was the British Rally Champion in both 1991 and 1992. He soon graduated to the Subaru factory team at the World Rally Championship, proving that Richards had made the right decision by signing McRae.
Subaru Team and championship title
The period from 1993 and onward was the true start of McRae's international career in the WRC with Subaru. He was the second driver in the team and his teammate was the rather experienced Finnish ace Ari Vatanen who also happened to be McRae's idol.
McRae's consistent driving and talent helped Subaru win two manufacturers titles (1993 and 1994), but in 1995, after a great season and battles with Toyota and Mitsubishi teams, Colin McRae won the drivers' championship title and the third manufacturers title for his team.
However, he didn't repeat his success in 1996, 1997 and 1998, even though he did win several events including the Race of Champions special event which is organized every year and hosts best drivers from different classes and championships across the world.
Contract with Ford rally team
In 1999, McRae signed a very lucrative contract with Ford to race the new Ford Focus WRC car. McRae was given 6 million pounds for two years which, at that time, was the highest payout in WRC. The new Focus WRC was a good car and McRae managed to win a couple of events right from the start of the season. However, he finished only sixth at the end.
During his stay in the Ford team, McRae was always very fast but reliability problems and crashes cost him another championship title. In late 2002, his contract expired and McRae moved on to Citroen where he had some modest success but left at the end of the 2003 season with no appropriate team to continue racing.
Trouble with finding teams and racing in other events
During 2004 and later, McRae pursued other interests, including competing in Dakar Rally and 24 Hours of Le Mans where he raced a Ferrari 550-GTS Maranello and finished 9th overall, 3rd in the class.
He was active in many special events and was always trying to find a proper WRC contract. He even stated that if he couldn't find a good WRC team for the 2008 season, he would retire.
Tragic death in a helicopter accident
Unfortunately, he never got a chance to find another WRC team as he was tragically killed in a helicopter accident on September 15, 2007. McRae, his son Johnny, and two of their family friends died when McRae's helicopter crashed near their house in Lanark, Scottland.
His death was a shock to the entire motorsports community and enthusiasts across the globe. All his colleagues, rivals, and fans were deeply saddened by the news of his passing.
Colin McRae Rally is still one of the most popular games
With his unmistakable driving style, great personality and racing success, Colin McRae was one of the favorite rally drivers of all times. Even eight years after this tragic incident, McRae's name and legacy are still strong even among fans that didn't get to see him in action.
As one of the biggest WRC superstars, McRae is also known to fans as the name behind some very successful gaming franchises, including the big hit of the early 2000s – the Colin McRae Rally 2.0. Even today, this racing game is still an important part of Colin McRae's heritage and legend.
Video : Onboard with Colin McRae in Ford Focus RS WRC
Photos: evo.co.uk, borderreivers.co, flicker.com, rideonboard.net, automobilesreview.com, roadandtrack.com, acedriver.com.br,
jaggybunnet.co.uk, guardian.com, youtube.com.