Career Summary:
Jack Fairman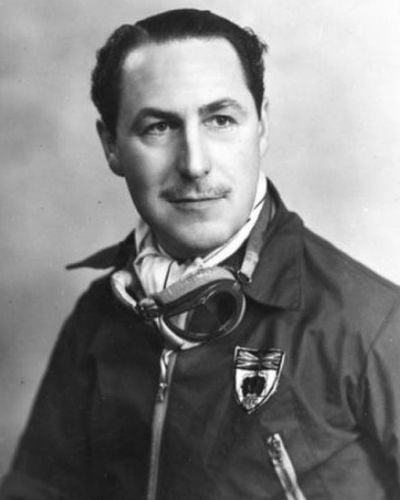 March 15, 1913

February 07, 2002

United Kingdom

Not Active

80

8

12

2

10.00%

15.00%
Jack Fairman (1913-2002) was a British racing driver who was active before the World War II and then in the 1950s and early 1960s.
He recorded twelve starts in the Formula One World Championship between 1953 and 1961, finishing two times in the top five. He was much more successful in the sports car races, achieving few great results, including a class win at 1949 Le Mans 24 Hours and overall win at 1959 Nurburgring 1000 km.
Businessman became a race car driver
Born in March 1913 in Horley, Surrey, Fairman became a businessman before he started his racing career.
He was running a family-owned precision tool manufacturing company, spending a part of his income to race cars during the late 1930s, participating in trials, hill climbs or circuit races at Brooklands. His first race car was an Alvis 12/50.
Return to racing marked by tragedy
The World War II started in 1939, stopping all racing events. During the war, Fairman was serving in the Royal Tank Regiment. He resumed his racing activities in 1948.
Fairman's return to race track was marked by a tragedy. In July 1948, he participated in Spa 24 Hours, sharing the #32 Aston Martin with Richard Stallebras. Unfortunately, their race ended with a fatal accident in which Stallebrass lost his life.
Class victory in a debut at Le Mans 24 Hours
In June 1949, Fairman traveled to France to made a debut at 24 Hours of Le Mans. He was driving the #35 HRG 1500 Lightweight-Singer, sharing a car with Eric Thompson. They finished 8th overall and the winners of S1.5 class.
A few weeks later, Fairman and Thompson scored one more class victory in an endurance race, winning at Spa 24 Hours.
1951 Le Mans 24h – first race together with Stirling Moss
Fairman was out of racing in 1950, focusing on business. He returned to racing in 1951, driving a Frazer Nash Mille Miglia at BARC Goodwood National events.
In June 1951, he returned to Le Mans, partnering Stirling Moss in a Jaguar C-Type. In the first hours of the race they were in the lead but an engine expired after nine hours and they were forced to stop. The race winners were Peter Walker and Peter Whitehead in a similar Jaguar.
1952 - one more DNF at Le Mans in an Allard
During the next twelve months, Fairman competed with different cars (Abbott Bentley, Jaguar C-Type, Aston Martin Speed Model) in national events, returning to Le Mans in June 1952 together with Sydney Allard.
They were driving the #4 Allard J2X Le Mans, powered by 5.4L V8 Chrysler engine. Unfortunately, an engine broke after 15 hours and Fairman had to record one more DNF at Le Mans.
Fourth Le Mans start in the fourth different car
After few more national events with Allard, Fairman joined Bristol Aeroplane factory team to drive the #38 Bristol 450 at 1953 Le Mans 24 Hours. His co-driver was Tommy Wisdom. They raced for ten hours, then having an accident in which a fire caught a car. The same thing happened to their teammates Lance Macklin and Graham Whitehead in the #37 Bristol.
A few weeks later, Fairman and Peter Wilson scored the fifth place overall and S2.0 class victory at Reims 12 Hours in a Bristol 450.
Formula One debut at 1953 British Grand Prix
In July, Fairman made a Formula One debut, driving the #4 HWM-Alta in the British Grand Prix at Silverstone. He was 27th on the starting grid, retiring with broken clutch after 54 laps.
A couple of months later, in September, he participated in the Italian Grand Prix at Monza, driving factory-entered #20 Connaught Type A.  He wasn't classified as he completed just 61 laps, nineteen less than race winner Juan Manuel Fangio in a Maserati.
Two class podiums at Le Mans with Bristol
In 1954, Fairman and Tommy Wisdom returned to Le Mans in a Bristol 450. They had an unfinished business following a retirement in the previous Le Mans race. This time, they ended a race in the 8th place overall and second in S2.0 class, losing a victory to teammates. Later that year, Fairman and Wisdom finished 12th at Reims 12 Hours in a Bristol.
Fairman and Wisdom were teammates again at 1955 Le Mans 24 Hours, again sharing a Bristol 450. In the race marked by a horrific accident, they finished ninth overall and third in S2.0 class.
1956 - scoring points in two F1 races
Fairman was supposed to race with Connaught Type B at British Grand Prix in July 1955 but he didn't even start due to a broken engine. He returned to F1 in July 1956, driving the #21 Connaught Type B at Silverstone's British Grand Prix. He finished fourth, three laps behind race winner JM Fangio, nearly missing a podium but scoring his first championship points.
Fairman was a point-scorer again in the Italian Grand Prix at Monza in September, finishing fifth in the #6 Connaught Type B. This time, he was three laps behind race winner Stirling Moss.
In sports car races during 1956, Fairman's most notable result was the third place overall at Reims 12 Hours, together with Desmond Titterington in a Jaguar D-Type. At 1956 Le Mans race, he retired after an early accident in a Jaguar D-Type which he was sharing with Ken Wharton.
Eight more Formula 1 starts between 1957 and 1961
After two successful attempts in Formula 1 in 1956, Fairman was regularly returning to British Grand Prix five more times with five different cars between 1957 and 1961, recording four DNFs and one disqualification. His cars were BMW P25 (1957), Connaught Type B (1958), Cooper T45-Climax (1959), Cooper T51-Climax (1960) and Ferguson P99 4WD (1961).
Besides racing in the British Grand Prix, Fairman recorded three more F1 starts, two times at Monza (1959, 1961) and in the Moroccan Grand Prix in 1958, where he finished 8th in a Cooper T45.
Participating in both editions of the Race of Two Worlds
While occasionally participating in F1 races, Fairman was primarily sportscar racer and he was regularly among the front-runners. He finished 8th at Nurburgring 1000 Kilometers in 1957, sharing a Jaguar D-Type with Ron Flockhart. A year later, Fairman finished the same race in the ninth place, sharing Ecurie Ecosse Jaguar D-Type with Jock Lawrence. At 1958 Le Mans, he retired in a Jaguar D-Type which he was sharing with Masten Gregory.
Fairman also participated in both editions (1957 and 1958) of the famous Race of Two Worlds, also known as 500 Miglia di Monza or Monzapolis. Driving a Jaguar D-Type for Ecurie Ecosse in 1957, he was the best among sports car drivers against American open-wheelers. In 1958, he was driving a Lister Jaguar, retiring after two heats.
Two great wins with Aston Martin
In 1959, Fairman switched from Jaguar to Aston Martin and immediately scored a success, winning the Nurburgring 1000 Kilometers in an Aston Martin DBR1/300. His co-driver was Stirling Moss. At Le Mans, they had no such a luck, retiring with engine problems after six hours.
One more great win with Aston Martin came in September 1959. Fairman, Moss and Carroll Shelby won the Tourist Trophy at Goodwood, a part of the FIA World Sportscar Championship.
Retiring from racing at the age 51
In 1960, Fairman was driving mostly Aston Martins. At Le Mans race, he joined Ian Baillie in his Aston Martin DBR 1/300, finishing in the ninth place. Later that year, Fairman finished fifth at Touring Trophy in a Ferrari  250 GT SWB, sharing a car with Graham Whitehead.
At 1961 Le Mans 24h, Fairman was a member of the Essex Racing Stable in the #2 Aston Martin DB4 Zagato, sharing a car with Bernard Consten. They retired after three hours. One more DNF at Le Mans followed in 1962. This time, Fairman was driving the #25 Tojeiro EE Coupe for Ecurie Ecosse, sharing a car with Tommy Dickson.
It was his last Le Mans attempt. He appeared in few more sports car events in 1963 and 1964. His last recorded race was the Nurburgring 1000 Kilometers in May 1964, in a Lister Coupe-Jaguar.
Photos: Getty Images,