Career Summary:
Miki Biasion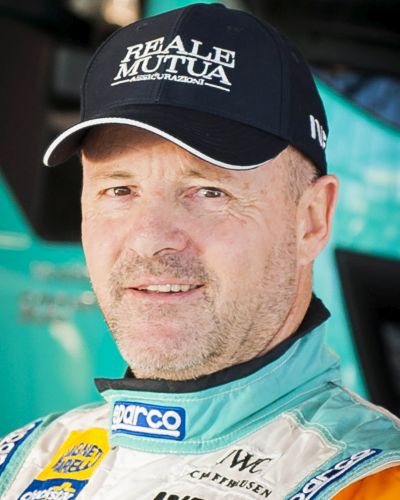 January 07, 1958

63

Italy

Not Active

123

Jolly Club,Martini Lancia,Ford Motor Co.

29

63

23.58%

51.22%
Massimo 'Miki' Biasion is a former Italian rally driver and a double world rally champion. Biasion competed in 78 WRC events between 1980 and 1994, scoring 17 victories and 40 podiums, taking the champion titles in 1988 and 1989. He also participated eight times at Dakar Rally driving trucks and cars.
Miki started rally career driving Opels
Miki Biasion was born on January 8th 1958 in Bassano del Grappa in Northern Italy. Before racing with cars he competed in skiing and motorcross, clinching some national and regional titles. 20-year old Massimo purchased his first race car Opel Kadett GTE and he competed with it during 1979 at local rallies.
He started with serious rallying in 1980, entering European Championship and World Championship events. Biasion's first race car in those events was Opel Ascona 2000 and he used it at three ERC rallies – Targa Florio, Rallye dell'Isola d'Elba and Rally di San Marino, finishing 5th, 4th and 9th. He entered Rallye Sanremo, which was a WRC event, and retired due to technical problems.
1983 European Rally champion with Lancia 037 Rally
Biasion's car in 1981 season was Opel Ascona 400 and he competed in five ERC events in Italy and San Marino. Rally Sanremo was again his only WRC event and Miki finished 6th. In 1982 season he had a similar programme, with six ERC rallies and Rally Sanremo. With one victory and three podiums Biasion took 8th place in the ERC standings. He was 8th at Sanremo too.
In 1983 Biasion finally went out if Italy and competed in 11 European championship events. He was driving Jolly Club's Lancia 037 Rally and after dominant performance, with seven victories and two more podiums, he took the title. His result at Rallye Sanremo was best so far – 5th overall.
Collecting WRC podiums and waiting for the first win
After he conquered the Europe Miki was drafted to represent Lancia in 1984 World Rally Championship, still under Jolly Club banner. He competed in five events, finishing all but one. He was close to victory with second place at Tour de Corse and third place at Rallye Sanremo. He finished sixth in a championship standings.
In 1985 season Biasion was combining five WRC events with four ERC rallies, still driving Jolly Club's Lancia 037 Rally. He scored three ERC victories and finished sixth in the classification, while in WRC his best results was second place at Rallye de Portugal.
First WRC victory scored in Argentina
In 1986 Biasion joined Lancia's works team, together with Markku Alen. They were driving the monstruous Lancia Delta S4. First part of the season was bad, with an accident on the road section of the Rallye Monte-Carlo and three more retirements in Portugal, Kenya and Corsica. Two podiums followed in Greece and New Zealand and finally his first WRC victory. He won Rally Argentina in a close fight against his team-mate Markku Alen. Biasion finished that season on 5th place.
Miki contributed to Lancia's title
Since 1987 Group B was banned and Group A Lancia Delta HF 4WD was the new winning machine. In seven WRC rallies Biasion clinched three wins  (Monte-Carlo, Argentina and Sanremo) and two more podiums, finishing second in the championship behind his team-mate Juha Kankkunen. Lancia's drivers Kankkunen, Biasion and Alen took the top spots of the standings and Lancia became manufacturers' champion.
Two fantastic years with 10 wins and two titles
Lancia's domination was continued in 1988 and 1989, with Miki Biasion as a leading driver of the Italian team. He scored five victories each year and dominantly took two world titles, both times ahead of his fellow Lancia drivers Markku Alen and Alex Fiorio. Biasion's victorious cars were various versions of Delta (HF 4WD, Integrale and Integrale 16V).
Two more seasons with Lancia followed. In 1990 Biasion recorded two victories (Portugal and Argentina), three podiums and two retirements, so he finished 4th in the championship. In 1991 he was again fourth, but he failed to win any event, scoring five podiums.
The last WRC victory with Ford Escort
The new chapter in his career was opened in 1992, after Biasion switched to Ford and the fantastic Ford Sierra RS Cosworth 4x4. This contract made him the highest-paid driver of his day. But the results were far from expectations, as he was again fourth in the standings with only two podiums (Portugal and Greece).
In 1993 Biasion succeeded to win at Acropolis Rally and this win with the new Ford Escort RS Cosworth remained his last WRC victory. He achieved three more podiums and finished again fourth in the classification, for the fourth year in a row.
Retirement after 1995 season
Insufficient resources of Ford's factory team caused that the Escort slipped behind its rivals and Miki wasn't competitive for the top in the 1994 season. In his last full WRC season he competed at eight events and took two podiums (Portugal and Sanremo), finishing 6th in the classification.
He dropped from the team for the following year and quietly retired after two more non-WRC events during 1995. His attempt at Acropolis Rally finished with retirement, after engine failure of Astra Racing's Lancia Delta HF Integrale. His last rally was 1995 Rally Sanremo, which was a part of 2-litre World Championship, and he took 4th place in the ART Engineering's Subaru Impreza 555.
Double World Truck champion with Iveco
In the following years Biasion participated at various historic shows and rally-legend events, but his focus switched to Dakar Rally. Throughout his entire career Biasion was co-driven by Tiziano Siviero, the exception being the Portuguese Rally of 1988, where Siviero was replaced by Carlo Cassina due to health problems. The cooperation with Siviero was continued at 1998 Dakar Rally, which was Biasion's debut event at the world's famous cross-country race.
Biasion and Siviero competed with Iveco Eurocargo in a truck category. They retired at Dakar, but later during the year they were successful in other races and won the World Truck Championship. They repeated the success in 1999, and at the Dakar they finished 5th.
Fiat Panda also can be good for Dakar
In 2003 and 2004 the pair competed at Dakar Rally in car category, driving Mitsubishi Pajero. They finished 15th in a first attempt and retired a year later. In 2005 Biasion was again in a cabin of the Iveco truck, this time without Siviero. He didn't make it to the finish line.
New Dakar adventure followed in 2007 with Fiat Panda 4x4. The car get much of media's attention, but Biasion and Siviero never completed that race. Iveco trucks was Biasion's competitive vehicles at two more Dakar races, in 2012 and 2013. In 2012 he finished 6th, next year he was 13th.
YouTube video: The story about rally legend Miki Biasion
Photos: Miki Biasion FB page, mikibiasion.it, Jiri Marsicek, Kostas Anagnostopoulos, Olivier Delhez,