Career Summary:
Juha Kankkunen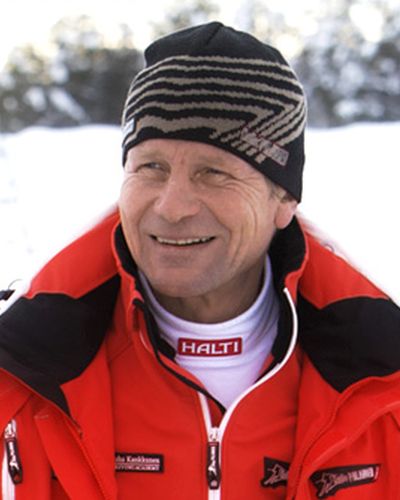 April 02, 1959

62

Finland

Not Active

224

Toyota,Peugeot,Lancia,Ford,Hyundai

32

90

14.29%

40.18%
It's no secret that the Scandinavians are, in general, arguably the best rally drivers in the world. One of the brightest examples of that claim is Finnish legend  Juha Kankkunen.
In his active World Rally Championship years, spanning from 1982 to 2002, Kankkunen was a record holder with four world championships and 23 rally wins.
He was a world rally champion with three different manufacturers. First, in 1986, the last year of Group B cars, he won with Peugeot 205 Turbo E16. A year later, Kankkunen was a champion with Lancia Delta HF WD. One more title with Lancia came in 1991. The fourth world rally trophy followed in 1993 with Toyota Celica.
Except four WRC titles, Kankkunen has one more great victory on his account. In 1988, he won Dakar Rally with Peugeot 205 T16 Grand Raid.
Video : Juha Kankkunen in Toyota Celica
It's important for the career to know at least two Timos
From the moment he was born, there were hints that he will make it big in the racing world. Juha grew up in Laukka, small municipality next to Jyväskylä, where the Rally Finland traditionally was held. He learned to drive at the age of seven, and by the age of twelve, he was a proud owner of his own car.
But everything blossomed for the boy when his father's good friend Timo Mäkinen, on one of his many visits to Laukka for the 1000 Lakes Rally practice, recognised young boy's talent and decided to give him some proper training and advice. Juha proved to be ample student, carefully absorbing everything given to him, and using it wisely on the track.
By pure chance another Timo entered the life of Juha Kankkunen - Timo Jouhki - a member of a wealthy family. A cunning businessman, Timo was very interested in rallying, and Kankkunen proved to be a perfect pick at the time.
We can freely say that Timo, who later became one of the most prominent driver managers in the world had big impact on the career of Juha Kankkunen. Things started happening for young Juha before he realised what was going on. And good things for that matter.
Juha was winning with Toyota, Peugeot and Lancia
His rally debut was in 1978 and his first WRC event was the 1979 1000 Lakes Rally. In the following years, Kankkunen drove for Toyota Finland, and his good results earned him a spot in Toyota Team Europe in 1983 alongside the world champion Björn Waldegård.
He finished his first season at the age of 19, with sixth place in Finland, seventh in the UK and one retirement in Rallye Côte d'Ivorie. In 1984, he competed in four events, finishing 24th, with three retirements and 5th place in Finland.
Replacement for Vatanen and title with Lancia
After his near-fatal accident, Peugeot's Ari Vatanen had to recover, and Juha Kankkunen was chosen as a replacement. In a controversial finish, overshadowed by Henri Toivonen's fatal crash in Corsica that led to the banning of Group B rally cars, Kankkunen became the world champion in 1986 after Peugeot's appeal to FIA went through. He won three rallies and three more podiums driving the Peugeot 205 T16.
However, in the following year, Kankkunen signed for Lancia, winning another championship in a Lancia Delta HF 4WD. In his second championship-winning season, Kankkunen was the winner two times, at Olympus Rally and RAC Rally.
Two returns to Toyota and one more title with Lancia
In 1988, Juha signed for Toyota again, winning third place in the 1989 WRC, and in 1990, he signed for Martini Lancia, staying there for three seasons and winning his third championship title in 1991, third (1990) and second place (1992). 1993 was marked by his return to Toyota and another championship title driving a Toyota Celica while in 1994 he came in 3rd. Due to Toyota's illegal implementation of turbo restrictor bypasses, discovered after Kankunnen's Celica ST205 crash in 1995 Rally Catalunya, Toyota cars were disqualified and their drivers were stripped of all points.
Last WRC victory at 1999 Rally Finland
In 1997, 1998 and 1999, Juha Kankkunen won three consecutive 4th places, two with Ford driving an Escort WRC and one in a Subaru Impreza WRC99. His last WRC win was at the 1999 1000 Lakes Rally in his home country.
After Subaru's factory team and Kankkunen failed to reach an agreement in 2001, he drove a Hyundai Accent WRC2 for Hyundai, and in 2002, he finished 14th in Accent WRC2 and Accent WRC3.
After retiring from proffesional rally career, Kankkunen continued to attend historic rally events, rally shows and minor races. Eight years after a retirement, in 2010, he participated one more time in the WRC event, driving Stobart M-Sport's Ford Focus RS WRC at Rally Finland, finishing in the 8th place.
Not so successful career in politics
After his retirement, he had a semi-successful political career in his home country, but managed to grab hold of some more speed records, namely for driving on ice, which was his father's specialty and which once again proved that he is indeed a Flying Finn!