Career Summary:
Ned Jarrett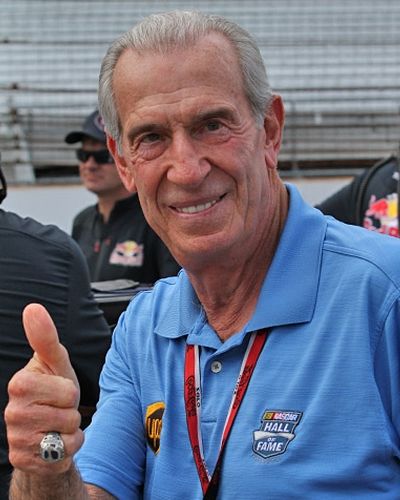 October 12, 1932

89

United States

Not Active

360

51

127

35

14.17%

35.28%
Ned Jarrett is one of the most amazing American racing legends, a man who clinched four NASCAR titles in the early years of American stock car racing. He was a two-time winner (1957 and 1958) of the Sportsman Division (today's Xfinity Series) and then he won the major NASCAR Grand National Series titles in 1961 and 1965. He recorded 352 starts and scored 50 wins in the premier NASCAR series between 1953 and 1966.
Ned's sons Dale and Glenn were also stock car drivers. Dale Jarett won the NASCAR Winston Cup title in 1999. Ned's grandson and Dale's son Jason was also a racing driver, but he didn't continue the family tradition and didn't win any championship title.
First race car driver in the Jarrett racing dynasty
Ned Jarrett was born on October 12, 1932, in Conover, North Carolina. Ned's father let him drive the family car to church on Sunday morning so the young Ned fell in love with cars and wanted to become a race car driver. His dream became a reality in 1952 when he debuted in the NASCAR Sportsman Division race at Hickory Motor Speedway. He was driving a Ford, co-owned by his brother-in-law.
Ned's father didn't agree with Ned's wish, so he started to race using the name of his brother-in-law. When his father realized what he was doing, he gave him his permission so Ned continued to drive under his own name.
NASCAR Grand National debut in 1953
In September 1953, Ned Jarrett debuted in the NASCAR Grand National series, driving ten laps in the #79 Oldsmobile at Darlington Raceway. He was out after 10 laps after the engine leaked oil. In the next four years, from 1954 to 1957, Jarrett recorded eight participations in Grand National races.
His best result in that period was the 12th place at Charlotte Speedway in November 1956, driving his own #89 Buick.
Two consecutive NASCAR Sportsman Division titles
In 1956, Jarrett returned to Sportsman Division, finishing second in the points and then winning two consecutive championship titles in 1957 and 1958.
With two championship titles in his pocket, Jarrett decided to race in the Grand National series. In his sixth race, in the 22nd round of the season at Wilson Speedway, he took his first pole position but finished 20th in the race. After that, he purchased a Ford from Junior Johnson for $2,000 and won the next two races with that car.
Maiden Grand National win at Myrtle Beach
Jarrett scored his maiden Grand National victory on August 1, 1959, at Rambi Raceway, Myrtle Beach. A day later, one more victory with the #11 Ford followed at Southern States Fairgrounds in Charlotte. Jarret competed in 17 races that year, scoring two poles and two wins.
The season of 1960 was his first full Grand National season, as he participated in 40 out of 44 races. He won five times and finished among Top 5 driver twenty times and he was fifth in the final standings.
1961 Grand National champion with only one win
And then, in 1961, Ned Jarret became the Grand National champion. He did it with only one victory in 46 races, at Fairgrounds Raceway, Birmingham, in June. Despite only one win, Jarrett collected most points because he was 23 times among Top 5 drivers and 34 times in the Top 10. At the end, he took the title ahead of Rex White.
In 1962, the #11 Chevrolet was victorious in six out of 52 races. It was enough for the 3rd place in the Grand National classification, behind Joe Weatherly and Richard Petty. In 1963, Ned scored eight wins but finished fourth in the points. Joe Weatherly was a champion again.
15 wins in one season but someone else was a champion
In 1964, Ned Jarrett set a career record with an incredible 15 wins in one season! He started in 59 races and lost the title from Richard Petty. After so many wins in three seasons without any championship trophy, Ned finally took his second Grand National title in 1965. The #11 Ford was victorious 13 times.
One of the victories was the Southern 500 at Darlington Raceway in September. It was one of the wildest races in a history of NASCAR, unfortunately with fatal casualties (Buren Skeen). At the end, Jarrett won with 14-lap (19.25 miles) advantage over Buck Baker, which was (and still is) the largest margin of victory in NASCAR's history.
Ned decided to retire after taking second Grand National title
After reaching the top in the Grand National competition, Jarrett slowed down with racing activities in 1966, participating in 21 races and scoring five Top 5 results.
His last race in the #11 Ford was the American 500 at North Carolina Motor Speedway on October 30, 1966. He was close to victory, finishing third. One of the main reasons for his retirement was Ford's withdrawal from NASCAR.
The Gentlemen Ned was also a respected radio and TV host
During his career, Ned earned a nickname Gentleman Ned, because of his calm demeanor. During his racing career, Jarrett had a radio program at WNNC radio station in Newton, North Carolina. Later, in 1978, he became a radio broadcaster again, working for MRN Radio. He hosted a daily program at MRN Radio until 2009. He was also a TV broadcaster for many stations.
For his achievements, Jarrett has been inducted into dozen motorsports and sports Halls of Fame. The last was the NASCAR Hall of Fame in 2011, where he was inducted as one of five 2011 inductees.
Photos: nascar.com, foxsports.com, motorsport.com,