Career Summary:
Nino Vaccarella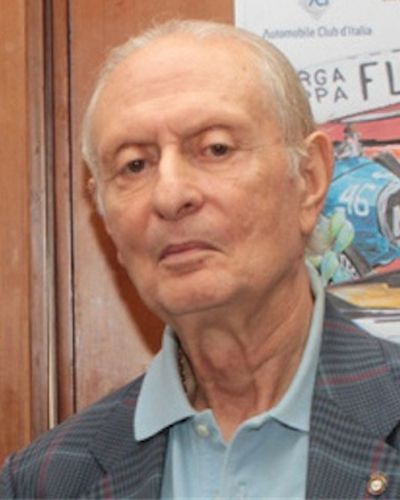 March 04, 1933

88

Italy

Not Active

123

28

55

22.76%

44.72%
There are not many living race drivers who can tell their grandchildren and great-grandchildren stories about driving in Formula 1 races fifty or sixty years ago. One of the few such racers is an Italian driver Nino Vaccarella.
The Sicilian participated in five F1 Grand Prix races between 1961 and 1965, but his biggest success was achieved not in Formula 1, but in endurance racing, at the 1964 24 Hours of Le Mans, which Vaccarella won together with Jean Guichet at the wheel of a Ferrari 275P. As a Sicilian, he can be especially proud to have gotten three victories at the famous Targa Florio road race (1965, 1971 and 1975).
Nino started to race with father's car
Nino Vaccarella was born on March 4, 1933, in Palermo, Sicily. He received his law degree in 1956. That year, his father died which led to Nino and his sister Ada founding the Institute Alfredo Oriani. Alongside this educational job, Nino started working with cars; his first race in 1956 was at the hillclimb Pass Rigano – Bellolampo in his father's Fiat 1100.
In 1957, he bought a Lancia Aurelia 2500 and contested in a few hillclimb races before debuting in the racetrack of Vallelunga. In 1958, again with Lancia, he debuted at the Targa Florio race and finished 42nd. He collected experience in numerous races that year, but the highlight was definitely a new record at the hillclimb Bellolampo.
Losing a victory at 1960 Targa Florio
In 1959,Vaccarella purchased a 4-cylinder Maserati 2000 and achieved many victories at various hills and tracks. In 1960, he continued his activities with his Maserati and for the first time he was offered an opportunity to race in the Targa Florio with the official car of the team Camoradi.
The car was a Maserati 2890 Birdcage and Vaccarella paired up with double-winner Umberto Maglioli. They were running first overall, more than 3 minutes ahead of Porsche drivers Joakim Bonnier and Hans Herrmann, but he was forced to retire after breaking the fuel tank.
F1 Grand Prix debut at Monza
In 1961, he was hired by Count Volpi's Scuderia Serenissima. On 10th September 1961 he debuted in the F1 Italian Grand Prix race in Monza with De Tomaso-Alfa Romeo. He was forced to retire because of an engine failure after 13 laps. The year ended with him at an excellent 3rd place at the F1 non-championship race Coppa Italia at Vallelunga. The Vaccarella driven Cooper-Maserati had a pole position and set the fastest lap during the race.
Sicilian refused Ferrari in 1962
In 1962, he was contacted by Scuderia Ferrari, but having already signed a contract with the team Serenissima had to give up. He competed in two F1 Grand Prix races. At the German Grand Prix he was 15th in a Porsche 718 and at the Italian Grand Prix he finished 9th with Lotus-Climax.
At the Targa Florio race, he paired up with Bonnier in Porsche and finished 3rd overall. At the 24h of Le Mans, Vaccarella and Giorgio Scarlatti didn't manage to finish the race with a Ferrari GTO.
Enzo Ferrari hired Vaccarella in 1963
In 1963, Vaccarella was finally hired by Scuderia Ferrari. He competed with Willy Mairesse at the 12 Hours of Sebring and finished 2nd. At the 1000km of Nurburgring, Vaccarella had a serious accident and fractured his right arm, an accident that blocked him for the rest of the season.
In 1964,Vaccarella was confirmed as a driver by Ferrari. The year started with another 2nd position at the 12 Hours of Sebring. After that, victories at the 1000km of Nurburgring and 24 hours of Le Mans followed. Vaccarella and Guichet in Ferrari 275P had won the Le Mans marathon with 349 laps around the circuit, 5 laps more than the second placed Graham Hill and Jo Bonnier in Ferrari 330P.
First victory at Targa Florio
In 1965 Vaccarella finally achieved his first win at Targa Florio, together with Lorenzo Bandini in a Ferrari 275P2. In the same year, Vaccarella debuted in F1 Grand Prix with Scuderia Ferrari, driving the Ferrari 158. He was 6th after 58 laps and retired because of engine failure.
In 1966 he was not very lucky with a series of retreats and ended the year with one victory at the rally of Jolly Hotels. The next year, he continued to drive for Ferrari, but also signed a cooperation contract with the team Brescia Corse which had a brand new Ford GT 40. With that car, Vaccarella and Umberto Maglioli were 5th at the 12 hours of Sebring. At Targa Florio, Vaccarella set a new lap record with Ferrari P4, but retired after the incident.
Years with Alfa Romeo
In 1968, Vaccarella was hired by Alfa Romeo and was given a completely new car – an Alfa Romeo Tipo 33. They planned to win at Targa Florio, but Vaccarella was again forced to retire after he had a lead of over 13 minutes. In 1969, he renewed his contract with Alfa. They were working on the construction of a new prototype 33-3000, but it did not reach great success.
In 1970, Vaccarella once again sat behind the wheel of a Ferrari at the 24 Hours of Daytona. With the Ferrari 512S he qualified 8th but retired in the race. In 1971, he returned to Alfa and achieved his second win at the Targa Florio, together with Toine Hezemans in an Alfa Romeo 33/3.
Third victory at Targa Florio
The next year he continued to race with Alfa and in 1973 decided to retire from active racing. The only exception was the Targa Florio race, in which he competed two more times. His third victory came in 1975 when he was driving an Alfa 33TT12 together with Arturo Merzario. After that victory Vaccarella finally hung up his boots.
For his impressive career, Vaccarella received a lot of awards and tributes, including the honor of Knight of the Republic, the Silver Star for Sporting Merit of the Italian Olympic Committee, a diploma of International Olympic Comitteee etc..
Video: Nino Vaccarella at 1965 Targa Florio
Photos: ninovaccarella.com