Career Summary:
Chris Hodgetts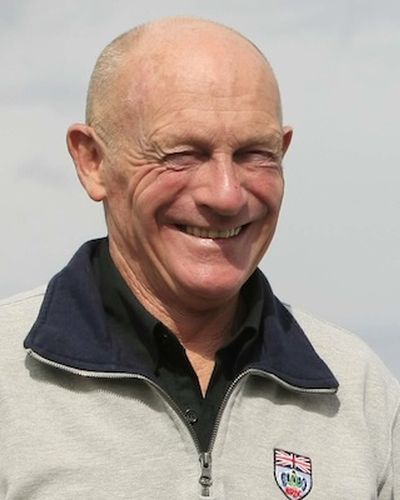 December 06, 1950

71

United Kingdom

Not Active

116

34

51

1

26

29.31%

43.97%
Chris Hodgetts is a British former racing driver who was one of the leading competitors in the British Touring Car Championship during the 1980s. He won two overall BTCC titles in 1986 and 1987, driving Toyota Corolla. Prior to that, he won three BTCC class titles with Toyota Celica and Ford Escort RS1600.
His greatest international success was the class victory at Le Mans 24h race in 1989, at the wheel of the Mazda 767B. The same year, he was a British C2 champion. In the 1990s, Hodgetts was TVR Tuscan Challenge winner and British GT2 champion.
Two consecutive class titles immediately after BTCC debut
Chris Hodgetts was born on December 6, 1950, in Tanworth-in-Arden, Warwickshire. After his racing debut in 1979, in the Clubman Class A championship, Chris debuted in the British Touring Car Championship in 1980. He was driving Class B Toyota Celica and immediately won the class title. In the overall classification, he was sixth.
In 1981, his #40 Toyota Celica ST was a dominant car and he took six Class B victories and he took the second consecutive class title. In the overall standings, he finished second, behind Win Percy.
Three BTCC seasons with Ford Escort RS1600
In 1982, Hodgetts participated in only two BTCC races with Toyota Corolla GT, then he switched to Brooklyn Motorsport's Ford Escort RS1600 in 1983. With three wins, he finished third in the Class C order and second in the general classification, behind Andy Rouse. The championship was marked by the disqualification of Rover Vitesse, so the championship order was changed and Rouse became the champion.
Hodgetts spent two more seasons driving the Ford Escort for Brooklyn Motorsport. In 1984, he was second in the Class C and fifth overall. In 1985, he took the Class C title and finished second overall, behind Andy Rouse.
British Touring Car Championship winner in 1986 and 1987
And then, finally, Hodgetts clinched his first BTCC title in 1986, after he joined Toyota factory team. He was driving Class C Toyota Corolla GT, winning eight out of nine races and he took the championship trophy with comfortable gap ahead of Richard Longman. During 1986, Hodgetts also entered few races of the European Touring Car Championship with Toyota, scoring one victory in Division 1.
In 1987, Hodgetts' racing programme was significantly expanded. He repeated the domination with Toyota Corolla, winning ten out of eleven races in Class D of the British Touring Car Championship and defending the overall title.
His other competitions were World Touring Car Championship and European Touring Car Championship, but he also participated in two races at New Zealand and debuted in the World Sports-Prototype Championship. His WSPC race was at Fuji Speedway in September 1987, together with a Greek driver Costas Los in the GP Motorsport's prototype Tiga GS287. The duo didn't finish the race.
Le Mans debut and switch to prototype races in 1988
In 1988, Hodgetts competed with three different cars for three different teams in the BTCC. He was driving Toyota Supra Turbo, Ford Sierra RS500 and BMW M3, but the results were disappointing.
During 1988, Hodgetts expanded his commitments in the prototype racing, driving the Tiga GC287 for Team Istel in the World Sports-Prototype Championship and British C2 Championship. In 1988, he debuted at 24 hours of Le Mans, sharing the #123 Tiga with John Sheldon and Tim Harvey. The British crew finished 20th overall and third in C2 class.
1989 - Le Mans class victory and BRDC C2 Championship title
In 1989, Hodgetts recorded two triumphs with prototypes. He and Tim Harvey were BRDC C2 champions and Chris claimed his biggest international success, scoring a class victory at 24 hours of Le Mans. At Circuit de la Sarthe, he partnered David Kennedy and Pierre Dieudonne in the #201 Mazda 767B. The GTP class car, prepared for the IMSA Championship, finished seventh overall and was the best among GTP entrants.
During 1989, Hodgetts participated in the Mexican round of World Sports-Prototype Championship with GP Motorsport's Spice  SE87C and competed in the BTCC with Brooklyn Motorsport's Ford Sierra RS500, but without notable results.
1990 - the last year in the BTCC for Chris
His last year in the BTCC was 1990 when he was driving Vauxhall Cavalier and Ford Sierra for Andy Rouse's team, but again without notable results.
In 1990, Hodgetts' diverse schedule also included British C2 Championship and Interserie Cup with Tiga GC289 prototype, Daytona 24h and Le Mans 24h with Spice prototypes, British Formula 3000 with Reynard 89D (Cosworth), Japanese Touring Car Championship with Ford Sierra and TVR Tuscan Challenge. Hodgetts debuted in the British one-make series a year before and he became the champion in 1990.
Two year-break and return with BMW M5 in 1993
Hodgetts decided to take a break from a professional racing in 1991. His only race was supposed to be 24h Le Mans, in the Courage Competition's Cougar C26S, but the car was disqualified before the race because it was underweight.
Hodgetts returned to the cockpit of the race car in 1993, driving the BMW M5 at Miami's round of the IMSA Supercar Championship. It was a preparation for his attempt at Sebring 12h race, together with Dieter Quester and David Donohue in Ed Arnold Racing's BMW M5. Later in the season, Chris participated in five more races of the IMSA Supercar championship.
Hodgetts was 1995 British GT2 champion with Marcos LM600
In 1994, his next challenge was the British GT Championship. He competed with Marcos LM500, scoring two wins at Brands Hatch and Thruxton. In 1995, Hodgetts scored several wins with Team Marcos and became the British GT2 champion.
The Marcos LM600 was also his car at 1995 24 hours of Le Mans. He was sharing the #70 car with Cor Euser and Thomas Erdos. They retired after 133 laps.
The last ever race in new Toyota GT86, together with his son
In 1996, Hodgetts took a break again but he returned to the race tracks in 1998. He joined McNeil Engineering in the International Sports Racing Series, driving the Lola 981 (Judd) in the SR1 class. His co-driver was Robbie Stirling and they scored points in only one race.
Hodgetts finally retired from racing in 1999. Since then, he had only one appearance at 24 hours of Silverstone in 2012, sharing the #86 Toyota GT86 with three drivers, including his son Stefan Hodgetts. Although he retired from racing, Chris never left motorsport as he was working as a driver instructor.
Photos: media.toyota.co.uk, motorsport.com,