Career Summary:
Henri Toivonen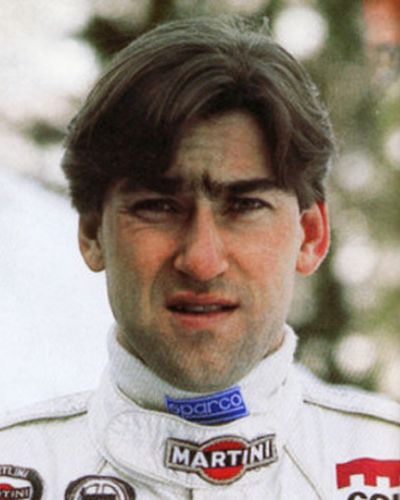 August 25, 1956

May 02, 1986

Finland

Not Active

117

Talbot,Opel Rothmans Rally Team,Martini Lancia

13

36

11.11%

30.77%
Group B rally racing was extremely popular with many drivers gaining the "hero" status and Henri Toivonen definitively was one of them. Unfortunately, his death at 1986 Tour de Corse initiated a ban of the Group B cars and marked the last season of the Group B era.
Earlier that year, he won Rallye Monte-Carlo in a Lancia Delta S4, what was his third WRC victory in a career. In total, he recorded 40 WRC starts and scored three wins.
Growing up in a racing family
Born in August 1956, in Jyväskylä in Finland, Henri was destined to become a racing driver. Town of Jyvaskyla was the home of Rally Finland and his father Pauli was a successful rally driver who had won many events and the title of the European Rally champion in 1968, so it was no surprise that Henri and his brother Harri, who later became a circuit driver, were obsessed with racing.
Henri had a natural talent for driving and racing. Some sources are saying that he had learned to drive when he was five, but what is most certain is the fact that he started his racing career on circuits. He had competed in karting, Formula Volkswagen and touring cars racing at both national and international level, having solid results.
Switch to rally due to safety concerns
In 1977, Henri Toivonen became a champion of Finland in Formula VW. A bit surprisingly, he switched to rally racing soon after and the reason was quite unexpected - his family was concerned about circuit racing.
Henri had to wait for rally debut until the age of 19. Again, his natural talent surfaced again. He started driving Simca Rally and competed in local races on ice while he debuted in the World Rally Championship in 1975, at his home race called 1000 Lakes Rally. Sporadically, he still competed in some circuit races but soon, the rally became his priority.
Youngster foresaw a successful career in the WRC
In 1977, still as a private entrant, he drew attention when he finished fifth at 1000 Lakes driving Chrysler Avenger, and in the following year he was the runner-up at Arctic Rally, finishing behind Ari Vatanen. Before getting a chance with a works team, Henri Toivonen changed many cars. He was in the seat of Citroen, Porsche, Ford, and even drove famous Fiat 131 Abarth.
Talbot gives proper rally car to Toivonen
Finally, in 1980, Talbot offered him a drive in four events. Driving a Talbot Sunbeam Lotus, he surprisingly won the Wales Rally and finished fifth at Rally San Remo which was an outstanding achievement. At the age of 24, he was the youngest rally winner until 2008 when Jari-Matti Latvala broke that record, at the age of 22. The following year, with the same car, Toivonen retired from four out of seven rallies he had entered, but still managed to be 7th in the championship after he finished second in Portugal and Italy and fifth in Monte Carlo.
The Dream Team of Opel
For the 1982 season, Toivonen joined the Opel's 'Dream Team', driving alongside two champions: Ari Vatanen and Walter Rohrl. Behind the wheel of Ascona 400, the Finn was 7th again at the end of the season, with third places in Greece and Wales as the highlights. But, the interesting thing for that year was Henri's appearance in circuit racing. He entered one round of the British Formula 3 and got a chance in Formula 1, testing March's car at Silverstone and being faster than the team's regular drivers.
Toivonen stayed with Opel in 1983 but the results were much below expectations mainly because Manta 400 wasn't able to parry the fabulous Lancia 037 or Audi Quattro. His best result was 4th place in Italy. The Same result Toivonen had in the World Sportscar Championship race at Mugello Circuit, driving a Porsche 956 with Jonathan Palmer and Derek Bell.
Lancia was a good opportunity
After a bit disappointing season in WRC, Toivonen switched to Porsche in 1984, but only for the European Rally Championship. After a poor start of the season, Henri drove perfectly and was on his way to win the title, but the back injury prevented him from becoming a champion.
At the same time, Toivonen had a contract with Lancia to drive in five WRC events. He wasn't so familiar with the possibilities of Lancia 037. He failed to finish two opening races, and eventually finished 3rd in Finland. Due to aforementioned injury, Toivonen sat out the rallies in Italy and Wales.
1985 - crash at Costa Smeralda, victory in Great Britain
The start of 1985 was really bad for Henri Toivonen. He had a really bad crash at the Rally Costa Smeralda and suffered serious neck injuries. A couple of months later, Toivonen's teammate Attilio Bettega was killed at the Tour de Corse.
After the long spell on the sidelines, Toivonen returned and finished 4th at his hometown rally. The next year, in Italy, Henri was 3rd and he closed the season in style, winning the Wales Rally in his Lancia Delta S4.
Victory at 1986 Rallye Monte-Carlo
With the same car, Toivonen entered a new season and had a reason to be very optimistic. With the new co-driver Sergio Cresto, the Finn won Rally Monte Carlo, the opening event of the season.
Unfortunately, he retired from the races in Sweden and Portugal but was ready to bounce back at Tour de Corse, although he was ill before the start. But, he did well and was in the lead. He complained about the car's power, saying it is too strong for the event like Tour de Corse.
Tragedy at Tour de Corse caused a ban on Group B cars
Sadly, on the 2nd of May, Henri Toivonen was killed during the 18th stage. His Lancia slid off the road, the car landed on the roof, but the fuel tank was ruptured and the car exploded. Poor Henri and his co-driver stood no chance of surviving.
This tragedy still remains a bit of a mystery, as there were no eye-witnesses to tell what had happened at the same exact spot where a year before Attilio Bettega was killed. After this tragedy, Group B cars were banned as they were 'too fast to race'.
Video : Tribute to Henri Toivonen
Photos: alchetron.com, yle.fi, redbull.com, tumbnation.com, tumblr.com.