Career Summary:
Cale Yarborough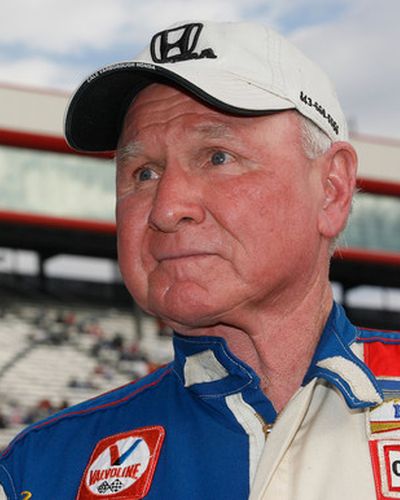 March 27, 1938

85

United States

Not Active

602

88

203

39

14.62%

33.72%
Cale Yarborough is a former  American racing driver and a team owner. He won NASCAR Winston Cup Series three times (1976, 1977 and 1978), becoming one of two drivers in NASCAR history to win three consecutive championships.
Yarborough was active in NASCAR from 1957 to 1988 and he scored 83 victories in 568 races, which placed him in the sixth place on the all-time Sprint Cup winners list.
Cale was trying to race illegally as a teenager
William Caleb Yarborough was born on March 27th, 1939, in Timmonsville, South Carolina. He was the oldest son of Julian and Annie Yarborough. Cale's father was a tobacco farmer, cotton gin operator and a store owner. Julian was killed in a private airplane crash when Cale was ten years old.
According to his autobiography, in 1951, Cale Yarborough attended his first race as a spectator, the Southern 500 at Darlington Raceway. Few years later, still as a teenager, he tried to enter the race by lying about his age, but he was caught and disqualified.
In 1957, Yarborough made his debut as a driver at the Southern 500, which was the part of the Grand National Series. He was driving the #30 Pontiac for Bob Weatherly. He started 44th and finished 42nd. He ran for Weatherly two years later with Ford and finished 27th. In 1960, Yarborough again ran only one race, at Southern States Fairgrounds, and finished 14th. In 1961, Cale finished 30th at the Southern 500, driving Julian Buesink's Ford. Yarborough finally expanded his racing program to eight races in 1962, driving three different Ford cars. His best result was tenth place at the Daytona 500 Qualifying Race.
Yarborough scored first win at Valdosta Speedway
Yarborough started 1963 participating in four races without a full-time ride, but after that, he signed to drive the #19 Ford for Herman Beam. Cale competed in 18 races and his best finish was fifth place three times, at Myrtle Beach, Savannah and Spartanburg. Cale was driving for Beam for the most of the season 1964, but he finished the year driving the #00 Holman Moody's Ford Galaxie. After 24 races, with fifth place as his best result, Cale finished 19th in the standings.
In 1965, Cale's first NASCAR victory came. He won driving Kenny Myler's #06 Ford at Valdosta Speedway. Yarborough participated in 46 races through the season, driving Dodge, Pontiac and Ford for various owners, and he finished 10th in the Series' classification.
Two crashes at Indianapolis 500
In 1966, his racing program decreased to only14 races, mostly with #27 Ford of Banjo Matthews and #21 Ford of Wood Brothers. Cale's most notable race in 1966 wasn't in NASCAR but in the USAC National Championship. He participated for the first time in the Indianapolis 500, driving Vollstedt-Ford of Jim Robbins. He didn't start the race due to a crash during practice.
In 1967, Cale was successful again in NASCAR Grand National Series, winning two races with #21 Ford of Wood Brothers, He won the Atlanta 500 and the Firecracker 400 at Martinsville. He ran only 17 races so he finished 20th in the standings. Yarborough appeared again at Indianapolis 500 in 1967 but again crashed, this time after 176 laps. He was driving Vollstedt-Ford.
Successful years with Wood Brothers
One of the most successful seasons followed in 1968. Yarborough won his first Daytona 500 and added five more victories, driving the #21 Mercury of Wood Brothers. Because of the limited schedule with just 21 races he finished 17th in the final standings.
In 1969, #21 Wood Brothers' Mercury scored six pole positions but Cale was the winner at two races only, at Atlanta and Michigan. He ran just 19 races so he was far from the top in the series' standings.
Yarborough continued driving a limited schedule of nineteen races for the Wood Brothers in 1970. He won the first race of the season, Daytona 125-mile qualifying race. At Daytona 500 he finished 21st. He later won at Michigan and Rockingham.
Two more Indy 500 participations
At the end of the season, Ford withdrew the factory support for NASCAR teams and Yarborough switched his focus to the USAC National Championship. He was driving Gene White's Mongoose-Ford in ten races, including Indianapolis 500. In the NASCAR Grand National Series, Yarborough participated in only four races.
In 1972, Cale's racing program was reduced to just five races in NASCAR and the participation at Indianapolis 500. He scored his best result at Indianapolis Motor Speedway, finishing in tenth place with the #21 Atlanta-Foyt.
The first full NASCAR season in 1973
In 1973, Yarborough returned to NASCAR and ran all 28 races of the Winston Cup Series. It was the first full season in his career. He was driving the #11 Kar-Kare Chevrolet for Richard Howard. He won four races and finished 16 times in Top 5. Yarborough finished second in the points, the champion was Benny Parsons.
In 1974, Yarborough won a career-high ten races but again finished second in the championship. The champion was Richard Petty. In the first half of the season, Cale's #11 Chevrolet was owned by Richard Howard and sponsored by Kar-Kare, but then Junior Johnson bought the team and Carling became the main sponsor.
Three consecutive titles with Junior Johnson's team
Despite successful 1974 season and lots of victories, the team struggled with sponsors at the beginning of 1975, until Holly Farms became the main sponsor in the eighth round. Yarborough won three races with the #11 Chevrolet and finished ninth in the final standings.
In 1975, Cale competed for the first time in the Race of Champions, against the other eleven American and international racers. He finished third behind Bobby Unser and AJ Foyt.
This was followed by  the most successful period in his career. Cale Yarborough won three consecutive NASCAR Winston Cup titles in 1976, 1977 and 1978, all three in the #11 Junior Johnson's car. In 1976 and 1977, Cale was driving Chevrolet and in 1978, he switched to Oldsmobile.
In the first victorious season, Yarborough won nine races, including four in a row late in the season. He won the title ahead of Richard Petty and Benny Parsons, two drivers who beat him in the previous seasons.
Nineteen victories in two seasons
Yarborough repeated nine wins in 1977, including his second Daytona 500 victory. He won the title again ahead of Petty and Parsons. In the 1977 International Race of Champions Yarborough finished second behind AJ Foyt.
In 1978, Yarborough tied his previous record of ten victories and he won the title with #11 Oldsmobile. He became the first driver in NASCAR history with three consecutive titles. The record was tied 30 years later when Jimmie Johnson took his third title in a row.
Millions of TV viewers watched a fistfight at 1979 Daytona 500
The season 1979 was remembered mostly because of a fist fight between Cale Yarborough and Allison brothers (Donnie and Bobby) after Donnie and Cale crashed in the battle for the win at Daytona 500. This was the first NASCAR 500-mile race to be broadcasted live on television and after millions of viewers watched the fight, NASCAR's popularity grew rapidly.
Yarborough scored four victories driving the #11 Busch-sponsored Oldsmobile and finished fourth in the standings. In the annual International Race of Champions, he took the podium, finishing third behind Mario Andretti and Neil Bonnett.
Video: A story about fistfight at 1979 Daytona 500

Cale scored career-high fourteen poles in 1980
In the next season, Yarborough was close to the title but finished second, just 19 points behind Dale Earnhardt. During the season 1980, Cale was combining Oldsmobile and Chevrolet for #11 team and he scored six victories. He also won a career-high 14 pole positions in 1980.
At the end of the season, 41-year-old Yarborough announced he was leaving Junior Johnson's team and that he was going to run a part-time schedule for the rest of his career. Yarborough won 55 races while driving for Johnson from 1973 to 1980.
In 1981, Yarborough drove 18 races with #27 Valvoline-sponsored Buick of M.C. Anderson and he scored victories at Atlanta and Firecracker 400 at Daytona.
Disappointing attempt at Le Mans
With a shortened schedule in America, Yarborough had time to try something new and he traveled to France in June 1981. He competed for the first time at 24 Hours of Le Mans, partnering Billy Hagan and Bill Cooper in the #35 Stratagraph's Chevrolet Camaro. They raced only 13 laps before a crash-retirement, but for Cale, it was enough to enter historic books of motorsports as one of few drivers who participated in three great races – Daytona 500, Indianapolis 500 and 24h Le Mans.
He continued with a part-time schedule in 1982, again driving M.C.Anderson's Buick. He won three of 16 races. In 1983, Anderson closed his operation, and Yarborough moved to the #28 Hardee's Chevrolet owned by Harry Ranier. Yarborough won four of 16 races, including his third Daytona 500.
In 1984, Yarborough repeated the victory at Daytona 500, his fourth and last. With Ranier's Chevrolet, he scored two more wins in 1984 and he also won the Race of Champions for the first time, driving Chevrolet Camaro against some world famous drivers.
Two last seasons with his own team
In 1985, Ranier's team switched to Ford and Yarborough scored two victories. The victory in the Miller High Life 500 at Charlotte Motor Speedway was his last NASCAR  win in his career. He won his final career pole next year at the Firecracker 400 at Daytona. He finished third in the 1986 International Race of Champions.
For season 1987, Cale Yarborough bought the Race Hill Farms team and entered the Winston Cup with his own car. He was driving #29 Hardee Oldsmobile Delta. In sixteen races he scored two Top 5 finishes. In his final season, Yarborough was driving #29 Oldsmobile Cutlass Supreme and his best finish in ten races was 9th place. Yarborough last NASCAR race was Atlanta Journal 500 on November 20th, 1988.
John Andretti scored only victory for Cale Yarborough Motorsports
After his retirement, Yarborough continued to participate in NASCAR through Cale Yarborough Motorsports until 2000 when the team was closed. Many drivers were changed in the cockpit of CYM cars but without some notable success. The team scored only one victory when John Andretti won the Pepsi 400 at Daytona in 1997.
Yarborough was inducted into the International Motorsports Hall of Fame in 1993, then into the National Motorsports Press Association Hall of Fame and the Motorsports Hall of Fame of America in 1994. In 2011, he was also inducted into the NASCAR Hall of Fame. Besides all those honors he also had his own part of the highway. A stretch of South Carolina Highway 403 through Timmonsville is named Cale Yarborough Highway.
Photos: woodbrothersracing.com, universityofracing.com, nytimes.com,