Career Summary:
Donnie Allison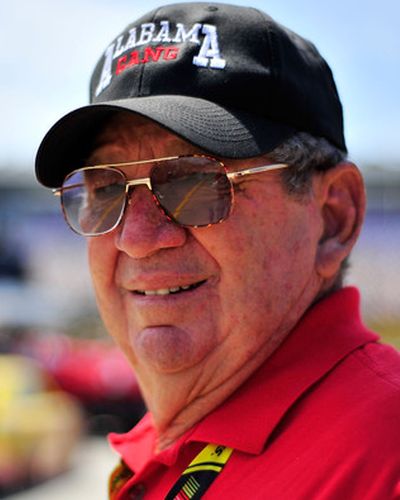 September 07, 1939

82

United States

Not Active

283

16

56

19

5.65%

19.79%
Donnie Allison is an American former racing driver who recorded more than 240 starts and ten wins in the NASCAR Grand National and Winston Cup Series between 1966 and 1988. He was the 1967 NASCAR Grand National Rookie of the Year but he was never close to winning a championship title. He was also the 1970 Indianapolis 500 Rookie of the Year when he finished fourth in the race.
Donnie is a brother of NASCAR champion Bobby Allison. Both brothers were members of the famous Alabama Gang. Apart of his racing results, Donnie Allison is most remembered by a fistfight against Cale Yarborough at 1979 Daytona 500, what was the first ever nationally televised NASCAR race.
Donnie entered stock car racing in 1966
Dunkiny 'Donnie' Allison was born on September 7, 1939, in Miami, Florida, twenty-one months after his brother Bobby. Donnie started a stock car racing career five years after his brother, debuting in National 500 race at Charlotte Motor Speedway on October 1966, driving the #05 Chevrolet for Robert Harper. A few months earlier, Donnie failed to qualify for the race at Atlanta.
1967 NASCAR Grand National Rookie of the Year
In 1967, Donnie Allison entered the NASCAR Grand National season as a regular competitor, being eligible to fight for the Rookie of the Year award. And he did it, scoring four top 5 results in twenty races. He started a season with Robert Harper's #05 Chevrolet, then switched to Donald Brackins #2 Chevrolet and finally to Jon Thorne's #12 car (Dodge or Ford).
Beating brother Bobby for maiden NASCAR victory
Donnie scored his maiden victory in June 1968, in the Carolina 500 race at North Carolina Motor Speedway in Rockingham. He was driving the #27 Ford for Banjo Matthews, beating his brother Bobby by two laps.
Next year, Donnie scored one more win (at Charlotte Motor Speedway) and then three wins in 1970, all driving Fords for Matthews Racing. Despite three wins, he was far from the top in the standings because he participated in just nineteen races.
1970 Indianapolis 500 Rookie of the Year
In May 1970, Donnie Allison tried something else than stock car racing, entering the Indianapolis 500 race.He was driving the #83 Greer-Foyt Eagle-Ford for AJ Foyt, surprisingly finishing in the fourth place, behind open-wheel aces Al Unser, Mark Donohue and Dan Gurney.
In 1971, Allison recorded four starts in the USAC Champ Car Series, including Indianapolis 500. In his second attempt at Indianapolis Motor Speedway, he finished sixth in the #84 Purolator Coyote-Ford of Jim Greer. In other three races, he didn't reach the finish.
1971 – victory at Talladega's Winston 500
While experimenting in open-wheel racing, Donnie continued his successful NASCAR career, scoring one victory in 1971. He won at Talladega Superspeedway's Winston 500, driving the #21 Purolator Ford for Wood Brothers Racing. He beat his brother to finish line.
It was his sixth win in a career, after that he waited for the next victory until 1976. It was at Charlotte Motor Speedway,where he was driving the #1 Chevrolet for Hoss Ellington.
Last NASCAR victory in 1978
In 1977, Donnie Allison added two more NASCAR wins on his account, still driving for Ellington Racing. He was the race winner at Talladega 500 and then at North Carolina Motor Speedway.
The last NASCAR victory came in November 1978 at Atlanta International Raceway, where Donnie was the winner of Dixie 500 race in the #1 Hawaiian Tropic Chevrolet.

Millions were watching Donnie's fistfight at Daytona
And then, in January 1979, maybe the most famous moment in NASCAR's history happened. At Daytona 500, what was the second race of the 1979 Winston Cup Series season, for the first time in front of live national TV audience, Donnie Allison and Cale Yarborough crashed out on the final lap.
After a crash, they argued and then the fistfight started. Bobby Allison stopped nearby and joined his brother in a fight. That fight made headlines all across America and made the greatest ever impact on the popularity of NASCAR.
Racing in NASCAR until 1989
The season 1980 was the last for Donnie in which he participated in more than half races (18 of 31) during a season, scoring three top 5 results. In the following years, he slowed down his racing activities, recording most races in 1982, when he started nine times.
His last NASCAR Winston Cup Series appearance was at Michigan International Speedway in August 1988, where he was driving the #31 Oldsmobile for Bob Clark, not finishing the race. Allison's very last race was in NASCAR Busch Grand National Series race at Daytona in February 1989, where he crashed out early in the #23 Buick of Collins Engineering.
Alabama Gang member became Hall of Fame inductee
At the age 50, Donnie Allison ended his racing career. Twenty years later, in 2009, he was inducted into the International Motorsports Hall of Fame.
When looking race results, he would always be in a shadow of his older brother and NASCAR champion Bobby. But, as an original member of the Alabama Gang, the group of drivers who operated from Hueytown, Alabama, he would be always remembered as the one who started the most famous fight in NASCAR's history.
Photos: Jason Smith/Getty Images, indianapolismotorspeedway.com, legendsofnascar.com,