Career Summary:
Glenn Seton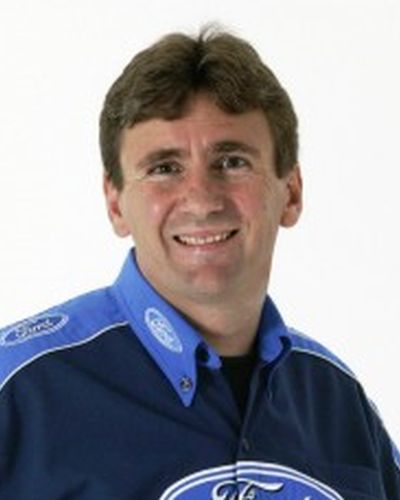 May 05, 1965

56

Australia

Not Active

627

69

176

21

32

11.00%

28.07%
Glenn Seton is an Australian racing driver who won the Australian Touring Car Championship two times, in 1993 and 1997, while driving Ford Falcon for his own team. At Bathurst 1000, he finished second three times, never repeating a success of his father Barry, who was Bathurst winner in 1965.
Glenn Seton retired from a professional full-time racing following the 2005 V8 Supercars season but never left racing completely, returning to the race tracks regularly in a different touring car and sports car competitions.
Started a career with father's Ford Capri
Glenn Seton was born on May 5, 1965. He started his racing career in 1983, driving Fords in the Australian Sports Sedan/GT Championship and Australian Endurance Championship, including the Bathurst 1000 at Mount Panorama Circuit. In his debut at Bathurst 1000, Glenn was a co-driver to his father Barry in the #55 Ford Capri. They didn't finish the race.
In 1984, still driving father's Ford Capri, Glenn debuted in the Australian Touring Car Championship. At Bathurst 1000, he started a connection with Nissan, driving the #16 Nissan Pulsar EXA together with Christine Gibson, the wife of his future boss Fred Gibson. They retired after 76 laps.
1987 - second in the championship and at Bathurst 1000
Seton stayed with Nissan until 1988, driving Gibson Motorsport's Nissan Skyline both in the ATCC and Endurance Championship. His best season was 1987 when he finished second both in the Australian Touring Car Championship and at Bathurst 1000.
In the championship, he was driving the #15 Nissan Skyline DR30 RS, winning three races and finishing second in the points, behind Jim Richards. At 1987 Bathurst 1000, Seton's co-driver in the #15 Nissan was John Bowe.
Glenn founded his own team in 1989
At the end of 1988, Glenn and his father left the Nissan team to set up Glenn Seton Racing. They chose to run Ford Sierra RS500. With that car, Glenn became the winner of the three-round 1990 Australian Endurance Championship. In the ATCC, his best overall result was 4th place in 1991. At Bathurst 1000, he and Gregg Hansford finished 9th in 1991 and it was his best result with Sierra RS500.
First Australian champion in the V8 era
Seton's results improved following an introduction of new V8 Ford EB Falcon at the end of 1992. He and Alan Jones retired at 1992 Bathurst 1000 but in the next season, Falcon became the championship-winning car. He won four times with #30 Ford EB Falcon, capturing a title ahead of his teammate Alan Jones, who was driving the #35 Ford.
At Bathurst 1000, Seton was the best qualifier two times, in 1994 and 1996, but in the races, he had no success.
One more championship title in 1997
After winning ATCC title, Seton stayed among the front-runners in the championship in the following seasons, finishing in the second place two times, being beaten by Mark Skaife in 1995 and by John Bowe in 1995. In 1996, he was third in the points, behind Craig Lowndes and John Bowe.
And finally, in 1997, he claimed his second ATCC title. Driving the #30 Ford EL Falcon, he won two of ten championship rounds, beating John Bowe and Russell Ingall.
Running his own team until 2002
Seton was running his own team until 2002. His best result was fourth place in the 1999 championship season, renamed to the Shell Championship Series. In 2002 season, he finished in the 24th, what was his worst season's result in a career. At Bathurst 1000, his best result was fifth place in 1998 and 1999, both times with Neil Crompton as a co-driver.
At the end of 2002, Seton sold the team to Prodrive, which renamed it to Ford Performance Racing. Seton remained with the team as a driver.
Two Bathurst podiums for Glenn Seton and Craig Lowndes
Driving the #5 Ford Falcon for Ford Performance Racing, Seton finished 15th in the championship for two years in a row (2003 and 2004), not winning a single race. The highlights of both seasons were participations at Bathurst 1000, where Seton scored two podiums in two attempts, sharing the #6 Ford with Craig Lowndes. In both races, they were beaten by Holden's Greg Murphy and Rick Kelly.
Last V8 Supercars season with Dick Johnson Racing
In 2005, Glenn Seton joined Dick Johnson Racing to drive the #18 Ford BA Falcon. For the third year in a row, he finished 15th in the championship classification. At Bathurst 1000, he finished in the 9th place, sharing a car with Dean Canto.
Although he had a two-year contract, Seton was sacked from Dick Johnson Racing at the end of 2005. It turned to be his last full season in the championship.
One more podium at Mount Panorama
In the following years, Seton was returning to the championship as a co-driver in endurance races. He recorded for more participations at Bathurst 1000 between 2006 and 2010, scoring one more podium at Mount Panorama in that period.
In 2006, he and James Courtney finished in the third place, sharing Stone Brother Racing's #4 Ford Falcon. In 2007 and 2008, Seton was a co-driver to Holden's Nathan Pretty and Craig Baird. Seton's last attempt at Bathurst 1000 followed in 2010 when he was driving for Kelly Racing together with Jason Bargwanna, not finishing the race.
Retiring from races is not an option
Of other competitions, Seton was participating in touring car races of historic cars, in the Australian Mini Challenge and Australian Production Car Championship. He participated few times at Bathurst 12 Hour race, claiming one class victory with Mitsubishi Lancer Evo X. At 2017 Bathurst 12 Hour, he was on a podium with MARC Cars Australia team, finishing second in the Invitational class with Ford Focus V8.
Photos: Getty Images, Glenn Seton Racing FB, fullboost.com.au, westernadvocate.com.au,