Career Summary:
Jim Richards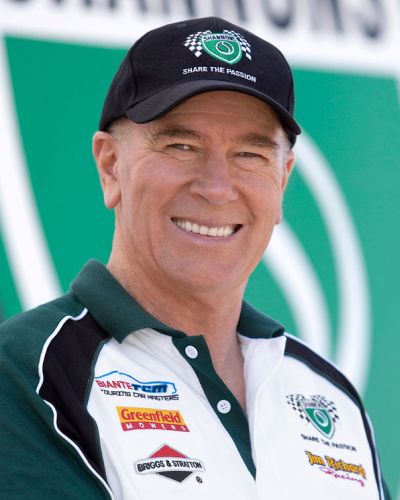 September 02, 1947

75

New Zealand

Not Active

933

194

490

73

138

20.79%

52.52%
New Zealander Jim Richards is one of the greatest drivers ever in Australian motorsport history. The 69-year-old Kiwi is not just a living legend, he is still very active and still competitive, taking his last title in the Australian Touring Car Masters series in 2013.
Seven Bathurst 1000 wins and four ATCC titles
Prior to that, Richards recorded seven Bathurst 1000 victories and four championship titles in the Australian Touring Car Championship (now V8 Supercars Championship). He was also the champion in the Carrera Cup Australia, Australian GT Production Championship, Australian Nations Cup, Australian Endurance Championship, NASCAR Australia and 8-time winner of Targa Australia.
First two ATCC titles (1985 and 1987) Richards won driving BMW 635 CSi. In 1990, he switched to legendary Nissan Skyline and brought two consecutive titles to the Japanese manufacturer. At Mount Panorama, Richards is second-best with seven victories. First three wins, from 1978 to 1980, he scored together with the King of the Mountain Peter Brock, in the famous #05 Holden. In 1990 and 1991, Richards won the championship with Nissan, but also won the Bathurst 1000 two times in a row, alongside Mark Skaife. The sixth win followed in 1998, together with Rickard Rydell in the Volvo S40. The final victory, again in the Holden and again with Skaife, was achieved in 2002.
Podium for rainmaster at Bathurst debut
Jim Richards was born on September 2, 1947, in Otahuhu, a suburb of Auckland, New Zealand. He started racing with Ford Escort TLC in 1969, entering the New Zealand Saloon Car Championship. In the next couple of years, he won four titles in New Zealand but also expanded his racing activities to Australia, driving the various Fords (Escort, Falcon, Capri, Mustang).
The race that marked the start of his stellar career was his debut at Bathurst 1000 in October 1974. It was the wettest race in an event's history and Richards proved to be a rainmaster, recording the fastest time. At the end, he and fellow Kiwi Rod Coppins finished third, driving the #9 Holden LH Torana SL/R 5000. Coppins and Richards returned to Mount Panorama in 1975, finishing 8th.
In 1976, Richards debuted in the Australian Sports Sedan Series with Ford Mustang and Australian Touring Car Championship with Ford Falcon XB GT. At Bathurst 1000, he was co-driver for John Goss and they finished 31st. During 1977, he was still competing with Fords, finishing fourth in the Sports Sedan Championship.
The legendary partnership Brock - Richards was created in 1978
And then, in 1978, the legendary partnership was created when Richards joined Peter Brock at Bathurst 1000 race, sharing the #05 Holden LX Torana SS A9X of Marlboro Holden Dealer Team. They won the race, which was Brock's third win at Bathurst and Richards' maiden triumph at Mount Panorama.
In the 1978 Australian Sports Sedan Championship, Richards was still driving Ford XC Falcon, finishing as a runner-up in the championship, tied in the points with Allan Grice. In 1979 Sports Sedan Championship, Richards finished third, after he changed three cars during the season (Ford XC Falcon, Chrysler VH Valiant Charger and Chevrolet Monza). During 1979, Richards also tried single-seater racing, competing in the Rothmans International Series (F5000), but without notable results.
Second Bathurst victory
The highlight of the 1979 season was the second consecutive Bathurst victory for Brock and Richards, again in the #05 Torana of the Marlboro Holden Dealer Team. They won with a six-lap advantage over the second-placed crew.
In 1980, Richards was again near the top in the Sports Sedan Championship but again failed to win the title. He finished third. At 1980 Bathurst 1000, Brock and Richards won again, debuting the Holden VC Commodore for the Holden Dealer Team. With five wins Peter Brock became the most successful driver in a history of the race.
Unsuccessful qualifying attempt at Le Mans
In 1981, they didn't manage the fourth win in a row, finishing 21st in the #05 Commodore. In June 1981, Jim Richards, Peter Brock and Colin Bond traveled to France to compete at 24 hours of Le Mans. The #74 Porsche 924 Carrera GTR wasn't quick enough and they failed to qualify.
The big change followed in 1982, when Jim Richards joined JPS Team BMW, driving 318i Turbo in the Sports Sedan/GT Championship and 635 CSi in the Touring Car Championship. In his first season with BMW, Richards didn't score any victory. At Bathurst 1000, his partner was David Hobbs and they finished fifth in the JPS Team's #31 BMW 635 CSi.
Three championship titles in 1985 with BMW
The 1983 season was much more successful, as Richards took second places both at the Australian Endurance Championship (with BMW 635 CSi) and Australian Sport Sedan/GT Championship (with BMW 318i turbo). At Bathurst 1000, he and JPS Team manager Frank Gardner didn't reach the finish.
During 1984, BMWs still weren't competitive but in 1985, when ATCC accepted international Group A regulations, Richards finally had a winning car and he took three championship titles in one season. Driving the BMW 635 CSi, he was on the top in the Australian Touring Car Championship, Australian Endurance Championship and AMSCAR Series. At Bathurst 1000, Richards and Tony Longhurst finished fourth.
During 1986, Richards had the same racing schedule, but this time, he won only one title,at the Australian Endurance Championship. In the ATCC classification, he was third, same as in the AMSCAR Series. The pair Richards-Longhurst competed together again at Mount Panorama, finishing sixth.
Second ATCC title with BMW M3
In 1987, new BMW M3 was the car of choice for JPS Team and Richards won his second ATCC title with the German manufacturer. With a new car, Richards also competed in three rounds of the World Touring Car Championship, that were held in Australia and New Zealand. One of those races was Bathurst 1000, where Richards and Longhurst finished fourth.
At the end of 1987, Frank Gardner shut down the JPS Team, so Richards rejoined Peter Brock in the Mobil 1 Racing team, that also used BMW M3 cars at the 1988 Australian Touring Car Championship. The season was disappointing, including the retirement at 1988 Bathurst 1000. For 1989 season, Brock switched to Ford Sierra RS 500, but Richards didn't stay with the team. He accepted the invitation of Fred Gibson to join his Nissan-backed Gibson Motorsport.
Successful years with Nissan Skyline cars
Richards' new car was Nissan Skyline GTS-R HR31. In the first season with Nissan, Richards finished fourth in the championship, not winning any race. At Bathurst, Richards and Mark Skaife finished third.
The season 1990 was completely different, as Nissan Skyline GTS-R HR31 became the winning machine. Richards won two races with that car, before switching to Skyline GT-R R32. Richards added one more victory with a new car and took his third ATCC title. At Bathurst 1000, Richards and Skaife finished 18th.
Winning the title and Bathurst with Godzilla
In 1991, the legendary Godzilla was the winning car both in the championship and at Mount Panorama. Richards took his fourth ATCC title with four wins in nine races. His main rival in the championship was his teammate Mark Skaife. At 1991 Bathurst 1000, Richards and Skaife were together in the #1 Skyline GT-R R32 and they recorded the first ever victory for Nissan at the greatest Australian race.
In 1992, Richards and Skaife repeated the victory at Bathurst, in the race that was shortened due to rain showers and many accidents in those conditions. They were driving Winfield-sponsored #1 Nissan Skyline GT-R R32. The race was marked by the death of Richards' friend and F1 champion Denny Hulme, who died during the race suffering a heart attack, but also by Richards' speech on the podium when he reacted to spectators calling them arseholes.
In the 1992 championship, Nissan drivers switched the positions, so Skaife won the title while Richards was second. In 1993, Gibson and Winfield switched from Nissan to Holden Commodores. Both Richards and Skaife stayed with the team, taking fourth and sixth place in the championship. At Bathurst 1000, they finished second.
Winning the GT Production title with Porsche
In 1994, Richards was sixth in the championship in the Winfield Racing Commodore. He also competed in the Australian Super Touring Championship, driving the Porsche 968 CS and finishing in the fourth place.  Porsche 968 CS and Porsche 911 RSCS were Richards' championship-winning cars in the 1995 Australian GT Production Car Series.
In the touring car racing, he was 12th in the championship and retired at Bathurst, still driving the Winfield Racing Holden Commodore. It was his last full season at the Australian Touring Car Championship.
1996 NASCAR Australia champion
In 1996, Richards took the title in the Australian Superspeedway Series, commonly known as NASCAR Australia. He was driving the Pontiac Grand Prix. At 1996, Jim competed for the first time with his son Steven at Bathurst 1000, in the Garry Rogers Motorsport's Holden, but they didn't reach the finish.
In 1997, at the age of 50, Richards was far from the retirement. Besides being a regular competitor at Mount Panorama, he competed full season at the Australian Super Touring Championship, joining Volvo Racing. In 1997, the controversial split between race organizers happened and there were two endurance races at Mount Panorama. Richards participated in both, finishing fourth at Bathurst 1000 race, alongside Rickard Rydell in Volvo 850, and finishing second at Primus Classic 1000, alongside Steven Richards in the GRM Holden.
Winning Bathurst with Volvo S40
The same situation repeated in 1998. Rydell and Richards were the winners of the Bathurst 1000 race on October 4, driving the #40 Volvo S40. In November's race of V8 cars, Richards and Jason Bargwanna finished third in the GRM Holden Commodore.
In 1999, Richards added one more Australian GT Production Car Championship title to his account. He was driving his own Porsche 993 RSCS. In the Super Touring Championship, driving Volvo S40, he finished second.
Three consecutive Nations Cup Championship titles
From 2000 to 2002, Jim Richards clinched three consecutive Australian Nations Cup Championship titles in GT class, driving Porsche 996 GT3 for his own team. He won eight races during three seasons.
During that period, he was a regular entrant at Bathurst 1000, pairing with John Bowe in 2000 and with Dean Canto in 2001. In 2000, Bowe and Richards retired in the Briggs Motorsport Ford Falcon, in 2001, Canto and Richards were fifth in the Glenn Seton's Ford Falcon.
2002 - the seventh victory at Bathurst 1000
And then, in 2002, he partnered Mark Skaife in the Holden Racing Team's #1 Holden VX Commodore and the duo scored their third joint victory. For Richards, it was his seventh and final victory at Bathurst 1000, placing him in the second place on the list of Bathurst winners, behind nine-time winner Peter Brock. It's fascinating that Richards' victories span in the period of 24 years, between 1978 and 2002.
After winning his seventh Bathurst, a 55-year-old Richards still wanted to win some titles and the next one came in 2003, when he became the Porsche Carrera Cup Australia champion. He won twenty out of 27 races.The same year, Richards scored his seventh victory at Targa Tasmania, driving the Porsche 996 Turbo. 8th victory at Targa Tasmania followed three years later, in 2006, again with Porsche. During all those wins Richards' partner was a motoring journalist Barry Oliver.
The fascinating career still isn't over
Jim Richards recorded 36 starts at Bathurst, finishing on podium thirteen times. He had seven wins, he was three times in the second place and three times in the third place.
In recent years, Jim Richards is most active in the Australian Touring Car Masters, the series opened for touring cars manufactured between 1963 and 1976. He took his first championship title in 2010, driving the 1964 Ford Falcon Sprint. With the same car, he triumphed again three years later.In 2015, he finished second in the championship and returned to the race tracks in 2016. At the age 69, he is still not ready for the retirement, so he continued racing in the Touring Car Masters, Heritage Touring Cars Championship and he participated one more time at Targa Tasmania.
Because of his achievements, Jim Richards was inducted into the V8 Supercars Hall of Fame in 2006 and the Australian Motorsports Hall of Fame in 2015.
Photos: jimrichards.com.au, foxsports.com.au, speedcafe.com, supercars.com,