Career Summary:
Hannu Mikkola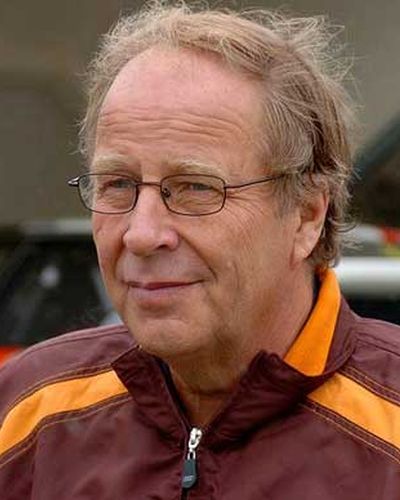 May 24, 1942

81

Finland

Not Active

266

Audi Sport,Ford Motor Co.,Mazda Rally Team Europe

55

96

20.68%

36.09%
Hannu Mikkola is a retired rally driver from Finland who was active for more thirty years in rallying, including more than 120 starts and 18 victories in the World Rally Championship between 1973 and 1993.
His most successful period was between 1981 and 1987 which he spent with Audi Sport. He reached the peak in 1983 by winning the WRC title with Audi Quattro. He was a vice-champion of the world three times, in 1979, 1980 and 1984.
Starting a rally career in a Volvo
Hannu Olavi Mikkola was born in May 1942 in Joensuu, a town in North Karelia region in Eastern Finland. He started a rally career in 1963 when he has competed at the local level, driving a Volvo 444.
In the following years, he raced in different cars (Simca 1500, Volkswagen 1500 S, Volvo 544, Volvo 122, Lancia Fulvia), making a debut at Jyväskylän Suurajot - Rally of the 1000 Lakes (today Rally Finland) in 1964 in a  Volkswagen.
Finnish rally champion in 1968
In 1967, Mikkola made an international debut at Rallye Monte-Carlo in a Lancia Fulvia. Later that year, he reached his first podium at Rally of 1000 Lakes and then the first victory in 1968, driving a Ford Escort Twin Cam. In the same season, he won the Finnish Rally Championship.
He repeated Rally Finland's victories in 1969 and 1970, driving a Ford Escort Twin Cam in both occasions. His other notable wins in a pre-WRC era were at 1970 London - Mexico World Cup Rally (Ford Escort Twin Cam), 1972 Safari Rally or 1972 Scottish Rally, both in a Ford Escort RS 1600.
Maiden WRC victory at 1974 Rally Finland
In 1973, Mikkola participated in the inaugural World Rally Championship with three different cars, driving a Ford Escort RS 1600 at Monte-Carlo, Safari Rally and RAC Rally, Peugeot 504 Ti at Rally Morocco and Volvo 142 at Rally of 1000 Lakes. His best result was the 4th place at Rallye Monte-Carlo.
In 1974, the highlight of the season was his fourth win at Rally Finland, what was his maiden WRC victory, in a Ford Escort RS 1600 together with navigator John Davenport. For the second WRC victory, he had to wait until 1975 when he won Rally Morocco, sharing a Peugeot 504 with Jean Todt as his navigator. The same year Mikkola again triumphed at his home rally, driving a Toyota Corolla.
Arne Hertz as Mikkola's navigator since 1976
In 1976, Mikkola scored no wins. That year was marked by the beginning of his partnership with navigator Arne Hertz that will become a long and fruitful partnership until the end of Mikkola's career.
He was again without major wins in 1977 and then he became British Rally Champion in 1978, also winning the British WRC round in Wales. He later became the record holder with four wins at RAC Rally.
WRC vice-champion with four wins in 1979
In 1979, the first WRC season when the Drivers' title has been awarded, Mikkola finished second in the points, behind Bjorn Waldegard. Mikkola won four WRC events that year, three in a Ford Escort RS 1800 (Portugal, New Zealand, GB) and one in a Mercedes-Benz 450 SLC (Ivory Coast). Mikkola lost a championship title by just one point.
He was a vice-champion again in 1980, far behind Walter Röhrl. This time, Mikkola had no wins, just four podiums. During that season, Mikkola was driving four different cars in WRC events (Porsche 911 SC, Ford Escort RS 1800, Mercedes-Benz 450 SLC and Toyota Celica 2000 GT).
Audi factory driver since 1981
For the following campaign, Mikkola joined Audi Sport and became a part of their legendary Audi Quattro project. He crashed out in his debut with Audi at Rallye Monte-Carlo and then triumphed at Rally Sweden. The next win came in season's finale at Wales and he finished third in the points.
In 1982, he was third in the championship points again, winning Rally Finland and RAC Rally. It was his fourth win in Wales and he is still the record holder, together with Petter Solberg and Sebastien Ogier.
World rally champion in 1983
Finally, in 1983, Mikkola reached the top of the world. Starting a season in an Audi Quattro A1, with two wins in Sweden and Portugal, and then switching to Audi Quattro A2, with two more wins in Argentina and Finland, he won WRC Drivers' title. Audi captured Manufacturers' title in 1982 but Mikkola's triumph was the first title for some of Audi drivers.
Mikkola's triumph in Finland was his seventh victory in that event, establishing him as a long-standing record-holder. Twenty-four years later, Marcus Gronholm tied that number but nobody never scored eight wins in Finland.
Vice-champion in 1984, last WRC win at 1987 Safari Rally
In 1984, Mikkola stayed with Audi and fought for the title, losing to his teammate Stig Blomqvist. Mikkola won at Rally Portugal and added seven more podiums to his account.
Mikkola spent two more seasons driving monstrous Group B Audi Quattro but without any notable success in the WRC. His best result in that period was the third place at 1986 Rallye Monte-Carlo. After Group B cars were banned, Mikkola stayed with Audi for one more season, driving Group A-spec Audi 200 Quattro in 1987 and scoring his last WRC victory at Safari Rally.
Rallying with Mazda until 1991
For the 1988 WRC season, Mikkola joined Mazda Rally Team Europe to drive a Mazda 323 4WD alongside Christian Geisdorfer as his new navigator. He reached the finish line in only one event, recording fourth place in Portugal.
Mikkola stayed with Mazda until 1991, having some solid results with a Japanese manufacturer, but that wasn't near to the previous successes. Arne Hertz rejoined him as a navigator in 1990 while in 1991, his navigator was Johnny Johansson.
Two last WRC starts in 1993
Hannu Mikkola retired from the WRC in 1992, at the age of 50, but returned to the competition as a guest driver in two more events in 1993. In February 1993, he was driving Subaru Legacy RS at Swedish Rally, not finishing the rally.
In August 1993, he made his last WRC start at Rally Finland, reaching seventh place in factory-entered Toyota Celica Turbo 4WD. His co-driver in that last WRC appearance was Arne Hertz.
Success in the marathon rally events
After pulling out from WRC, Mikkola's next race was the 1995 London - Mexico Rally, organized to celebrate 25th anniversary of 1970 race. Twenty-five years after 1970's victory, Mikkola won again in a Ford Escort.
Five years later, in 2000, the Finn took a part in London – Sydney Marathon rally driving his old Ford Escort RS1600 from 1968. Over the years, he also took a part in many historic rally events.
Impressive numbers earned him a place in the Rally Hall of Fame
For his achievements, Hannu Mikkola was inducted into the Rally Hall of Fame in 2011, alongside his old rival Walter Röhrl. During his long career, Mikkola has competed in 123 WRC events, scored more than 650 stage wins, 18 rally wins and 44 podium finishes.
Youtube video - Rally legend Hannu Mikkola
Photo: ewrc-results.com, erikwestrallying.tumblr.com  f1pam.deviantart.com