Career Summary:
Ian Geoghegan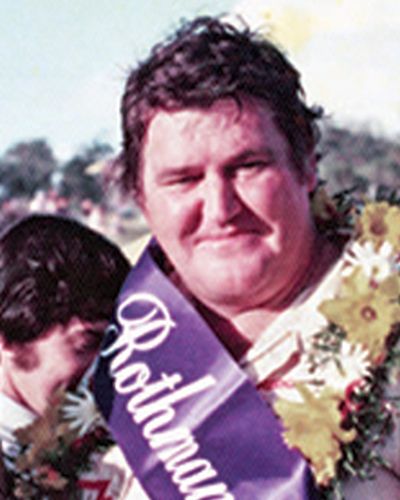 April 26, 1940

November 19, 2003

Australia

Not Active

82

17

44

1

2

20.73%

53.66%
Ian Geoghegan (1940-2003), also known as Pete, is one of the legends of the Australian motorsport. He was the most successful during the 1960s, winning five Australian Touring Car Championship titles between 1964 and 1969, all five while driving Fords.
Geoghegan won the prestigious Bathurst 1000 only once, in 1973, together with Allan Moffat in the factory-entered Ford XA Falcon GT. Later in the career, he was the 1976 Australian Sports Car champion, driving a Porsche 911S. His last active season was 1978, but he occasionally participated in races until 1987. He died on November 19, 2003.
Participant of the original Australian championships
Ian Geoghegan was born on April 26, 1940, in Sydney. In 1960, he participated in the inaugural season of the Australian Touring Car Championship, which was in a fact the 20-lap race held on February 1 at Gnoo Blas Motor Circuit in New South Wales. He was driving Holden 48-215, retiring due to blown head gasket.
In the same year, he also participated in the similar one-race inaugural Australian GT Championship, on October 2 at Mount Panorama Circuit. Driving Holden, he finished third. The champion was his elder brother Leo Geoghegan (born 1936) who was driving Lotus Elite.
In 1960, Ian Geoghegan also participated in the Armstrong 500 race at Phillip Island. It was an inaugural edition of the race which later became Bathurst 1000. Geoghegan was driving Renault Dauphine, finishing tenth in Class B standings.
Ian started to collect wins in 1962
In 1961, the Australian Touring Car Championship race took place at Lowood Airfield Circuit in Queensland, where Geoghegan started from pole and finished second in a Jaguar Mk I 3.4.
Next year, Geoghegan started to collect victories. He won the 1962 Bathurst Six Hour Classic with Daimler SP250 and then the 1963 Australian Tourist Trophy with Lotus 23. He repeated the Tourist Trophy victory with Lotus in 1965.
First ATCC title with Ford in 1964
In 1963, Geoghegan became Ford's factory driver, racing with Ford Cortina Mk I GT. In October 1963, he didn't finish the first Armstrong 500 race which was held at the Mount Panorama Circuit, but he manages to win his first ATCC trophy in July 1964. The Australian Touring Car Championship race took place at the Lakeside International Raceway in Queensland.
Four consecutive ATCC titles with Ford Mustang
After winning his first championship title in 1964, Geoghegan was second in 1965 and then he won four more consecutive titles from 1966 to 1969. In 1966, he won the title for the first time with Ford Mustang, winning the race at Mount Panorama. ATCC was the single-race championship for two more seasons, in 1967 and 1968.
In 1969, the championship consisted of five races for the first time. Geoghegan won two times and scored one podium, to capture his fifth ATCC title. Only three more drivers in a history did that after him – Dick Johnson, Mark Skaife and Jamie Whincup (six times).
Only one podium in six Bathurst attempts with brother Leo
While dominating in the championship, Geoghegan had no luck at Bathurst endurance race, competing there six times together with his brother Leo. They reached only one podium, finishing in the second place in 1967. Ian was the top qualifier in factory-entered #53 Ford XR Falcon GT. In the race, they were beaten by teammates Harry Firth and Fred Gibson in the #52 car.
Three ATCC race wins during the 1970s
After being the most successful racer in the 1960s, Ian Geoghegan remained among the front-runners during the 1970s, scoring few more championship wins but without winning titles. In 1970, he won one race and finished 4th in the points. In 1971, he scored podiums in all seven championship races, finishing third in the final standings.
Last ATCC win at Sandown Raceway in 1978
His last championship win with Ford came in 1972, at Mount Panorama. That year he finished fourth in the points. In 1973, he joined Grace Brothers Racing to drive Chrysler VH Valiant Charger. With only two podiums, he was 8th in the final standings. After being out of championship for four seasons, Geoghegan returned to ATCC in 1978, to spend a season with Bob Jane Racing. He scored his last ATCC win at Sandown Raceway.
Winner of the inaugural Bathurst 1000 in 1973
At Bathurst endurance race, Ian Geoghegan scored a victory in the inaugural 1000 km event in 1973. He and Allan Moffat were driving #9 Ford XA Falcon GT, winning the race ahead of two factory Holdens. Ian's brother Leo finished in the third place with #24 Holden.
Geoghegan and Moffat returned to Bathurst 1000 one more time together, in 1975, not finishing the race. Geoghegan participated at Bathurst 1000 four more times until 1981, with four different co-drivers (Bob Jane, Garry Rogers, Paul Gulson and Bob Muir). His best result was third place in 1980, together with Paul Gulson in #21 Holden VB Commodore.
Sports car champion in 1976 with Porsche
During the 1970s, while competing in touring car races, Geoghegan was also successful in the sports car races. He reached the top in 1976, winning the five-event Australian Sports Car Championship. He was driving Porsche 911 Carrera, winning two races and scoring three more podiums.
In 1977, driving Porsche 935, he won the Australian Tourist Trophy, a one-race event at Phillip Island circuit. It was his third Tourist Trophy victory.
Inaugural inductee of the V8 Supercars Hall of Fame
Ian Geoghegan last recorded race was the Sandown 500 in 1987, where he was driving BMW 325i together with Bill Bryce. They finished in the 16th place.
Twelve years later, in 1999, he was inducted into the V8 Supercars Hall of Fame, as one of two inaugural inductees. The other one was Allan Moffat.
Photos: theroaringseason.com, mustangracing.com.au,