Career Summary:
Jutta Kleinschmidt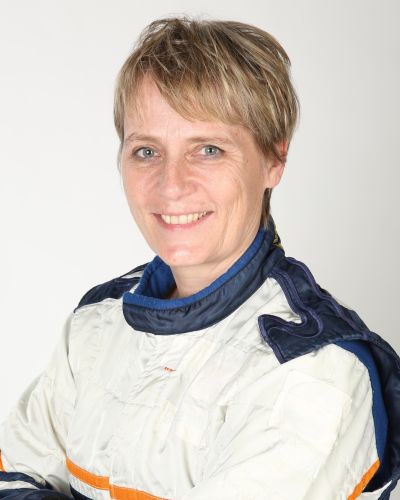 August 29, 1962

59

Germany

Not Active
Jutta Kleinschmidt is a woman who deserves a special place in the history of motorsport, as the only female driver who won the Dakar Rally. She did that in 2001, driving the Mitsubishi Pajero. In total, Jutta participated seventeen times in Dakar Rally with motorcycles and cars between 1988 and 2007, scoring three overall podium results.
She was also successful in other racing disciplines, participating in the ice racing Andros Trophee in the late 1990s and scoring two class wins at 24h Nürburgring (2008 and 2015). Jutta is still active in off-road racing and she became the vice champion in the 2WD class of the 2016 FIA World Cup for Cross-country rallies, driving the buggy for X-Raid Team.
Dakar Rally debut while working as engineer for BMW
Jutta Kleinschmidt was born on August 29, 1962, in Cologne, Germany. Jutta was raised in Bavarian town Berchtesgaden, a popular venue for the winter sports. As a teenager, she was also involved in winter sports until she bought her first motorcycle at the age of 18.
Jutta graduated physics at Isny Polytech in 1986. She worked from 1987 to 1992 at the research and development department of BMW. After that, she left her job to concentrate on motorsport and to become a professional rally driver. Jutta started her racing career while working for BMW, participating at 1987 Pharaos Rally in Egypt with HPN BMW. In 1988, she debuted at Paris – Dakar Rally riding the BMW motorcycle but she didn't reach the finish.
Best female moto-rider at Dakar Rally
In 1992, Jutta finished 23rd overall and she was the best among female drivers at Dakar Rally, which was actually a race from Paris to Cape Town, South Africa. In August 1992, Jutta also had a one-off appearance in the circuit racing, participating at 24 hours of Spa with BMW M5.
In 1993, Jutta returned to Dakar Rally with BMW bike but also made her debut appearance in the cross country rallying with cars and became a co-driver of Jean-Louis Schlesser at UAE Desert Challenge. The 1994 Paris – Dakar – Paris race was her last event in the motorcycle category, riding a KTM. She finished 22nd overall and first among ladies.
1994 - debut in a car category with Mitsubishi Pajero
The same year, Jutta switched to cars, participating at UAE Desert Challenge with Mitsubishi Pajero and finishing first in the production car class. She was involved in the development of the Mitsubishi Pajero Evo, which became the most successful car at Dakar Rally in the next decade.
Jutta's first participation at Dakar Rally in the car category followed in 1995. She was a member of strong Mitsubishi team, together with Bruno Saby, Kenjiro Shinozuka, Hiroshi Masuoka and Jean-Pierre Fontenay. Kleinschmidt finished 12th overall. Her navigator was Dagmar Lohmann.
Driving a buggy for his boyfriend Jean-Louis Schlesser
For the 1996 Dakar Rally, Jutta joined her boyfriend Jean-Louis Schlesser to drive his Buggy. She didn't reach the finish. He returned one more time with Schlesser-Buggy in 1997, finishing fifth overall behind four Mitsubishis.
She made a historic success by winning two special stages and becoming the first woman who achieved that. The third participation with Schlesser-Buggy followed in 1998. Kleinschmidt again scored a stage victory, finishing in 24th place.
1999 - the first ever Dakar podium for female crew
In 1999, Jutta went a step further.  She won stages at Dakar Rally with Mitsubishi Pajero and also scored the first overall podium, which was the first podium scored by a female driver. Her navigator was Tina Thörner.
Jutta was in the lead for three days, at the end, she was third behind Jean-Louis Schlesser and Mitsubishi teammate Miguel Prieto. Schlesser scored one more victory in 2000, Kleinschmidt/Thörner finished in the fifth place.
2001 Dakar Rally victory for Jutta Kleinschmidt
The sensational victory for Jutta Kleinschmidt came in January 2001. She became the first woman on the top podium spot of Dakar Rally, after beating her teammate Hiroshi Masuoka by 2 minutes 39 seconds. It's interesting that Jutta didn't win any special stage, but at the end, she had the best overall time. Jutta's navigator in the #205 Mitsubishi Pajero was Andreas Schulz.
For the rest of the 2001 season, Jutta was an official driver for Mitsubishi in the World Cup, finishing second in the overall standings.  One more sensational result followed at the 2002 Dakar Rally, with Jutta's second place behind her teammate Hiroshi Masuoka.
Kleinschmidt joined Volkswagen in 2002
In May 2002, she signed a contract with Volkswagen and competed with new Tarek prototype at 2003 Dakar Rally. She finished 8th overall with a diesel-powered car. Her navigator was Fabrizia Pons. At 2004 Dakar Rally, Kleinschmidt and Pons returned with Volkswagen Race Touareg, finishing 17th overall.
One more milestone was set at the 2005 Dakar Rally. Jutta Kleinschmidt and Fabrizia Pons finished third overall, so Volkswagen Race Touareg became the first diesel-powered car that reached Dakar podium. A year later, Kleinschmidt and Pons had their last race with Volkswagen, retiring at 2006 Dakar Rally.
Last Dakar participation with BMW
In May 2006, Jutta rejoined Tina Thörner to compete together with BMW X3 CC for German X-Raid Team. The 2007 Dakar Rally, last in the Africa, was also the last for Kleinschmidt. She and Thörner finished 15th overall.
Eight attempts and two class wins at 24h Nürburgring
In 2008, Jutta Kleinschmidt participated for the fifth time at 24 hours of Nürburgring and reached her first victory at the Green Hell. Together with Thomas Haider, Rainer Kutsch and Marc Hiltscher, Jutta took the victory in the S2 class, driving the BMW 330d.
Three more participations at Nürburgring 24-hour race followed in 2013, 2014 and 2015, on all three occasions with Audi TT S. In 2015, Kleinschmidt, Sabine Podzus and Wolfgang Muller scored a victory in the SP4T class.
Runner-up in the 2016 FIA World Cup
Jutta is far from retirement and she proved that in 2016 when she participated in three races of the FIA World Cup for Cross-country rallies, driving the buggy for X-Raid Team. With one victory and two podiums, she finished second in the 2WW Trophy final classification.
Adventurer and motivational speaker
Jutta has always been opened for new challenges, such as marathon bicycle events. In 2004, she participated in the Race Across America, cycling about 3,000 miles across America in just eight days together with a teammate Joey Kelly. Since 2004, Jutta owns and pilots a helicopter, which is stationed in the Aeroclub Monaco. Jutta lives in Monaco and competes with Monegasque license.
In 2010, her book 'Mein Sieg bei der Dakar' (My Dakar Victory) was published and since then Jutta became one of the most popular motivational speakers in the world. She was also involved in FIA's programme which encourages women to participate in motorsport.
Photos: jutta-kleinschmidt.de, motorsport.com, auto-motor-und-sport.de,