Career Summary:
Manfred Schurti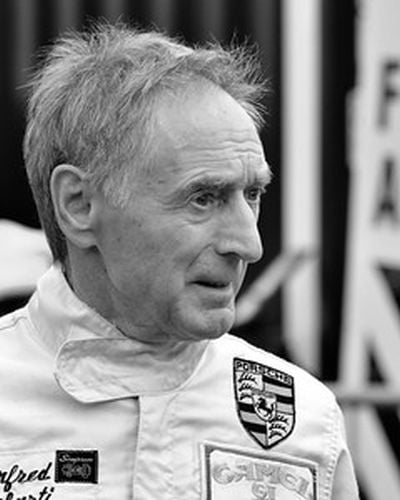 December 24, 1941

81

Liechtenstein

Not Active

101

18

36

12

4

17.82%

35.64%
Manfred Schurti is a former racing driver from Liechtenstein who was active until 1982, participating mostly in the sports car races. Early in a career, in 1972, he won both German and European Formula Super Vee Championship.
He participated nine times at Le Mans 24 Hours, always driving Porsches, scoring three class victories in 1975, 1976 and 1981. He also scored an overall podium at Daytona 24 Hours, finishing second in 1978.
Starting a career in the Formula Super Vee
Manfred Schurti was born on December 24, 1941, in Lustenau, Austria, but after the World War II, his parents moved to the nearby principality of Liechtenstein. Schurti was a mechanic and he showed an interest in motorsport in the mid-1960s, first in the motocross and then in car racing.
Together with the group of Austrian drivers, including Niki Lauda, he competed in the Formula Vee. Schurti scored his first win in 1969. Year by year, Schurti was progressing in the championship reaching a peak in 1972.
Double Super Vee champion in 1972
In 1972, Manfred Schurti became a double Formula Super Vee champion. He won both the Formula Super Vee Castrol Trophy (German championship) and the Formula Super Vee Gold Trophy (European championship). In both competitions, Helmuth Koinigg was a vice-champion.
Koinigg was Schurti's co-driver in his debut with Martini Racing Team, driving a Porsche 911 Carrera RSR at Le Mans 4 Hours in April 1973. They finished fourth overall and the first in the GT3.0 class. Three weeks later, Schurti joined George Follmer in a Porsche at Monza 1000 Km, not finishing the race. In June, Schurti and Koinigg finished 9th at Zeltweg 1000 Km race.
Le Mans debut with Porsche Martini Racing in 1974
In 1974, Schurti and Koinigg continued to compete together in a Porsche, finishing 7th at Nurburgring and recording DNF at Imola. In June 1974, Schurti made his debut at 24 Hours of Le Mans, sharing the #21 Porsche 911 Carrera RSR Turbo with Helmuth Koinigg. They failed to finish the race due to a broken engine.
Later in the season, Schurti participated in few more races in with Martini Racing's and Gelo Racing's Porsches, sharing cars with different co-drivers (Koinigg, Walter Frey, Tim Schenken, Arturo Merzario, John Fitzpatrick), but also in one race of the European 2-Litre Championship with Chevron B21/23. In October, Helmuth Koinigg lost his life in a crash at F1 US Grand Prix at Watkins Glen.
GT class victory at 1975 Le Mans 24 Hours
In 1975, Schurti started a season in the #44 Gelo Racing Porsche 911 Carrera RSR at Mugello 1000 Km, scoring a GT class victory together with Toine Hezemans and John Fitzpatrick. Schurti visited Monza, Spa and Nurburgring before returning to Le Mans.
In his second Le Mans attempt, Schurti was driving the #58 Porsche 911 Carrera RSR for Gelo Racing, sharing a car with John Fitzpatrick, Toine Hezemans, Gijs van Lennep and Georg Loos. They finished fifth overall and the first in the GT class.
Besides driving for Gelo Racing, Schurti recorded some participation in the European Touring Car Championship, driving a BMW 3.0 CSL for Herbert Müller Racing or Toyota Celica for Toyota Schweiz.
One more class victory at 1976 Le Mans 24 Hours
In 1976, Schurti recorded two starts in the European Formula 2 Championship but his budget was too short for the entire season. He continued to drive for Toyota Switzerland and for Porsche Martini Racing in the World Championship for Makes.
At 24 Hours of Le Mans, Schurti was sharing the #40 Porsche 935 with Rolf Stommelen, finishing fourth overall and the first in the Group 5. Later in the season, Schurti and Stommelen were the race winners at Watkins Glen 6 Hours and third at Dijon 6 Hours, two rounds of the World Championship.
1977 – debut season in the German Racing Championship
In 1977, Schurti switched his interest to the German Racing Championship (DRM - Deutsche Rennsport Meisterschaft), driving a Porsche 935 for Jägermeister Max Moritz Team. He won the season-opening race at Zolder and added three more podiums later in the season, finishing 7th in the points. He also won the non-championship Norisring Trophäe race.
Outside DRM, Schurti joined Rolf Stommelen in a Martini Racing Porsche 935 in a victory at Mugello 6 Hours. At 1977 Le Mans 24 Hours, Schurti and Stommelen retired after 52 laps in the #41 Porsche 935.
Second place at Daytona 24h debut
In February 1978, Schurti made a debut at 24 Hours of Daytona, driving the #6 Porsche 935 for Dick Barbour Racing. Sharing a car with Dick Barbour and Johnny Rutherford, he finished in the second place, losing a victory to Brumos Racing Porsche 935. In March, Schurti also made a debut at Sebring 12 Hours with the same car, not finishing the race.
At Le Mans 24 Hours, Schurti and Ralf Stommelen were the partners in the #43 Martini Racing Porsche 935, finishing in the 8th place.
In the German Racing Championship, he stayed with Max Moritz Team, scoring two wins and finishing 8th in the final standings.
Two race wins in the 1979 World Championship for Makes
In 1979, Schurti joined Gelo Racing Team to drive their Porsche at Daytona, Le Mans and other World Championship races. He scored victories in two races (Mugello and Nurburgring) together with John Fitzpatrick and Bob Wollek. At Le Mans 24  Hours, Schurti's partner was Hans Heyer. They retired after 201 laps.
In the German Racing Championship, Schurti was also driving for Gelo Racing, scoring three podiums to finish seventh in the points.
Driving a BMW M1 in 1980
In 1980, Schurti continued to combine DRM and World Championship but also participated in the Procar BMW M1 Championship. He won one Procar race, at AVUS in Berlin, to finish sixth in the points. In the German Racing Championship, he was also driving BMW M1 in two races.
In the World Championship, Schurti remained Porsche driver, driving for Dick Barbour Racing at Daytona, for Gelo Racing at Nurburgring and for Porsche factory team at Le Mans. Sharing the #4 Porsche 924 Carrera GT with Jürgen Barth, he finished 6th overall and the third in the GTP class.
Two more Le Mans starts in a Porsche 924 Carrera GTR
In 1981, Schurti retired from full-time racing, returning to Le Mans two more times. In June 1981, he was sharing the #36 Porsche 924 Carrera GTR with Andy Rouse, finishing 11th overall and the best among IMSA GTO crews. Next year, he returned to Le Mans in the #86 BF Goodrich Porsche 924 Carrera GTR, sharing a car with Paul Miller and Pat Bedard. They retired after 128 laps.
Besides two Le Mans attempt, Schurti was driving a Porsche 924 Carrera GTR at 1982 Daytona 24 Hours, sharing a car with Doc Bundy and Jim Busby.
Photos: Volkswagen Motorsport, lemans-history.com, Brian Cleary, Paul Kooyman,