Career Summary:
Bob Wollek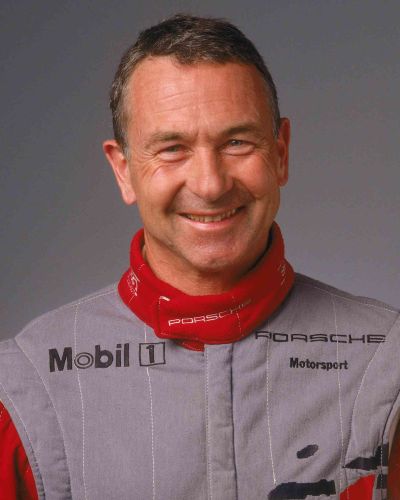 November 04, 1943

March 16, 2001

France

Not Active

558

96

197

40

31

17.20%

35.30%
Bob Wollek was a French racing driver and Porsche brand ambassador who was active between 1968 and 2001. He was most successful in the sportscar racing. In thirty participations at 24 hours of Le Mans, Wollek scored six overall podiums and four class wins, but he never won the race in the overall classification. At Daytona 24h, he was the winner four times. His other achievements are two DRM (German Racing Championship) titles and European Endurance Championship title.
He was active until the age of 57, in a fact, his career was stopped by a fatal accident on March 16, 2001. He lost his life in a road accident while driving a bicycle, just a day before he was supposed to race at Sebring 12 Hours.
Before he started racing, Bob was the skiing medalist
Robert Bob Wollek was born on November 4, 1943, in Strasbourg, France. Prior to his racing career, Wollek was a successful skier. He won five medals at Winter Universiades in 1966 and 1968. During preparations for the 1968 Winter Olympics, which took place in February 1968 in Grenoble, Wollek suffered a serious injury and he was forced to leave skiing.
Even while he was a member of the French national skiing team, Wollek tried to race cars. He debuted in rallying, participated with Renault 8 Gordini at 1967 Monte-Blanc Rally and then at 1968 Rally de Geneve. He returned to rallying few more times in the next couple of years. In 1973, he entered the Rallye Monte-Carlo with Alpine-Renault A110  1800 and finished 14th overall.
Reaching the podium in Le Mans debut
Renault 8 Gordini was also Wollek's first car in the circuit racing. Together with Alain Serpaggi, in July 1968, he participated at 24 hours of Spa. During 1968, Wollek entered a Volant Shell scholarship competition at Le Mans' Bugatti Circuit, finishing as a runner-up behind Francois Migault.
After that, he won the Alpine Trophy Le Mans competition, earning himself a place for the 1968 24 Hours of Le Mans. So, in September 1968, he debuted in the race which will mark his entire career. Wollek was sharing the #53 Alpine 210 with Christian Ethuin and they finished 11th overall, reaching the podium in P1.3 class with second place.
In 1969, Wollek made his debut in single-seater racing, competing in Formula France before graduating to the French Formula 3 Championship. In June 1969, he returned to Le Mans, sharing the #45 Alpine 210 with the famous skier Jean-Claude Killy. They retired after 242 laps because of mechanical failure.
Three seasons in the Formula 2
After a couple of races with Lola T70-Chevrolet in 1970, Wollek switched to Formula Two in 1971, driving for Ron Dennis's Rondel Racing. Besides driving Brabham BT36 (Cosworth) for Rondel Racing, he had a diverse schedule with different cars (Lola T70, Alfa Romeo T33/2, Chevron B19) in various national and international competitions.
The first success in the Formula 2 followed in 1972 when he won one race and finished seventh in the points. At the same time, he continued to drive different cars in sportscar competitions, mostly the Chevron B21 for Canon Racing Team in the European Sportscar Championship.
He spent one more season with Rondel Racing in the Formula 2, finishing sixth in the points in the 1973 championship. The same year, he returned to Le Mans, sharing the Matra-Simca MS670B with Patrick Depailler. They retired after 84 laps. During 1973, he was also driving the BMW 3.0 CSL for Team Schnitzer Motul in the European Touring Car Championship, sharing the car two times with Vittorio Brambilla and once with Henri Pescarolo.
F1 dream was over, Wollek focused on sportscar racing
In 1974, Wollek left Formula 2 but also left his ambition to progress into Formula 1. Instead, he focused on sportscar racing. At Le Mans, he recorded one more DNF, sharing the Matra-Simca MS670B with Jean-Pierre Jaussaud and Jose Dolhem. Other cars he was driving in 1974 were BMW 3.0 CSL, Ligier JS2, Porsche 911 Carrera RSR.
In 1975, Wollek completely switched to Porsche cars, joining Kremer Racing in the German Racing Championship (DRM) and driving for the Ecurie Buchet in the World Championship for Makes, including 24 hours of Le Mans. At 24h Le Mans, Buchet's #78 Porsche 911 Carrera RSR, driven by Wollek and Cyril Grandet, was disqualified because of early oil replenishment.
After scoring one victory in the 1975 DRM season, Wollek won three races in 1976 and finished third in the points. He was driving the Porsche 934 for Kremer Racing. With the same car, he participated at 1976 Le Mans race, sharing the car with Didier Pironi and Marie-Claude Charmasson. They finished 4th in GT class.
1977 - maiden class victory at Le Mans
Next year, again in Kremer Racing's Porsche 934, Wollek finally scored his first class victory at Le Mans. His partners were Jean-Pierre Wielemans and Philippe Gurdjian.
Earlier that year, he debuted at Daytona 24h, together with Reinhold Joest and Albrecht Krebs in the Kremer Racing's Porsche 935. They finished third overall. In the 1977 German Racing Championship, he finished second in the points, losing the title from Rolf Stommelen.
1978 - first Le Mans overall podium with Porsche
At 1978 24h Le Mans, Wollek was a member of Porsche factory team for the first time. The #6 Porsche 936, driven by Wollek, Jacky Ickx and Jurgen Barth, finished second, five laps behind Renault's winning duo Pironi-Jaussaud.
For the rest of the 1978 season, Wollek was driving for Kremer Racing, finishing third in the German Racing Championship and second in the Interserie. In 1979, Wollek joined Gelo Racing and finished fourth in the DRM classification. At Le Mans, he was again a member of Porsche factory team, together with Hurley Haywood in the #14 Porsche 936. They retired after 236 laps.
Bob won the title in the 1982 German Racing Championship
It was the first out of four consecutive DNFs for Wollek at Le Mans. Between 1980 and 1982, he competed at Le Mans with three different teams (Gelo Racing, Kremer Racing and Joest Racing) and three different cars (Porsche 935, Porsche 917K and Porsche 936C) but he didn't finish the race. In 1983, he finally reached the finish, sharing Joest Racing's Porsche 956 with Klaus Ludwig and Stefan Johansson. They were 6th overall.
Wollek's career was moving in the right direction. He scored many victories with Porsche all over the world. In 1981, he was a DRM runner-up and then, in 1982, he became the DRM champion. That year, he was driving Joest Racing Porsche 936 and he took the title ahead of an old rival Rolf Stommelen.
1983 - Daytona 24h victory and one more DRM title
In 1983, Wollek scored his first overall victory at Daytona 24h, driving the #6 Porsche 935L for the Henn's Swap Shop Racing together with AJ Foyt, Claude Ballot-Lena and Preston Henn. Later in the season, Wollek clinched two championship titles with Joest Racing's Porsche 956: back-to-back title in the German Racing Championship and his first title in the European Endurance Championship.
After a highly successful year with Porsche, the major change followed in 1984 – Wollek joined Lancia Martini Racing in the World Endurance Championship and at Le Mans. He started the season with a second place at Daytona 24h and a third place at Sebring 12h, still with Porsche, alongside Derek Bell and AJ Foyt.
Two seasons with Lancia Martini team
After returning to Europe, Wollek jumped into Lancia LC2 prototype at Monza 1000km race, to drive alongside Riccardo Patrese. They didn't finish the race. Later in the season, Wollek scored only one podium with Lancia and finished low in the World Endurance Championship classification, in the 29th place. At Le Mans, his codriver was Alessandro Nannini and they finished 8th overall.
In February 1985, Wollek returned to Daytona for one more victory with Henn's Swap Shop Racing's Porsche 962. This time, his codrivers were AJ Foyt and Thierry Boutsen. In March, Foyt and Wollek scored one more big victory, at Sebring 12 hours. Wollek participated in the full season of the IMSA GTP Championship and finished 8th in the points.
In Europe, Wollek was still a member of Martini Racing team. He scored his only victory with Lancia at 1000 km of Spa, together with Mauro Baldi and Riccardo Patrese. Wollek finished 7th in the World Endurance Championship standings. At Le Mans, the #4 Lancia LC2, driven by Wollek, Alessandro Nannini and Lucio Cesario, they finished sixth overall.
Back to Porsche from 1986
After combining Porsche and Lancia for two seasons, Wollek returned to Porsches in 1986. In America, he won two races (Miami and Columbus), sharing the car with Paolo Barilla and Scott Pruett. In Europe, he won at Brands Hatch, together with Mauro Baldi. At Le Mans, Wollek's #2 Porsche 962C didn't finish the race because of an accident.
In 1987, Wollek didn't score any wins in the IMSA GTP and WSPC. His was successful in the ADAC Supercup, scoring three podiums in four races with Joest Racing's Porsche 962C and finished second in the points. At Le Mans 24-hour race, Wollek, Jochen Mass and Vern Schuppan recorded second in a row DNF result.
The similar season followed in 1988: without victories in the IMSA GTP and WSPC, he retired at Le Mans and finished in second place in the ADAC Supercup. The only thing that was different in his schedule was his participation in four DTM races with Mercedes 190E 2.3-16.
1989 - Daytona win and Le Mans podium for Wollek
Wollek was very successful in 1989, clinching the Supercup title, winning two IMSA GTP races (including Daytona 24h) and winning one race (Dijon) in the World Championship. At Daytona, he scored his third overall victory together with Derek Bell and John Andretti in the #67 Miller High Life/BF Goodrich Porsche 962.
Wollek was also successful at Le Mans, scoring his second overall podium in a career. Joest Racing's Porsche 962C, driven by Wollek and Hans-Joachim Stuck, finished second.
1991 - fourth overall win at Daytona 24h
Wollek didn't score any victory in 1990. The highlight of the season was the third place at Daytona 24h, together with Sarel van der Merwe and Dominic Dobson. The next great victory came one year later, at 1991 Daytona 24h.
Joest Racing had two cars in the race and when the #6 retired Wollek moved to another car, the #7 Porsche 962C, he won the race, the fourth time in a career. His codrivers were Frank Jelinski, Henri Pescarolo, Hurley Haywood and John Winter.
1991 Le Mans podium with Jaguar
It remained Wollek's only win in 1991, but another great result followed a few months later, at 1991 Le Mans, not with Porsche but with Jaguar. As a member of the #34 Silk Cut Jaguar crew, together with Teo Fabi and Kenny Acheson, Wollek finished third overall. Their car was Jaguar XJR-12.
Wollek slowed down his racing activities in 1992, participating only in two endurance classics – Daytona 24 and Le Mans 24h. At Daytona, he was a member of Courage Competition's crew in the #13 Cougar-Porsche, together with Pascal Fabre and Lionel Robert. They retired after an accident. At Le Mans, the same team put Wollek, Henri Pescarolo and Jean-Louis Ricci into the #54 Courage-Porsche and they took the victory in C3 class, finishing 6th overall.
In 1993, Wollek repeated Daytona and Le Mans participations, driving the Porsche 962C for Joest Racing. After a retirement at Daytona, he finished 9th overall at Le Mans, together with Henri Pescarolo and Ronny Meixner.
At the age 50, Bob was far from the retirement
Although it seemed like Wollek's career came to an end, as he competed occasionally in selected races, the 50-year-old racing legend didn't think his career was over. From 1994 to 2000, he returned to Le Mans eight more times and scored three more overall podiums and two more class victories, becoming one of the most awarded Le Mans drivers ever. Besides Le Mans, he added many other triumphs to his account.
In 1994, he joined the Japanese Nisso Trust Racing Team and finished fourth at Le Mans, sharing the #4 Toyota 94C-V with George Fouche and Steven Andskar. In 1995, he competed full season in the Global GT Championship, driving for four teams and scoring four podiums and he finished 8th in the points.
Two consecutive class wins at Le Mans
For the 1995 Le Mans 24h, he was invited to drive the Courage C34-Porsche for Courage Competition. Together with Eric Helary and Mario Andretti, Wollek finished second overall and took WSC/LMP1 class victory.
In 1996, Wollek continued to drive Porsches in the Global GT Championship and earned the invitation from Porsche factory team for Le Mans. Partnered by Hans-Joachim Stuck and Thierry Boutsen, he was again second overall and scored the victory in GT1 class. Earlier that year, he was also second overall at Daytona 24h, driving the Ferrari 333 SP for Momo Corse team, alongside Didier Theys, Max Papis and Gianpiero Moretti.
Wollek, Stuck and Boutsen returned to Le Mans in 1997, but they retired after 238 laps. Wollek's full-time arrangement included racing in the FIA GT Championship for Schübel Motorsport and Porsche factory team. In ten races he scored three podiums and finished 12th in the points. In America, Wollek scored GTS-2 class victory ar Sebring 12h, sharing Konrad Motorsport's Porsche 911 GT2 with Franz Konrad and Wido Rossler.
Two more Le Mans podiums in 1998 and 1999
After starting the 1998 season with Ferrari 333 SP at Daytona 24h, Wollek competed that season in the FIA GT Championship and the US Road Racing Championship with Porsche. At Le Mans, he was again in the Porsche factory car, driving the #25 Porsche 911 GT1 together with Jorg Muller and Uwe Alzen. The French-German crew finished second overall.
In 1999, Wollek didn't even think about a retirement. He jumped from one car to another, participating in the FIA GT Championship, American Le Mans Series and Grand American Rolex Series. The highlight of the season was one more Le Mans podium, his last in a career. He finished second in GT class, driving the #80 Porsche 911 GT3 R for Champion Racing, together with Dirk Muller and Bernd Maylander.
Third place in the 2000 American Le Mans Series
In 2000, Wollek had a good and consistent season in the American Le Mans Series, driving the Porsche 911 GT3 R for Dick Barbour Racing. With five wins and eight podiums, he finished third in the GT class standings. His partner was Sascha Maassen.
For the 2000 Le Mans race, Dick Barbour chose Dirk Muller and Lucas Luhr as Wollek's codrivers in the #83 Porsche 911 GT3 R. The car was disqualified because of an oversized fuel tank. It was Wollek's last participation at the world's greatest race. Unfortunately, the end of his career came against his will, in March 2001.
Riding a bicycle keeping him fit, but cost him a life
Prior to Florida's accident, Wollek participated in two races in 2001. In February, he participated at Daytona 24h with Champion Racing's Lola prototype, sharing the car with Dorsey Schroeder,  Hurley Haywood and Sascha Maassen. They failed to finish. On March 4, Wollek and Johnny Mowlem competed in the ALMS race at Texas Motor Speedway, driving the #30 Porsche 911 GT3 R for Petersen Motorsports.
On Friday, March 16, Wollek was killed after riding a bicycle from the race track to his accommodation. He was struck from behind by a van. Wollek's bicycle riding was a part of his fitness programme, that kept him in a good shape.
Prior to his death, Wollek announced that he will retire from racing to serve as an ambassador for Porsche. Although he never signed an agreement, he was always considered as an unofficial ambassador of the German brand, because he achieved his greatest successes with Porsche. It was a reason for one of his nicknames – Monsieur Porsche.
Photos: motorsport.com, francetvsport.fr, doubleclutch.com, racingphotoarchives.com, gettyimages.com,