Career Summary:
Michael Bartels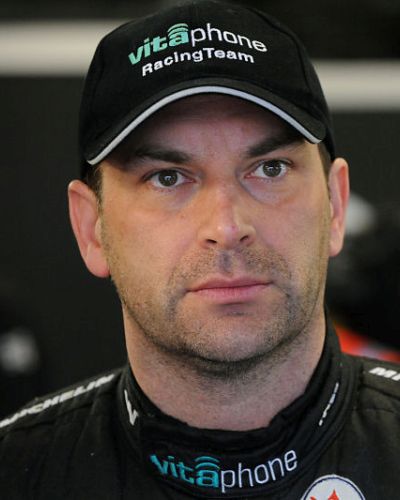 March 08, 1968

53

Germany

Not Active

361

37

87

16

16

10.25%

24.10%
Michael Bartels is a German former racing driver and team owner who achieved the most in sports car racing, taking four world championship titles with his own team, all four in a Maserati MC12 GT1. He won the FIA GT Championship three times between 2006 and 2009, adding the fourth title in the FIA GT1 World Championship in 2010. He was a winner three times at Spa 24 Hours and two times at Nürburgring 24 Hours.
Earlier in a career, Bartels spent nine seasons in different touring car competitions (DTM, ITCC, STC), four seasons in the Formula 3000 and recorded four attempts in the Formula One World Championship in 1991, failing to qualify in four Grand Prix events with Team Lotus.
German karting and Formula Ford champ at the beginning of a career
Born in March 1968 in Plettenberg, Michael Bartels made a debut in car racing in 1986, a year after he became the German karting champion. He was also a champion in his first year of car racing, capturing the Formula Ford 1600 title with five wins in ten races.
His next competitions were Formula Ford 2000 and German Formula 3. In 1987, he also made a one-off appearance in the DTM, driving a Ford Sierra XR4 TI at Mainz. In 1988, he participated in Spa 24 Hours as a member of BMW Motorsport's crew in the #74 BMW M3, sharing a car with Ellen Lohr and Frank Schmickler. They finished in the seventh place.
Stepping to Formula 3000 in 1990, experiencing Formula 1 in 1991
In 1990, Bartels entered the International Formula 3000 Championship with Cobra Motorsport's Reynard-Mugen, scoring just one single point in eleven races. In the same season, he joined Joest Racing in Donington's round of the World Sports Prototype Championship, driving a Porsche 962 C together with Jonathan Palmer.
In 1991, Bartels spent half of the season in the F3000, then joining Team Lotus in Formula 1 as a replacement for Johnny Herbert, who had commitments in Japanese Formula 3000. Bartels participated in four F1 Grand Prix events (Germany, Hungary, Italy, Spain), failing to qualify the #12 Lotus 102B-Judd in all four races.
Two more seasons in Formula 3000, a podium at 1993 Spa 24 Hours
Bartels returned to Formula 3000 and stayed in a competition for two more seasons, driving for Crypton Engineering in 1992 and for Pacific Racing in 1993. He scored four podiums in 1992 and finished fourth in the points. In 1993, he recorded six DNFs and one podium to finish 11th in the points.
While racing in Formula 3000, Bartels returned to Spa 24 Hours both in 1992 and 1993. In 1992, he was driving the #28 Porsche 911 Carrera 2 for Roock Racing, finishing sixth together with Manfred Bobach and Jurgen Barth. In 1993, he finished in the second place together with Harald Grohs and Yannick Dalmas in the #55 Team Paduwa Porsche 964 Carrera 2 Cup.
Three touring car seasons with Alfa Romeo
Bartels switched to touring car racing in 1994, entering the DTM with Jägermeister Schübel Engineering. Driving the #27 Alfa Romeo 155 V6 TI, he was 15th in the points with one podium. In 1995, he was driving the #19 Alfa for Euroteam, scoring two wins at Diepholz Airfield Circuit and finishing 10th in the points. In 1996, the DTM had been discontinued and Bartels was driving JAS Motorsport's Alfa Romeo in the International Touring Car Championship, finishing 21st in the final standings.
During his years with Alfa Romeo, Bartels was also driving Nissan Primera in the FIA World Touring Car Cup and ADAC Tourenwagen Cup in 1994.
Driving for Opel, Peugeot, Audi in the STC, a season with Porsche in FIA GT
In 1997, Bartels joined Opel Team SMS to drive the #28 Opel Vectra in the German Super Tourenwagen Cup (STC), finishing 11th in the points without wins or podiums.
In 1998, he spent a season with Zakspeed Racing in the FIA GT Championship, driving the #6 Porsche 911 GT1 and finishing 13th in the points. He also spent half of the season with Peugeot Esso team in the Super Tourenwagen Cup, scoring one podium at Salzburgring.
In 1999, Bartels spent one more season in the STC, driving the #14 Audi A4 Quattro for Jever Audi Team AZK Phoenix. He finished seventh in the points.
Three DTM seasons with Opel, two wins at Nürburgring 24 Hours
In 2000, the DTM had been revived and renamed to the Deutsche Tourenwagen Masters (previously it was the Meisterschaft). Bartels entered the series with Opel, driving the #8 Opel Astra Coupe for Team Phoenix. Scoring two podiums, he finished seventh in the points. Outside DTM, he joined Porsche at 24 Hours of Nürburgring and won the race together with Uwe Alzen, Altfrid Heger and Bernd Maylander.
In 2001, he stayed with Opel in DTM, finishing 18th, and repeated a victory at Nurburgring 24 Hours. This time, he won in with Zakspeed's Chrysler Viper GTS-R, sharing a car with Peter Zakowski and Pedro Lamy. In 2002, his last season in DTM, he scored one podium in the #15 Opel Astra V8 Coupe and finished 15th in the points.
2003 – third in the V8Star series, a class win at Bathurst 24 Hour
Bartels left DTM in 2003 and competed in the V8Star Series with British team MB Performance. Driving Mondeo and Omega, he scored four podiums to finish third in the points, behind Pedro Lamy and Thomas Mutsch.
In November 2003, Bartels traveled to Australia to race at Bathurst 24 Hour at Mount Panorama Circuit as a member of Jürgen Alzen Motorsport's crew in the #6 Porsche 996 GT3 Cup. His partners were Jürgen Alzen, Uwe Alzen and Arno Klasen. They finished 4th overall and first in Class B.
FIA GT Championship regular since 2004
In 2004, Bartels entered the FIA GT Championship, staying in the series until his retirement eight years later. In 2004, he was driving the #5 Saleen S7-R for Konrad Motorsport, sponsored by Vitaphone. He and Uwe Alzen were race winners three times in eleven races, finishing seventh in the points.
Bartels also made four starts in the Le Mans Series with Konrad's Saleen, scoring one podium and finishing fifth in the points of GTS class.
Racing with his own team since 2005, first win at Spa 24 Hours
For the 2005 FIA GT Championship season, Bartels moved Vitaphone sponsorship to his own team Bartels Motor & Sport, racing in the #9 Maserati MC12 GT1 under the Vitaphone Racing Team banner.
His full-time co-driver was Timo Scheider. Joined by Eric van de Poele, they won Spa 24 Hours. Bartels and Scheider added one more win to their account, at Istanbul Park, finishing the season as vice-champions, just one point behind Gabriele Gardel.
Three FIA GT titles and two Spa wins for Bartels, Bertolini
In the 2006 FIA GT Championship season, Michael Bartels and Andrea Bertolini dominated in the #1 Maserati MC12 GT1, scoring three wins and taking the championship title. One of three wins was at Spa 24 Hours. Eric van de Poele was the third driver again. In 2007, Bartels was sharing the #1 Maserati with Thomas Biagi, winning just one race and finishing sixth in the points. At Spa, they were second.
In 2008, Andrea Bertolini rejoined Bartels in the #1 car and they captured their second championship title together. They were race winners two times, including a victory at Spa 24 Hours. Their co-drivers at Spa were Eric van de Poele and Stephane Sarrazin. The third championship title for Bartels and Bertolini followed in 2009 after victories in two races.
One more FIA GT1 title before retirement
In 2010, the competition has been converted into the FIA GT1 World Championship. The name was different but the victorious team remained the same. Bartels and Bertolini took their fourth championship title together, scoring four wins in the #1 Maserati MC12 GT1.
In 2011, Bartels skipped FIA GT1 World Championship and changed the name of the team to Vita4One, racing with Ferrari 458 Italia GT3 in the Blancpain Endurance Series. He won at Navarra 3 Hours, sharing a car with Frank Kechele and Nico Verdonck.
The team returned to FIA GT1 World Championship with two BMW Z4 GT3 cars. Bartels was sharing the #18 BMW with Yelmer Buurman, winning four races and finishing third in the points. It was the last full season for Bartels, he returned to just one round of the Blancpain Sprint Series in2014 and then retired from racing.
Photos: t-online.de, motorsport.com, Francois Flamand/DPPI,