Career Summary:
Olivier Gendebien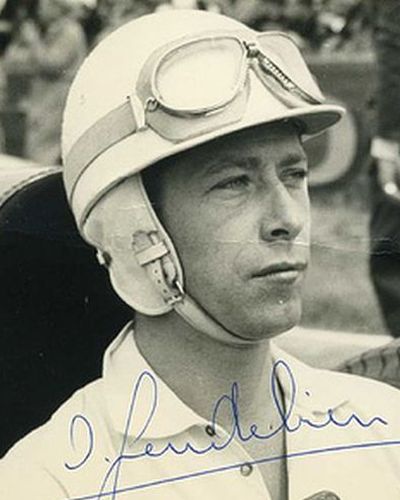 January 12, 1924

October 02, 1998

Belgium

Not Active

135

Scuderia Ferrari

Equipe Nationale Belge,Yeoman Credit Racing

38

54

28.15%

40.00%
Olivier Gendebien was a Belgian racing driver who was active between 1952 and 1962, becoming one of the world's best sports car racers ever. He clinched four overall wins at 24 hours of Le Mans (1958, 1960, 1961, 1962), all four with Scuderia Ferrari.
Beside winning at Le Mans, he recorded numerous wins in other endurance races of that time – three times at Sebring 12h, three times at Targa Florio, two times at Reims 12 hours, one time at 1000 km Nürburgring etc. In the Formula One Championship, Gendebien collected 14 starts between 1956 and 1961, scoring two podiums.
Fighting against Nazis as Belgian Paratrooper
Olivier Gendebien was born on January 12, 1924, in Brussels, Belgium. He was born in a wealthy family, as his grand-grandfather Ernest Gaston Joseph Solvay was the founder of the Belgian chemical giant Solvay S.A. Olivier was studying engineering at university but the German invasion and start of the World War II interrupted his education.
Olivier joined the resistance movement. As he was very good with English language, Olivier's duty was to have contacts with British agents and soldiers. He eventually decided to escape to England where he served in a special Belgian Paratroop unit attached to the British Army.
Gendebien met Charles Fraikin in Africa and started racing career
After the war, Olivier switched to study agricultural engineering. He spent a short time in Spain, learning a language, and then moved to the Belgian Congo in 1948. He spent four years there, making a contact with first automobiles, running big American cars around the local roads. He met a racer Charles Fraikin there, who owned a Jaguar XK120 and was looking for a co-driver.
They were back in Europe in 1952. Before joining Fraikin in rallying, Gendebien started his racing career in the Formula 2 races. He was driving BMW-powered Veritas RS at Grand Prix des Frontieres at Chimay in June and then at Grosser Preis von Deutschland at Nurburgring in August. Fraikin and Gendebien participated together at 1952 Liege-Rome-Liege Rally, finishing 22nd with Fraikin's Jaguar.
Racing on circuits, road tracks and rally stages
In 1953, Gendebien continued to combine circuit racing, road racing and rallying. In April, he and Fraikin participated for the first time at Mille Miglia, failing to reach the finish with Jaguar. In May, Gendebien tried Ferrari for the first time, driving Gery d'Hendecourt's 166 MM at Coupe de Spa and winning the race.
Later in a season, Gendebien was driving Dyna Panhard at Spa 24h and Jaguar C Type at Nürburgring 1000km, failing to finish both races. Together with Fraikin, he participated in several rally events, finishing best in the 2nd place at Liege-Rome-Liege. In 1954, they were again second in Liege-Rome-Liege Rally, driving the Lancia Aurelia B20 GT.
Driving with eight manufacturers in 1954
During 1954, Gendebien had a similar mix of races on circuits, road tracks and rally stages, combining the cars from eight different manufacturers (Jaguar, Gordini, Alfa Romeo, Plymouth, Ferrari, Lancia, Aston Martin, Fiat). Oliver purchased his first Ferrari in 1954. That was 250 Europe GT, which he bought from his cousin Philippe Washer, a successful Belgian tennis player.
After he scored many overall and class wins during 1954, especially in rallying, Gendebien switched to Mercedes 300 SL in 1955. At Mille Miglia in May, he competed with his cousin Jacques Washer to finish 7th overall and second in class. In August, Gendebien won the Liege-Rome-Liege Rally with that car.
Debut at Le Mans in catastrophic 1955 event
In June 1955, Gendebien participated for the first time at 24 hours of Le Mans. It was the race in which the biggest catastrophe in motorsports' history happened, with more than 200 killed and injured victims. Gendebien was driving the #66 Porsche 55/4RS 1500 Spyder for the Ecurie Belge together with Wolfgang Seidel. They finished fifth overall and second in S1.5 class.
The race which attracted much attention was the 1955 Coppa d'Oro delle Dolomiti in Italy, where Gendebien took the victory with Mercedes 300 SL, beating Castellotti's factory entered Ferrari 500 Mondial. Enzo Ferrari saw that and wanted Gendebien to drive for him.
Enzo Ferrari hired Gendebien in summer 1955
Two weeks later, on July 24, 1955, Gendebien entered his first race as Ferrari factory driver, partnering Umberto Maglioli in the Ferrari 750 Monza at 10 hours of Messina.
A week later he took a class win and second overall in the Aosta-Gran San Bernardo Hillclimb driving a Ferrari 500 Mondial. In September, he crashed during the practice for the RAC Tourist Trophy at Dundrod, driving the 750 Monza.
Formula One and WSC debut with Ferrari in Argentina
In January 1956, Gendebien debuted with Ferrari both in the Formula One Championship and the World Sportscar Championship. On January 22, he participated in the Argentine Grand Prix at Buenos Aires, finishing in the fifth place and getting one point.
A week later, he partnered Phil Hill in the 1000km endurance race, taking the second place overall and the victory in class S+3.0. The third race in Argentina followed on February 5, when Gendebien participated in the non-championship Buenos Aires Grand Prix at Mendoza, finishing sixth.
Collecting wins and podiums with Ferrari sports cars
Back in Europe, Gendebien scored two class wins in April, sharing the Ferrari 250 GT with Jacques Washer. They won at Giro di Sicilia and Mille Miglia. In May, at 1000 km of Nurburgring, Gendebien was sharing the car with Alfonso di Portago but they were disqualified for receiving outside assistance. After that, Olivier jumped into Phil Hill's #4 car, finishing in the third place.
Gendebien continued to deliver good results during the summer, finishing fourth at Targa Florio and Supercortemaggiore. In July, he scored a class victory at Coppa d'Oro delle Dolomiti. He had a second Formula One participation at the French Grand Prix with #44 Lancia-Ferrari D50, not finishing the race due to clutch problems.
Third place overall at 1956 Le Mans 24h
The 1956 24 hours of Le Mans took place on July 28-29. Gendebien was sharing the #12 Ferrari 625 LM Touring with Maurice Trintignant. They finished third overall, seven laps behind Ecurie Ecosse's Jaguar D Type and six laps behind factory-entered Aston Martin DB3S.
Until the end of the season, he scored two more podiums, finishing third at Tour de France with Ferrari 250 GT Europa and third at Liege-Rome-Liege Rally with Ferrari 250 GT.
1957 - good sports car season, no Formula 1 races
In 1957, Gendebien had no Formula 1 appearances but he continued to gain good results in the sports car races. A season started with DNF at Sebring 12h in March but then, in April, Olivier has won Giro di Sicilia.
In May, he was third overall and class winner at Mille Miglia, sharing the #417 Ferrari 250 GT LWB Scaglietti with Jacques Washer. At Nurburgring 1000km he was second, together with Peter Collins, and then one more win followed at Reims 12 Hours, in the #80 Ferrari 250 GT he shared with Paul Frere.
Until the end of the year, Gendebien has won few more races (Tour de France, Coupes du Salon at Montlhery, Nassau Tourist Trophy) but one victory was missing – at 24h Le Mans. His partner at Le Mans was Maurice Trintignant again, they retired because of technical problems.
1958 - first victory for Olivier at 24 hours of Le Mans
The first victory at the world's greatest endurance race came in June 1958. Gendebien was sharing the #14 Ferrari 250 TR with Phil Hill. It was one of the wettest races in a history of Le Mans, with fifteen hours of rain. At the end, Hill crossed the finish line with a 12-lap advantage over the nearest rivals in the Aston Martin DB3S.
The Le Mans victory was the highlight of the season, but Gendebien had an overall successful year, with plenty of podiums and wins. He was second at Buenos Aires 1000km and Sebring 12h, winner at Targa Florio, Reims 12h, Tour de France and Pau 3h.
Three F1 races in the 1958 season
In the Formula One, Gendebien was never among main drivers for Scuderia Ferrari, mostly serving as a reserve driver. He returned to F1 car (Ferrari Dino 246) at Belgian Grand Prix on June 15 at Spa-Francorchamps. He finished sixth, missing a point by one place.
Gendebien participated in two more F1 races that year, the Italian Grand Prix at Monza and Moroccan Grand Prix at Ain-Diab Circuit. At Monza, he retired after just four laps due to suspension failure. In Moroccan race, he retired after an accident.
1959 – victory at Sebring, water leak at Le Mans
In 1959, Gendebien's season started with his first overall victory ar Sebring 12 hours. He was sharing the #7 Ferrari 250 TR with Phil Hill, Dan Gurney and Chuck Daigh. Gendebien also won the Grand Prix de Paris and Tour de France.
At Le Mans, he and Phil Hill were in the lead, having a four-lap advantage with four hours to go. Then, a water leak caused an overheating of #14 Ferrari 250 TR, so the victory went to Aston Martin.
Two F1 races with Ferrari in 1959
In 1959, Gendebien had only two Formula One participations, at French Grand Prix and Italian Grand Prix. He finished fourth at Reims circuit, missing to join his teammates Tony Brooks and Phil Hill on the podium. At Monza, Gendebien finished sixth, one lap behind race winner Stirling Moss.
Olivier joined Porsche for the 1960 season
For the 1960 season, Gendebien left Ferrari and joined Porsche in the endurance races. After retiring in his debut with Porsche 718 RSK at 1000 km of Buenos Aires, he scored his second overall victory at Sebring 12h. His partner in the #42 Porsche 718 RS was Hans Herrmann.
The duo Herrmann/Gendebien finished third at Targa Florio. Another victory followed at 1000 km of Nurburgring, where Gendebien was sharing the car with Joakim Bonnier.
1960 - second Le Mans victory with Ferrari
For 1960 24 hours of Le Mans, Gendebien re-joined Ferrari to help the team to take not only the race victory but also the FIA World Sportscar title, as it was the last round of the championship. Gendebien partnered Paul Frere in the #11 Ferrari 250 TR and they won the race with a four-lap advantage over another Ferrari of the North American Racing Team.
In October, Gendebian had one more race with Ferrari, winning the 1000 km of Paris together with Lucien Bianchi.
Two Formula 1 podiums with Cooper-Climax
During the 1960 season, while driving for Porsche and Ferrari in the sports car races, Gendebien joined Yeoman Credit Racing Team in the Formula One. He scored immediate success in the first race with Cooper T51-Climax, scoring a third place at Belgian Grand Prix, behind Jack Brabham and Bruce McLaren.
In the next race, at French Grand Prix, Olivier was even better, finishing second on the podium, behind Jack Brabham. He participated in three more races (UK/Silverstone, Portugal/Boavista, USA/Riverside) showing the reliability and finishing all races. At the end of the season, he was sixth in the championship points.
Victories number 3 at Sebring and Le Mans
Gendebien continued to drive for Ferrari in 1961. In March, he scored his third consecutive victory at Sebring 12 hours. His partner in the #14 Ferrari 250 TRI was Phil Hill. The next triumph was at Targa Florio in April, where Gendebien was sharing the #162 Ferrari Dino 246 SP with Wolfgang von Trips.
At 1961 Le Mans, Gendebien defended his victory. He was back in the car with Phil Hill. The #10 Ferrari 250 TRI crossed the finish line with a three-lap advantage over #11 Ferrari.
Three F1 attempts with three teams in 1961
In the 1961 Formula One season, Gendebien had three attempts with three different teams. At Monaco Grand Prix, he appeared with Maserati-powered Emeryson car of Equipe Nationale Belge but failed to qualify.
He made one start with yellow #8 Ferrari 156 at Belgian Grand Prix, finishing in the fourth place. It was the race when four Ferraris took first four places.
Gendebien's last Formula One race was the US Grand Prix at Watkins Glen in October. He was driving the #21 Lotus-Climax for UDT-Laystall Racing Team. He was classified 11th after he handed a car to teammate Masten Gregory, whose car stopped after 23 laps.
Many great wins in the last season
Before the season 1962, Olivier was under a constant pressure from his wife, who was expecting their third child, to finish a career, so he decided that it would be his last competitive year. He started a season with a class victory and second place overall at Sebring 12h, sharing the NART's Ferrari with Phil Hill.
Another win came in May, at Targa Florio, where Gendebian joined Willy Mairesse and Ricardo Rodriguez in their car after his was demolished during practice. The victorious streak continues at 1000 km of Nurburgring, with Phil Hill as a teammate.
Saying 'goodbye' after winning Le Mans for the fourth time
And then, on June 24, Phil Hill and Olivier Gendebien scored their third Le Mans victory together, becoming one of the most successful pairs in a history of motorsport. The fourth victory put Gendebien on the top of the Le Mans winners' list because no one before had won four times. His record number of Le Mans victories was not exceeded until 1981 when another Belgian driver Jacky Ickx won for the fifth time.
Immediately after his fourth Le Mans victory, Gendebien announced his retirement. "Racing didn't amuse me so much any more. There seemed only two choices, one to die, the other one to lose. I decided on a third one. To stay alive" he said.
Peaceful life after a retirement
After a retirement from professional racing, he returned few times to the long-distance rally Liege-Sofia-Liege but mostly he was outside racing, spending time skiing, playing tennis, riding horses, running some business projects...
In 1998, the Belgian King Albert II awarded him the Belgian Order of the Crown. Soon after that, in October 1998, Olivier Gendebien died at his home in Les Baux-de-Provence in southern France.