Career Summary:
Tom Sneva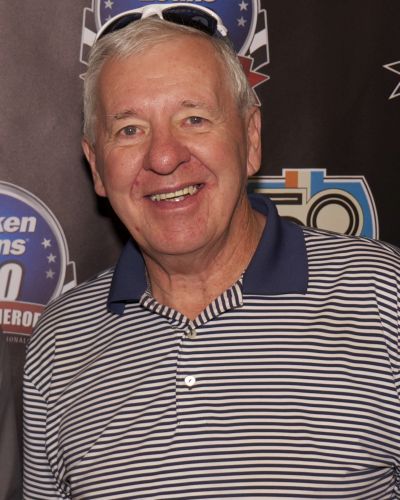 June 01, 1948

75

United States

Not Active

269

19

51

14

5

7.06%

18.96%
Tom Sneva is an American former racing driver who left the most significant trail in the North American open-wheel racing. He was the USAC National Champion two times, in 1977 and 1978.
Sneva is most known for his performances and crashes at Indianapolis 500. He started three times from pole at Indy 500, winning a race once, in 1983. He finished in the second place three times. In eighteen starts at Indy 500, he crashed out seven times.
Math teacher became a racer
Thomas E. 'Tom' Sneva was born in June 1948 in Spokane, Washington, as the oldest son of race car driver Edsol Sneva. During the high school years, Tom played football and basketball and then a college basketball at Eastern Washington State College. After a graduation, he worked as a math teacher and also drove a school bus.
He made a racing debut in 1970 in the USAC National Championship, failing to qualify for season's finale at Phoenix International Raceway.  He recorded the first USAC Championship start in 1971 at Trenton International Speedway, finishing 21st in Kramer-Chevrolet.
Expanding racing activities in 1973
Sneva significantly expanded his racing activities in 1973, recording seven starts and three DNQs in the USAC National Championship. His best result was the tenth place in California 500 race at Ontario Motor Speedway. That year, he also participated in more than forty races of the USAC Sprint Car Championship, scoring six wins.
In 1974, Sneva spent a season driving for King Racing. He recorded his first top 5 finish at Michigan International Speedway, ending the championship 17th in the points. That year, he made Indianapolis 500 debut, retiring from the race after 94 laps with a broken gearbox.
Bad crash at 1975 Indianapolis 500
For the 1975 USAC National Championship, Sneva joined Penske Racing to drive a McLaren-Offenhauser. He first scored his maiden pole at Trenton in April and then maiden victory at Michigan in September.
In the meantime, he raced at Indianapolis 500. The race was marked by his spectacular crash in turn 2 on lap 125. His car touched Eldon Rasmussen's car and then flipped into the catch fence. Sneva's car was completely destroyed but he miraculously suffered just minor injuries. He returned to racing in just one month, skipping just one race. He ended a season sixth in the points.
Indianapolis 500 pole-sitter and USAC champion in 1977
In the 1976 USAC Championship season, Sneva was on a podium two times and finished 8th in the points. At Indianapolis 500, he was sixth.
Then, in 1977, Sneva captured his first USAC Championship title after winning two races at Texas World Speedway and Pocono International Raceway.  He became the first driver in Penske team's history to win a championship. At Indianapolis 500, Sneva took pole position and became the first driver to qualify at a speed over 200 mph. In the race, he finished second, behind AJ Foyt.
USAC champion and Indy 500 pole-sitter again in 1978
The season 1978 ended with the same result as the year before, with Tom Sneva as a champion and a runner-up at Indianapolis 500 after he started from pole again. This time, he was defeated by Al Unser Sr.
In the championship, Sneva was the fastest qualifier seven times but he didn't win a single race. However, he won a title with six runner-up spots and twelve top 5 results, collecting 122 points more than second-placed Al Unser.
Two seasons with Jerry O'Connell's team
Despite two championship trophies in his hands, Sneva was released by Roger Penske at the end of 1978. In 1979, CART took over Indy cars from USAC and the first CART Indy Car Series was organized. Sneva was driving the #1 McLaren-Cosworth for Jerry O'Connell Racing, scoring four podiums to finish seventh in the points. At Indianapolis 500, he was classified 15th after crashing out on lap 189 .
In 1980, Sneva stayed with the same team, winning the season-closing race at Phoenix International Raceway to finish third in the championship points. At Indianapolis 500, he was a runner-up for the third time in a career, losing a race to Johnny Rutherford.
Switching to Bignotti-Cotter Racing in 1981
In 1981, Sneva joined Bignotti-Cotter Racing and reached the top podium spot two times, at Milwaukee Mile and Phoenix. At Indianapolis 500,he was the fastest qualifier but started 20th on the grid. The broken clutch stopped him after 96 laps. He ended a championship 8th in the points.
In 1982, Sneva repeated victories at Milwaukee Mile and Phoenix with Bignotti-Cotter Racing, ending the season fifth in the points. At Indianapolis 500, he was fourth.
Victory at 1983 Indianapolis as a revenge to Penske
In 1983, Sneva finally succeeds to win Indianapolis 500, defeating Penske Racing's Al Unser after a controversial finish in which Unser's son Al Unser Jr was blocking Sneva. He won a race in the #5 March-Cosworth, giving the record-breaking seventh victory to chief mechanic George Bignotti.
Later that year, Sneva one more race at Milwaukee Mile and finished fourth in the final standings of the CART Indy Car World Series.
One more pole position and speed record at 1984 Indianapolis 500
For the 1984 CART season, Sneva joined Teddy Mayer Racing to drive the #4 March-Cosworth. He proved himself once again as a qualifying specialist, breaking a speed record at Indianapolis 500. He became the first driver to qualify for Indy 500 with an average speed of over 210 mph. In the race, he retired after 168 laps.
In the championship, he was a winner again at Phoenix and Milwaukee Mile but also at Caesars Palace Grand Prix in Las Vegas. He ended the season second in the championship, 13 points behind Mario Andretti.
Four consecutive crashes at Indianapolis
The victory at Indianapolis in 1983 and runner-up spot in the 1984 championship marked the peak of Sneva's career. After that, he was going down. He recorded four consecutive crashes at Indianapolis 500 between 1985 and 1988. In 1986, he crashed out even before the race started, during the final pace lap.
In that period, Sneva raced with All American Racers in 1985, Mike Curb's team in 1986 and 1987, and Hemelgarn Racing in 1988.
Final Indianapolis 500 attempt in 1992
After four crashes at Indianapolis 500, Sneva recorded two DNFs due to mechanical failures in 1989 and 1990, driving for Granatelli Racing. After seven championship starts in 1989, Indianapolis 500 was his only race in 1990.
In 1991, he failed to qualify for the Indianapolis with Menard Racing's Lola-Buick. He returned to Indianapolis Motor Speedway with the same team again in 1992, recording his last start and one more crash in the greatest American race.
At the age of 44, Tom Sneva retired from racing and started to work for ABC television Wide World of Sports program. He also developed some business operations.
In 2005, Tom Sneva was inducted into the Motorsports Hall of Fame of America.