Career Summary:
Leo Geoghegan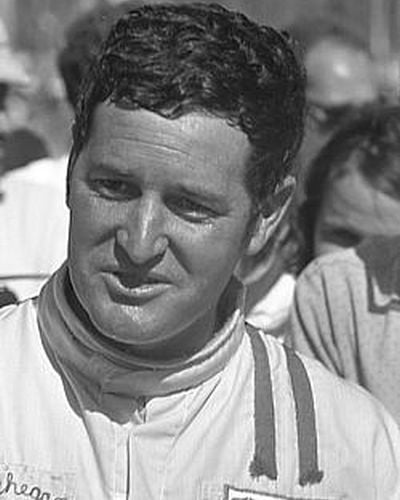 May 16, 1936

March 02, 2015

Australia

Not Active

91

17

35

4

8

18.68%

38.46%
Leo Geoghegan (1936-2015) was an Australian racing driver who achieved exceptional results during the 1960s and 1970s in different racing disciplines, mostly in the open-wheel racing. He was a champion in the Australian GT Championship, Formula Junior, Australian Drivers' Championship (F1) and Australian Formula 2.
Leo was a son of a car dealer Tom Geoghegan and an older brother of the five-time Australian touring car champion Ian Geoghegan. Leo contributed to touring car racing as the only driver to compete with all three factory-backed teams (Ford, Chrysler, Holden). His best result at Bathurst 500/1000 race was the second place in 1967 when he was sharing Ford Falcon with his brother Ian.
The winner of the inaugural Australian GT Championship in 1960
Leo's first great success came in 1960 when he won the Australian GT Championship. In a fact, it wasn't really a championship but a single-race event at the Mount Panorama Circuit in Bathurst which took place in October 1960.
Leo was driving the #3 Lotus Elite for family-owned Geoghegan Motors team. He was the winner of the 13-lap 50-mile race ahead of Gavin Youl and his brother Ian, taking the crown as the first ever Australian GT champion.
Participant of the inaugural Armstrong 500 in a Renault
In November 1960, Leo also took part in the inaugural Armstrong 500 race at Phillip Island Circuit, what was today Bathurst 1000, sharing a Renault Dauphine with Bill Pitt. They finished 11th in Class B, one place behind Ian Geoghegan and Des West in a similar car.
In 1961, Leo didn't succeed to defend his GT title with Lotus Elite, recording a DNF in a race which took part at Warwick Farm Circuit.
Victory at Bathurst 6 Hour Classic in 1962
In 1962, the highlight of the season was Leo's class victory at Bathurst 6 Hour Classic at Mount Panorama, the race opened for production sedans and sports cars.
Together with brother, he was the best in Class F in a Daimler SP250. There were no outright winners of the race but the brothers could be considered as the winners because they completed the most laps of all crews.
Australian Formula Junior champion in 1963
In October 1962, Leo finished third in the Australian Formula Junior Championship 60-km race at the Catalina Park Circuit, behind Frank Matich and Gavin Youl. That was the inaugural Formula Junior Championship.
Next year, in September 1963, the championship event took part at Warwick Farm Raceway and Leo won the 34-lap race. He was driving the #10 Lotus 22-Ford, defeating Greg Cusack and Jack Hunnam.
Earlier that year, Leo participated in the Australian Grand Prix at Warwick Farm, a part of the six-round Australian Drivers' Championship. Driving a Lotus 20B-Ford, he finished ninth, three laps behind race winner Jack Brabham.
Leo and Ian raced six times together at Bathurst 500
In 1963, Leo also joined his brother Ian for the first time at Armstrong 500 race, which had been moved to Mount Panorama that year. They were driving a factory-entered Ford Cortina GT, not finishing the race. They raced two more times at Bathurst in a Cortina, finishing fifth in 1964 and being disqualified in 1965 after they finished second.
In 1967, Leo scored his best result at Bathurst 500 race, named Gallaher 500 after a new sponsor, finishing in the second place in the #53 Ford XR Falcon GT, together with his brother. The race was controversial because Geoghegans crossed the finish line first but after a protest of Harry Firth, the results were corrected.
Leo and Ian participated together in Bathurst endurance race two more times, finishing 12th in 1968 and fifth in 1969.
The regular competitor in the Tasman Series
Parallel to his occasional attempts next to his brother in touring car races during the 1960s, Leo was developing an open-wheel racing career.
He raced regularly in the Tasman Series but without notable results. He scored no wins, just two podiums, in 23 Tasman Series races between 1964 and 1971. In all those races he was driving different variants of Lotus cars.
A front-runner in the Australian Drivers' Championship
He was more successful in the Australian Drivers' Championship. He scored a maiden win in the championship at Warwick Farm in December 1964, finishing fourth in the final standings. In 1965, he scored two podiums in four races to finish third in the championship. In 1966, he was 7th with one podium.
He was the race winner again in September 1967 at Sandown Park with Lotus 39-Repco, finishing fifth in the points that year. In 1968, he won a race at Mallala to finish fourth in the points. In 1969, Leo Geoghegan didn't win a single race but he finished the season as a vice-champion, behind Kevin Bartlett. In 1969, he won one race outside Australia, the inaugural JAF Grand Prix at Fuji Speedway in Japan.
Australian Drivers' Champion in 1970
Finally, in 1970, Leo Geoghegan reached the top of the Australian open-wheel racing. He won the Australian Drivers' Championship, the unofficial Formula 1 championship because it was opened for F1 and F2 cars.
The championship was contested over six rounds. Leo triumphed in races at Warwick Farm and Mallala, added two more podiums, and won the title ahead of Max Stewart and John Harvey. During that season, Leo was driving Lotus 39-Repco and Lotus 59-Waggott.
Three Bathurst attempts with Chrysler
In 1970, Leo recorded his first attempt at Bathurst 500 in a Chrysler Valiant, driving for his own team. His co-driver was Nick Ledingham and they finished fifth overall.
In 1971, Leo returned to Bathurst with a new version of Chrysler Valiant, sharing a car with Peter Brown. They were seventh overall and second in Class D. One more attempt in a Chrysler followed in 1972. Leo drove a car by himself and finished in the fourth place.
Last Bathurst race with Holden Dealer Team
Leo recorded his last attempt at Mount Panorama's endurance race in 1973 when the race distance has been increased to 1000 kilometers. In the first ever Bathurst 1000, he was driving the #24 Holden Torana for Holden Dealer Team, becoming the first driver to compete at Bathurst with three different factory teams.
Sharing a car with Colin Bond, he finished on a podium, next to his brother who won a race. The winners were Ford's Ian Geoghegan and Allan Moffat, ahead of Holden Dealer Team's Peter Brock and Doug Chivas. Leo and Colin Bond were third.
Two-time Australian Formula 2 champion
In the open-wheel racing, following his title-winning season in 1970, Leo continued to compete in the Tasman Series and Australian Drivers' Championship. The next great success came in 1973 when he won the Australian Formula 2 Championship with six victories in seven races. He did that in a Birrana-Ford race car.
In 1974, Leo has won back-to-back Formula 2 title. This time, he won three races, same as Bob Muir, but Geoghegan collected four points more than Muir. With championship trophy in his hands, Leo retired from racing.
Photos: John Stanley Collection, primotipo.com,