Career Summary:
Adrian Fernandez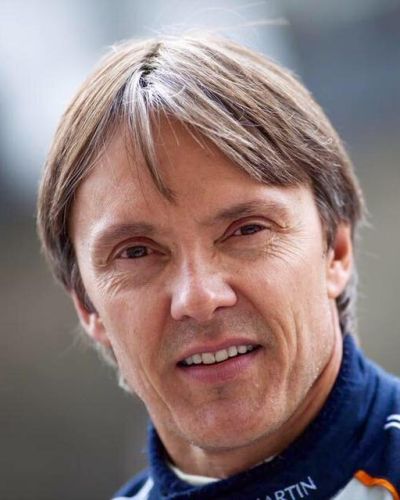 April 20, 1963

59

Mexico

Not Active

285

26

57

11

10

9.12%

20.00%
Adrian Fernandez Mier is a Mexican former racing driver and team owner who was active in North American open-wheel championships (Indy Lights, CART, IRL) from 1992 to 2005 and then in the sports car racing (Rolex Sports Car Series, American Le Mans Series) from 2006 to 2012.
He won eight CART Championship races, finishing as a vice-champion in 2000, and added three IRL IndyCar wins to his account in 2004. In sports car racing career, he was the ALMS LMP2 class champion in 2009, scoring among others a class victory at Sebring 12 Hours that year. He participated four times at 24 Hours of Le Mans, scoring LMP2 class podium in 2007 and GTE Pro class podium in 2012.
Adrian Hernandez retired from professional racing at the end of 2012. In 2016, the Turn 12 at Autodromo Hermanos Rodriguez in Mexico City was renamed after him.
After early years in Mexico, Adrian moved to Europe
Born in April 1963 in Mexico City, the young Adrian was active in motocross, entering the car racing in 1981. His first race was the 24 Hours of Mexico. In the following years, he competed in two open-wheel competitions in Mexico, first in the Formula Vee and then in Formula K.
In 1987, he traveled to Europe to race in Formula Ford events, entering Benelux Formula Ford, British Formula Ford and Formula Ford Festival at Brands Hatch. He raced in British Formula Ford for two more years before returning to Mexico.
Mexican Formula 3 champion in 1991
Fernandez returned to Mexican race tracks in 1990, entering the Formula 3 Championship. Next year, at the wheel of Lozana Racing's Reynard-Volkswagen, he became national Formula 3 champion.
That opened him a door to a career in the United States. In 1992, he joined John Martin Racing in the Firestone Indy Lights Championship. He won four races to finish the best among rookies and third in the overall standings, behind Robbie Buhl and Franck Freon.
CART IndyCar World Series debut in 1993
One good season in the Indy Lights Championship propelled him into the CART IndyCar World Series in 1993. He joined Galles Racing to drive their Lola-Chevrolet in six races. His best result was the seventh place in Detroit.
Fernandez stayed with Galles Racing and ran his first full CART season in 1994, at the wheel of the #7 Reynald-Ilmor. His best result was the fifth place at Road America and he was 13th in the final standings.  In 1995, again driving for Galles, he improved to 12th place in the final classification. He scored his maiden podium by finishing third at Michigan International Speedway.
Maiden CART victory in 1996 at Toronto
Fernandez moved to Tasman Motorsports in 1996 to drive the #33 Lola-Honda. He scored his maiden CART victory in July at the streets of Toronto. That victory made him the first Mexican to win a CART event since Hector Rebaque in 1982. It was his only podium finish and he was 12th in the points at the end of the season.
The season 1997 was disappointing both for Fernandez and the team. He managed to score one podium, finishing in the third place at Fontana, finishing 18th in the final standings.
Two wins and a fatal accident in 1998 CART season
Fernandez joined Patrick Racing for the 1998 CART season, scoring a victory in his second race in the #40 Reynard-Ford. He won Budweiser 500 race at Twin Ring Motegi in Japan.
In the 12th race of the season, the US 500 at Michigan, he started from pole but crashed on lap 175. The right front wheel of his car flew over the fence and killed three spectators.
Fernandez recovered from an accident by winning the next race at Mid-Ohio Sports Car Course. At the end of the season, he was fourth in the points.
Injury at Detroit interrupted Adrian's good season in 1999
In 1999, Fernandez continued to show good performance in Patrick Racing's #40 Reynard-Ford, winning against Twin Ring Motegi. He scored five more Top 5 results before he suffered an injury at Detroit.
Fractured hand forced him to sit out at three events. He returned to the action for the last four races, winning the season's finale at Fontana. That race was marred by a death of his good friend Greg Moore. Fernandez ended a season sixth in the points.
CART FedEx Championship Series vice-champion in 2000
There are no reasons to change winning team so Fernandez stayed with Patrick Racing in 2000 and it turned to be his most successful CART season in a career. He was a race winner two times, scoring both wins outside the US, in Rio de Janeiro (Brazil) and Surfers Paradise (Australia).
He added three more podiums on his account, finishing the season as a vice-champion, ten points behind Gil de Ferran.
Racing with his own team Fernandez Racing since 2001
For the 2001 CART season, Adrian founded his own team Fernandez Racing, together with former Ganassi manager Tom Anderson as his partner. The team was running two Reynard-Honda cars, the #51 for Fernandez and the #52 for Shinji Nakano. Scoring two podiums, Fernandez finished 18th in the points.
In 2002, he reached one podium to finish 14th in the final standings. Fernandez missed three races due to injuries, being replaced by Max Papis (two races) and Luis Diaz (one race).
One last victory in Champ Car Series and three wins in the IndyCar Series
Fernandez captured the first victory with his team at Portland in June 2003. It was his last season in the CART era, he finished 8th in the points. In the same year, Fernandez Racing was running a car for Roger Yasukawa in the IRL IndyCar Series.
In 2004, Fernandez entered the IRL IndyCar Series in a partnership with Japanese team Aguri, running one car for himself and another for Japanese racer Kosuke Matsuura. Fernandez won three races and finished seventh in the points. At Indianapolis 500, he started from P6 on the grid, led for three laps and finished in the seventh place.
Despite good results in 2004, Fernandez was unable to secure funding for the 2005 IRL season. Scott Sharp and Kosuke Matsuura were driving full time, Fernandez raced at Indianapolis 500 only, finishing in 14th place. It was his last race in the open-wheel career.
Ten starts in the NASCAR Busch Series
In 2005, Fernandez switched his interest to stock car racing, driving the #5 Lowe's/Hitachi Chevrolet for Hendrick Motorsports in six races of the NASCAR Busch Series. Among those six races was the first-ever NASCAR Busch Series race held outside the United States, at Autodromo Hermanos Rodriguez in Mexico.
In the following three years, from 2006 to 2008, Fernandez recorded three more starts in the Mexican round of the NASCAR Busch Series and one start at Watkins Glen.
Starting a sports car career in 2006
In 2006, at the age 43, Fernandez started his new career in the sports car racing. Sponsored by Lowe's, his team entered the Grand-Am Rolex Sports Car Series with Riley-Pontiac prototype. They made a debut at Daytona 24 Hours, not finishing the race.
Fernandez was sharing a car with Scott Sharp and Mario Haberfeld. Haberfeld was his partner over the season. They won a race at Mid-Ohio and finished third at Sears Point.
LMP2 class podium in a debut at 24 Hours of Le Mans
In 2007, Fernandez moved his team to the American Le Mans Series, serving as an Acura factory team in the LMP2 class. He was driving Acura-powered Lola B06/43 prototype, sharing a car with fellow Mexican driver Luis Diaz. They scored three class podiums, including second place at Sebring 12 Hours.
In June 2007, Fernandez made a debut at 24 Hours of Le Mans, driving the #33 Zytek 07S/2 for Barazi Epsilon team. Sharing a car with Haruki Kurosawa and Robbie Kerr, he reached a podium in his Le Mans debut, finishing second in LMP2 class.
American Le Mans Series LMP2 champion in 2009
Fernandez Racing continued to run Lola-Acura in the 2008 ALMS season, with Adrian Fernandez and Luis Diaz as drivers in the #15 Acura ARX-01b. They scored two LMP2 podiums to finish fifth in teams' standings and 12th among drivers.
In 2009, there were just two teams in the LMP2 class of the American Le Mans Series and Fernandez Racing clinched the LMP2 title after recording eight class wins in ten races. Adrian was sharing a car with Luis Diaz.
Three seasons with Aston Martin Racing
Fernandez concluded his full-time racing commitments in 2010 but joined Aston Martin Racing to drive their LMP1 prototype in selected races of the American Le Mans Series, Le Mans Series and at Le Mans. He finished third at Sebring, second at Le Castellet and Long Beach, and sixth at Le Mans 24h. His co-drivers at Le Mans were Harold Primat and Stefan Mücke.
In 2011, Fernandez again had a part-time programme with Aston Martin Racing. His attempt at Le Mans in the #009 Aston Martin AMR-One ended after just two laps. Later in the season, he won at Laguna Seca and finished third at Petit Le Mans in Lola-Aston Martin prototype.
Class podiums at Sebring and Le Mans in the last season
In 2012, his last season of professional racing, Fernandez moved to GT class. He was driving Aston Martin Vantage GTE in three ALMS races, finishing best in the third place at Sebring 12 Hours. In that race, he was sharing the #97 car with Darren Turner and Stefan Mucke.
He also participated in the inaugural season of revived FIA World Endurance Championship, starting in four races, including at Le Mans 24 Hours. He was sharing a car with Darren Turner and Stefan Mucke. They finished 19th overall and third in GTE Pro class, behind two Ferraris.
Photos: Adrian Fernandez FB, Getty Images, Eric Gilbert,