Career Summary:
David Pearson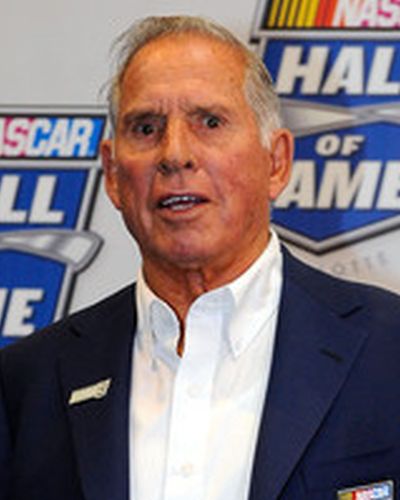 December 22, 1934

November 12, 2018

United States

Not Active

600

109

253

117

18.17%

42.17%
David Pearson is one of the greatest legends of the American stock car racing. He recorded 105 victories and 113 pole positions in the NASCAR premier series, winning three Grand National Series titles in 1966, 1968 and 1969.
He was active until 1986, collecting 583 starts in different NASCAR competitions. During his career, Pearson was nicknamed the Fox or the Silver Fox, because of his calculated approach to racing.
Second on the all-time winner's list behind Richard Petty
Pearson's career paralleled Richard Petty's career and two of them became the drivers with most wins in a history of NASCAR, with Petty winning 200 Cup Series races and Pearson being the second on all-time winners list with 105 Grand National and Winston Cup Series wins.
Pearson was named among NASCAR's 50 Greatest drivers and he was inducted into three main Halls of Fame -  the International Motorsports Hall of Fame (1990), Motorsports Hall of Fame of America (1993) and NASCAR Hall of Fame (2011).
Racing on the dirt tracks during the 1950s
David Gene Pearson was born on December 22, 1934, near Spartanburg, North Carolina. As a kid, he worked with his brother in the car body repair shop and he used his salary to purchase his first car. He converted the old Ford into a race car.
During the 1950s, he competed at dirt tracks, winning many races. In 1959, he became the track champion at Greenville-Pickens Speedway in South Carolina and it was the moment when he decided that he was ready for NASCAR.
1960 NASCAR Rookie of the Year with his own car
Pearson purchased Chevrolet from  Jack White and participated in 22 NASCAR Grand National Series races in his debut season, finishing as the Rookie of the Year.
His first NASCAR start was at Daytona 500 with #67 Chevrolet, where he finished in 17th place. His best result during the season was the second place at Gamecock Speedway in Sumter, behind Ned Jarrett.
Pearson scored three wins in 1961
In 1961, Pearson was working as a house roofer in Spartanburg to support his family, competing occasionally in NASCAR races with his own car or driving Tony Lavati's Pontiac at Daytona. The historic moment happened in May when he was hired to drive the #3 Pontiac for John Masoni at World 600 at Charlotte Motor Speedway. The crew chief and a car builder Ray Fox was skeptical about the 26-year old driver but Pearson sensationally scored his first victory.
Later in the season, Pearson participated in ten more races, combining his own #67 Chevrolet and #3 Pontiac. He won two more races with Pontiac, the Firecracker 250 at Daytona and the Dixie 400 at Atlanta. Although he competed in just 19 events, he finished 13th in the points at the end of the season.
No wins for David in 1962 and 1963
In 1962, Pearson started in only twelve out of 53 events, yet he managed to finish tenth in the final classification. He was driving four different Pontiacs, mostly for Ray Fox but also for Julian Petty,  Cotton Owens and Bud Moore. His best result was the 4th place at Darlington.
In 1963, Pearson's season was expanded to 41 races, driving the #6 Dodge for Cotton Owens. He scored two poles but no wins, finishing sixth in the points with 13 Top 5 results.
Eight victories in 1964 season
And then the season of 1964 came, his first full season, with 61 races on his schedule, still in the #6 Dodge owned by Cotton Owens. Pearson scored eight Grand National wins, at Richmond, Greenville-Pickens Speedway, Occoneechee Speedway, Boyd Speedway, Lincoln Speedway, Rambi Raceway, Columbia Speedway and Hickory Motor Speedway. He finished third in the championship, behind Richard Petty and Ned Jarrett. It was the first title for Petty.
For the 1965 season, NASCAR banned the Mopar Hemi engines, so Petty and Pearson boycotted almost every race because he didn't want to compete with a non-competitive engine against Ford and Mercury drivers. Both competed in drag racing instead. NASCAR owner Bill France Sr. adjusted the engine rules later in the season. Starting from the 34th round, Pearson participated in 14 NASCAR races, winning two times.
1966 - Pearson was the Grand National champion
The #6 Dodge remained Pearson's car in the 1966 season, his first championship-winning season. He won fifteen out of 49 events, which was the second most successful result in NASCAR history at that time. Early in the season, he scored four consecutive wins at Hickory, Columbia, Greenville-Pickens Winston-Salem Speedway. Later he added 11 more wins and took his maiden title ahead of James Hylton and Richard Petty.
Another part-time season followed in 1967. Pearson participated in 22 out of 48 races, winning two times with #6 Dodge. In May, Pearson switched to Holman-Moody's #17 Ford. The season was dominated by Richard Petty, who set the all-time record with 27 victories in one season. Pearson finished seventh in the points.
Two consecutive titles for David in 1968 and 1969
In 1968, it was a perfect moment for Pearson to dominate. Both he and Petty scored sixteen wins each. Petty finished third in the points, Pearson became the champion for the second time. His victorious car was the #17 Holman-Moody's Ford.
The back-to-back title followed in 1969, with eleven wins in 51 races. By winning his third crown, Pearson tied with Lee Petty for the most championships in the NASCAR history. Richard Petty surpassed him in 1972 when he won his fourth out of seven titles.
Part-time driver from 1970 until the end of a career
After being the most successful NASCAR driver during the 1960s, Pearson started a new decade as a part-time driver and he kept that status until the end of his career.
He finished second at 1970 Daytona 500, which was his best result at the greatest NASCAR race. Later in the season, he won one race (Darlington) and earned two poles and finished 23rd in points.
Pearson joined Wood Brothers in 1972
For the 1971 season, the Grand National Series changed the name to Winston Cup Series. Pearson scored his last two wins with #17 Holman-Moody's car at Daytona 500 Qualifier and Bristol before joining Ray Nichels for the second part of the season.
In 1972, David Pearson joined Wood Brothers to drive the Purolator-sponsored #21 Mercury. He participated in just 14 races with that car but scored six wins.
Fantastic 61% win percentage in 1973
In 1973, he started in only 18 races but scored sensational 11 wins with #21 Mercury, finishing 8th in the points. His 61% win percentage is the highest in NASCAR history. Because of this achievement, he was named the NASCAR driver of the Year.
He continued in a similar way in 1974, winning seven out of 19 races he entered and finished third in the points, behind Richard Petty and Cale Yarborough. In 1974, Pearson participated for the first time in the annual International Race of Champions (IROC), finishing fourth. He was the IROC participant four more times until 1979 but without notable results.
Video : Crazy finish of 1976 Daytona 500
Dramatic 1976 Daytona 500 victory for David Pearson
In 1975, Pearson participated in 21 races, winning three times. He was close to victory at Daytona 500, leading the race with three laps remaining. Unfortunately, he collided with another car and Benny Parsons won the race.
A year later, Pearson finally scored his first (and only) Daytona 500 win. The 1976 Daytona 500 is known for the final lap battle between Pearson and Petty. Petty was leading when Pearson attacked him. They crashed into each other on the front stretch. They both spun out into the infield grass approximately 100 feet (30 meters) from the finish line. Petty was unable to restart his car, Pearson slowly drove his #21 Mercury over the grass to the finish line and won the race. Besides Daytona victory, Pearson again had a sensational win percentage in 1976, winning ten out of 22 races he participated.
1980 - 105th and final Cup win at Darlington
Pearson scored ten more victories between 1977 and 1980. He was driving the #21 Purolator Mercury for Wood Brothers Racing until 1979, scoring two wins in 1977, four wins in 1978 and one victory in 1979.
In 1980, Pearson participated in nine Winston Cup races with Hoss Ellington's #1 Chevrolet/Oldsmobile. Pearson's last victory came on April 13, 1980, in the CRC Chemical Rebels 500 race at Darlington Raceway.  It was his 105th win in the NASCAR's premier series. He won 54 times at short tracks (including 23 dirt track wins), 48 times at superspeedways and three times at road courses.
One more last victory for the Silver Fox
In fact, Pearson's last win was not achieved in the Winston Cup Series but in the NASCAR Budweiser Late Model Sportsman Series (now Xfinity Series). He entered the series for the first time in 1982, driving his own #21 Chattanooga Chew Pontiac. He participated in five races, scoring two poles and winning the Coca-Cola 200 at Rockingham's North Carolina Speedway.
In the Winston Cup Series, Pearson competed with different car owners until 1986. He scored only two Top 5 results in 1982 and one Top 5 result in 1983, driving for Bobby Hawkins. In his final season, Pearson drove his own #21 Chevrolet in two events. He didn't finish the race at Charlotte and reached the 10th place at Michigan International Speedway on August 17. It was his last NASCAR race in a career.
After a three-year hiatus, Pearson planned to come out of retirement in 1989, to replace the injured Neil Bonnett in the Wood Brothers' # 21 at Charlotte Motor Speedway. During the tests, he suffered severe neck and back pain, so he withdrew from the event.
Two participations at Daytona 24 hours
Pearson spent his entire career in NASCAR but he also recorded two participations in the America's greatest sports car race – the Daytona 24 hours. The first time, in 1976, he partnered his son Larry, Garry Bowsher and Jim Bowsher in the #21 Ford Torino. They finished 16th overall and first in Grand International class. Five years later, David Pearson, Terry Labonte and Billy Hagan didn't reach the finish in the 1981 Daytona 24h race, sharing the #44 Chevrolet Camaro.
David's son Larry Pearson (born 1953) is also a NASCAR champion. He competed mostly in the Busch Series, collecting 259 starts and 15 wins. He was the Busch Series champion in 1986 and 1987.
Photos: nascar.com, motorsportshalloffame.com, experiencenascar.com,