Career Summary:
Terry Labonte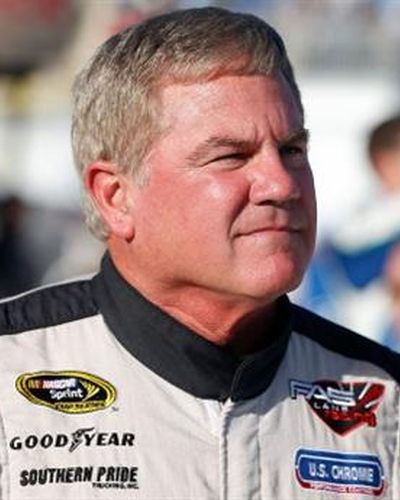 November 16, 1956

66

United States

Not Active

1064

37

155

34

3.48%

14.57%
Terry Labonte is an American former racing driver who recorded more than thousand starts in all three NASCAR national series between 1978 and 2014, winning 34 races. He was the NASCAR Winston Cup Series champion in 1984 and 1996.
Terry was also successful in the sports car racing, scoring class wins at two endurance classics – Daytona 24h and Sebring 12h. Terry's younger brother Bobby was also a Winston Cup champion in 2000. Terry's son Justin was also a stock car racer who won one race in the Busch Series.
Billy Hagan opened the door of NASCAR for Terry
Terrance Lee 'Terry' Labonte was born on November 16, 1956, in Corpus Christi, Texas. Since his father was working on race cars as a mechanic, Terry was involved in racing from the earliest days. He started racing quarter-midgets as a seven-year-old boy and won a national championship at the age 9. As a teenager, he was driving stock cars on the local short tracks across Texas, winning few championships between 1975 and 1977.
Then he met Louisiana businessman Billy Hagan, who gave Terry an opportunity to enter the premier NASCAR competition in 1978. Labonte's first NASCAR race was the Southern 500 at Darlington Raceway on September 4, 1978. He was driving the #92 Duck Industries-sponsored Chevrolet for Hagan Racing, finishing in fourth place. He ran four more races that season, adding two more top 10 finishes.
Losing the Rookie of the Year award from Dale Earnhardt
In 1979, Labonte competed a full season for the first time, driving the #44 Hagan Racing's Chevrolet/Buick/Oldsmobile. He was tenth in the overall standings, losing the Rookie of the Year award from Dale Earnhardt.
In September 1980, the first victory came, at Darlington's Southern 500. That year, Terry finished fifth in the points. In the next couple of years, Labonte was among front-runners, finishing in the Top 5 for three years in a row (1981 – 4th, 1982 – 3rd, 1983 – 5th). He won only one race in that period, in October 1983 at Rockingham.
First Winston Cup title with Hagan Racing
And then the season of 1984 came. Labonte's #44 Chevrolet was a victorious car at Riverside International Raceway and Bristol Motor Speedway. He won his first Winston Cup title, ahead of Harry Gant and Bill Elliott.
Labonte stayed with Hagan Racing until the end of 1986. In the early 1980s, Labonte started to participate in selected sports car races, especially at Daytona 24h and Sebring 12h. He debuted at Daytona 24 in February 1981, driving the #44 Chevrolet Camaro for Stratagraph team alongside Bill Hagan and David Pearson. Two months later, he debuted at Sebring, partnering Hagan. Labonte retired in both races.
1984 was Labonte's most successful year in a career
One more Daytona retirement followed in 1982. In 1983, he finished 20th overall and 10th in GTO class, still driving Stratagraph's Camaro. The season of 1984 was Labonte's best year in a career, as he won not only Winston Cup title but also scored two wins in American endurance classics. At Daytona, the GTO class winner was the #4 Chevrolet Camaro, driven by Terry Labonte, Billy Hagan and Gene Felton. In March, at Sebring, the same trio scored a class victory in the 12-hour race.
In 1985, Labonte was driving GTP prototypes (Lola-Chevrolet and Chevrolet Corvette GTP) at Daytona and Sebring, retiring in both races. In 1986, his car was Oldsmobile Calais. The last Daytona participation during the 1980s was in 1987, in the Protofab Racing's Chevrolet Camaro.
1985 - first NASCAR Busch Series victory
During the final years with Hagan Racing, Labonte also entered some races in the Busch Series. In October 1985, he won the race at Charlotte Motor Speedway, driving the #17 Pontiac for Darrell Waltrip.
The new chapter in Labonte's career was opened in 1987. After nine seasons, he left Hagan Racing and joined Junior Johnson's team to drive the #11 Budweiser-sponsored Chevrolet. In his first season with Junior Johnson & Associates, Labonte earned four pole positions and won one race, the Holly Farms 400 at North Wilkesboro Speedway. He finished third in the points, behind Dale Earnhardt and Bill Elliott.
1989 - victory at the International Race of Champions
Labonte was driving the #11 car for two more seasons. The #11 Chevrolet was victorious one time in 1988 and he finished 4th in the points. In 1989, the team switched to Ford. Labonte has won two races but he was only 10th in the points. The highlight of the season was Labonte's victory at the 1989 International Race of Champions. He was the fastest in one of four rounds,winning the IROC trophy ahead of Al Unser Jr. and Rusty Wallace.
For the 1990 season, Labonte joined Precision Products Racing to drive the #1 Oldsmobile. His best result was the second place in the season-opening Daytona 500. It was one of two runner-up finishes at NASCAR's greatest race, the first was back in 1986.
Three more seasons with Hagan Racing and switch to Hendrick Motorsports
Labonte returned to Hagan Racing for a three-year period from 1991 to 1993. He didn't win any Winston Cup in those three seasons and he finished in 8th place at the end of 1992 season. At the same time, he was driving his own car in the Busch Series, winning one race, the 1991 Fay's 150 at Watkins Glen.
Another successful period of his career started in 1993 when Labonte joined Hendrick Motorsports to drive the #5 Kelloggs-sponsored Chevrolet Lumina. After three winless seasons, the drought was over in April 1994 at North Wilkesboro Speedway. Terry has won two more races in 1994 and finished 7th in the points. In 1995, the team switched to Chevrolet Monte Carlos. Labonte repeated three wins and finished sixth in the points.
1996 - driving the #5 Chevrolet to second Winston Cup title
In 1996, Labonte has won two races, at North Wilkesboro and Charlotte and took his second Winston Cup Series title. He had 21 top 5 results, and that contributed to his victorious ending of the season, 37 points ahead of teammate Jeff Gordon.
Driving with a broken hand during the last two races of the season, Labonte and his younger brother Bobby were able to perform a dual victory lap at Atlanta Motor Speedway in the last race of the season. Bobby won the race and Terry won the championship in this race.
1999 - controversial finish at Bristol
Labonte recorded 20 Top 10 results in 1997, winning only one race (Talladega) and finished sixth in points. He scored one victory both in 1998 and 1999, and then three winless seasons followed. During that period, he was involved in one of the most controversial finishes ever, at 1999 Goody's Headache Power 500 at Bristol.
First, he was spun out by a lapped Darrell Waltrip while leading with 10 laps. Labonte pitted for four tires and quickly recovered. He was leading with one lap and then Dale Earnhardt, who was second at the time, wrecked Labonte half-way to the checkered flag and won.
Labonte's last victory at Darlington
In 2003, Labonte scored his last Winston Cup victory, winning the Southern 500 at Darlington Raceway. That year, he finished 10th in the points. He struggled for one more season with Hendrick Motorsports'#5 Chevrolet, announcing in the mid-season that 2004 would be his final full-time year.
In 2005, Labonte became a part-time driver, combining Hendrick Motorsports' #44 Chevrolet and Joe Gibbs Racing's #11 Chevrolet. His best result was the 9th place at Richmond.
Return to Daytona 24h in 2005
In February 2005, Labonte returned to Daytona 24h, 18 years after his last participation. He was driving the #44 Doran-Pontiac prototype for Doran Racing, together with Jan Magnussen, Bobby Labonte and Bryan Herta. They finished in 9th place after retiring due to engine failure. Terry and Bobby Labonte participated in two more races with Doran Racing's car, at Daytona 250 Miles and Watkins Glen 200 Miles.
In 2006 NASCAR Nextel Cup, Labonte was combining Hendrick Motorsports' #44 Chevrolet and Hall of Fame Racing's #96 Chevrolet, finishing in third place at Sonoma. Terry had the last appearance in the sports car racing in July 2006, partnering Guy Cosmo in the Crawford-Pontiac prototype at Barber 250 Miles race.
Part-time driver from 2005 to 2014
Since then, Labonte became a part-time driver in the NASCAR Nextel/Sprint Cup until 2014. He was driving for many different teams, including Michael Waltrip Racing, Petty Enterprises, Prism Motorsports, FAS Lane Racing and Go FAS Racing.
While driving the #45 Dodge for Petty Enterprises, as a temporary replacement for Kyle Petty in the middle of 2008 season, Terry's teammate was his brother Bobby. Terry's best result in the part-time driving career was the 15th place at 2011 Daytona 500 and also the 11th place at Daytona's Coke Zero 400 in 2014.
Terry retired from NASCAR at the end of 2014
Labonte's final race in the Cup Series was the Geico 500 at Talladega Superspeedway on October 19, 2014. Go FAS Racing designed a car split into three designs: the Kellogg's design from his 1996 title run on the driver side, the Piedmont Airlines design from his 1984 championship year on the passenger side and the Duck Industries design from his early career in the center.
However, NASCAR did not allow the scheme, demanding the same colors on both sides (the driver side and passenger side) of the car, so the team switched to the former design, leaving only the commemorative design in the center. Labonte qualified 9th, but because of the unapproved paint scheme, was forced to start at the end of the field.
The latest Hall of Fame inductee is selling Chevrolet cars in Greensboro
For his achievements, Terry Labonte was inducted into the NASCAR Hall of Fame Class of 2016. Earlier during a career, in 1998, he was named as one of NASCAR's 50 Greatest Drivers, in a panel which was a part of NASCAR's 50th-anniversary celebration.
Currently, Terry Labonte is a successful businessman, owning a Chevrolet dealership in Greensboro, North Carolina, which is a part of the Hendrick Auto Group.
Photos: Terry Labonte FB, nascar.com, gettyimages.com,