Career Summary:
Louis Krages (John Winter)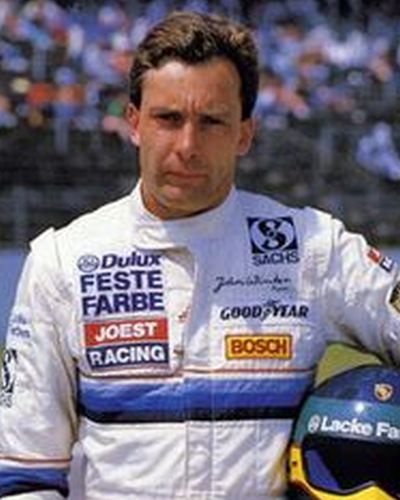 August 02, 1949

January 11, 2001

Germany

Not Active

244

12

54

2

2

4.92%

22.13%
Louis Krages aka John Winter (1949-2001) was a German businessman and racing driver who achieved the most in sports car races. He won two world's greatest endurance races, the 24 Hours of Le Mans in 1985 and the 24 Hours of Daytona in 1991, both driving Porsche prototypes for Joest Racing.
For most of his career, which lasted from 1977 to 1995, Krages competed under the pseudonym John Winter. At first, he was hiding his name to prevent his family to know he's a race car driver. After Le Mans victory, his alter ego has been revealed but he continued to compete as 'John Winter'.
Racing with Porsche since the beginning
Born in August 1949 in Bremen, Louis Krages started his racing career in the 1977 German Racing Championship (DRM – Deutsche Rennsport Meisterschaft). Competing under the pseudonym John Winter, he was driving a Porsche 934 and scored eight podiums during the season.
In February 1978, he travelled to the US to made a debut at Daytona 24 Hours with Kremer Racing. Sharing the #14 Porsche 935 K2 with Josef Brambring and Dieter Schornstein, he finished in the fifth place.
John Winter spent the rest of the season in the DRM but also raced with Kremer in the World Championship for Makes. In June, he made a debut at Le Mans, not finishing the race in the #45 Porsche 935 K2.
Competing with Kremer Racing until 1982
The German Racing Championship stayed his main competition in 1979. Outside DRM, he returned to Le Mans with Kremer Racing, finishing 13th in the #45 Porsche 935 K3. His co-drivers were Axel Plankenhorn and Philippe Gurdjian.
John Winter slowed down his racing activities in 1980, participating in just one race, then returning in 1981 to full season in the DRM with Porsche Kremer Racing. He was driving a Porsche 923 Carrera  GTR or Porsche 935 K3. In 1982, he appeared in just one race with Kremer Racing.
John Winter joined Joest Racing in 1983
In 1983, John Winter joined Joest Racing in the Interserie or in the World Championship, driving a Porsche 936C or Porsche 956.
In 1984, he was partnering Dieter Schorstein in Schorstein Racing Team's Porsche 956, both in German and international sports car events. They finished fifth overall at Le Mans in the #12 Porsche 956, with Volkert Merl as the third driver.
Victory at 24 Hours of Le Mans in 1985
In 1985, John Winter had a wide schedule of races with Joest Racing in German and international events. The highlight of the season, but also the highlight of his career, was a victory at 24 Hours of Le Mans.
He was sharing the #7 New Man Joest Racing Porsche 956 with Klaus Ludwig and Paolo Barilla. John Winter was in a car for just one stint on Sunday morning, his professional teammates made the rest of the job and won the race with a 3-lap advantage over Richard Lloyd Racing's Porsche.
Next day, the secret life of Louis Krages has been revealed when his mother saw his picture from Le Mans in the newspapers. However, he continued to race under the pseudonym John Winter until the end of a career.
Racing all over the world with Joest Racing
In 1986, Winter started a season recording a DNF at Sebring 12 Hours in a Porsche 962. In June 1986, the victorious crew from 1985 Le Mans race gathered again at Circuit de la Sarthe. This time, they didn't finish the race. That year, Winter won two Interserie races at Wunstorf and Most.
In March 1987, John Winter finished fourth at Sebring 12 Hours, sharing the #0 Joest Racing Porsche with Sarel van der Merwe and Danny Ongais. Later that year, he was again fourth at Monza 1000 km and Nurburgring 1000.
Podiums both at Sebring and Le Mans in 1988
In March 1988, Winter's third consecutive attempt at Sebring ended with a podium. He finished in the second place together with Frank Jelinski and Paolo Barilla in the #0 Porsche 962.
Three months later, he joined Frank Jelinski and Stanley Dickens in the #8 Porsche 962 C, finishing in the third place, nine laps behind race winners in a Jaguar XJR-9. In 1988, Winter was also on the final podium of the Interserie, finishing second in the points behind Jochen Dauer.
In 1989, Krages/Winter recorded DNF at Le Mans, scored a couple of wins in Interseries races and finished second in the Supercup series standings, behind teammate Bob Wollek.
Victory at Daytona 24 Hours in 1991
One more season in the World Sports Prototype Championship followed in 1990 but without any success. At Le Mans, John Winter was eighth, together with Bob Wollek and Stanley Dickens.
And then, in February 1991, another great victory came. John Winter was a member of the #7 Joest Racing crew in a Porsche 962 C that won Daytona 24 Hours, together with Frank Jelinski, Henri Pescarolo, Hurley Haywood and Bob Wollek. In 1991, John Winter spent a full season in the IMSA GTP Championship but Daytona's triumph remained his only victory.
DTM debut with Mercedes in 1992
In 1992, John Winter raced with Joest Racing in the IMSA Championship and Interserie but also made a switch to touring car racing by driving a Mercedes for Zakspeed in the DTM. He finished third in the Interserie and without wins in the North American championship.
In his first season in the DTM, he was driving the #28 Mercedes 190E 2.5-16 Evo2 in the last four rounds, not scoring points.
1993 – the last season in sports car racing
In 1993, John Winter didn't return to DTM, spending his last sports car racing season with Joest Racing in the IMSA GTP Championship and at Le Mans.
His co-driver was Manuel Reuter. At Le Mans, they were joined by Frank Jelinski in the #17 Porsche 962 C but didn't finish the race. Winter recorded DNFs also at Daytona and Sebring. He and Reuter won a race at Road America and finished second at Watkins Glen.
Two seasons in the DTM before retirement from racing
In 1994, John Winter returned to DTM, driving the #17 Opel Calibra V6 for Opel Team Joest. He ended the season 16th in the points, scoring no wins or podiums. The season was marked by a horrific accident at AVUS circuit in which Winter's car was disintegrated.
For the 1995 DTM season, he moved to the #16 Zakspeed Mercedes C-Class V6, using his birth-name Louis Krages on a car. He was in the points just once, finishing 23rd in the final classification.
At the end of 1995, at the age of 46, he retired from racing.