Bernie Ecclestone: From a Wheeler-dealer to F1 Supremo
When we say Formula One, who is the first person that comes to your mind? It is definitely Bernie Ecclestone. The British businessman, who has a nickname the F1 Supremo, officially has a position as a Chief Executive of the Formula One Group, the company that manages the most popular racing competitions on the planet and controls the commercial rights to the sport.
Ecclestone was involved in Formula One since its beginnings in the 1950s, as a driver manager, unsuccessful competitor, a team owner, president of the FOCA (Formula One Constructors Association) and finally the businessman who controls almost everything in F1.
The new Formula One owner can't do without Bernie
It seemed that his time was over when (in September 2016) the company from the United States Liberty Media bought Formula 1, but he made a deal to stay there for three more years as a chief executive. Maybe it is the end of Bernie's reign, but the new owners need him because they want to figure out how Formula 1 works, so during that transitional period he will be there and he will lead the business operations and increase his fortune.
According to Forbes, Ecclestone was the 16th richest UK citizen in 2016. Ecclestone's net worth is $2.9 Billion (on October 27 2016). Seventy years ago, he was just a son of a fisherman, who left the school at the age of 16 and started to sell motorbike parts. How the Suffolk-born wheeler-dealer became one of the wealthiest men in the UK and the boss of Formula 1?
Start of a business career – selling motorcycle parts
Bernard Charles Ecclestone was born on October 28, 1930, in St.Peter, South Elmham, a village near Bungay. His parents Sidney and Bertha moved to Bexleyheath in the southeast London in 1938. At the age of 16, Bernard left the school. Still a teenager, Bernie started his first own business, joining Fred Compton and forming the Compton &ampEcclestone motorcycle dealership. While recording his first earnings, Ecclestone became interested in racing too.
Bernie left racing after crashing at Brands Hatch
He had a racing debut in the 500cc Formula 3 series in 1949. There are no racing records of Ecclestone's participations in the races, but it is widely known that he raced mostly at the Brands Hatch, scoring some good results. He also had a nasty accident at Brands Hatch in 1951, so he decided that motorsport is too dangerous and he quit racing. He focused on business, converting the Compton &ampEcclestone to one of the biggest motorbike suppliers but he also invested into real estates and loan financing.
Bernie's protege died after Moroccan GP explosion
Ecclestone returned to racing in 1957 as a manager of the racing driver Stuart Lewis-Evans. He purchased two chassis from the disbanded Connaught F1 team. During his first race of the 1957 Formula One season, Lewis-Evans's scored the fourth place at Monaco Grand Prix. Later in the season, he joined Vanwall, but Ecclestone remained his manager. Unfortunately, their relationship came to an end at 1958 Moroccan Grand Prix, the last round of the season, when the engine of Stuart's car exploded and he was badly burned. He died six days after the race.
Ecclestone tried to qualify for the 1958 Monaco Grand Prix
During 1958, even Ecclestone attempted to qualify for one Formula One race, at Monaco Grand Prix in May. At the British Grand Prix in July at Silverstone, he entered a pair of Connaughts for Ivor Bueb and Jack Fairman. Ecclestone was listed as a driver of Fairman's car, in a case he needed someone to take over, so, according to F1 historic books, he has two F1 participations.
He lost one more driver when Jochen Rindt was killed
Ecclestone was a good friend of Roy Salvadori, who was an active F1 driver until 1962 and later became the manager of Cooper team. This friendship helped Ecclestone to become a manager of Jochen Rindt and partial owner of Rindt's Formula 2 team in 1970. Unfortunately, the Ecclestone-Rindt relationship didn't last long, because Rindt lost his life in September 1970 at Monza.
1972 – Ecclestone bought Brabham from Tauranac
In that period of time, Ecclestone was already a businessman with a good reputation in the motorsport. In 1971, he was approached by Ron Tauranac, who founded a Brabham team together with Jack Brabham nine years before. In 1971, Tauranac was a sole owner and he proposed to Ecclestone a  £100,000 deal to buy the whole team. Ecclestone accepted and opened a new chapter in a history of Formula One.
Although Tauranac planned to stay in the team as a designer, he was forced to leave Brabham early in the 1972 season. After a poor season, with Graham Hill and Carlos Reuteman as team's drivers, Ecclestone promoted Gordon Murray to a chief designer for the 1973 season.
Reutemann, Pace and Lauda were winning for Bernie's team
The 26-year-old South African, who later became one of the world's greatest car designers, produced the Brabham BT42. The car became victorious in 1974 when Carlos Reutemann won three races. In 1975, Carlos Pace scored his only F1 victory in a career with Brabham BT44B. Reutemann was the winner one time and he finished third in the 1975 championship.
Ecclestone proved that even he can make wrong decisions, by switching from Cosworth V8 to Alfa Romeo flat-12 engines for 1976 season. Brabham was at the back of the field for two seasons. For 1978, F1 world champion Niki Lauda joined Brabham and returned the team to the top podium spot, winning two races.
Nelson Piquet brought two titles to Ecclestone
The Brabham-Alfa era finished in 1979. The team returned to Cosworth engines in the last two rounds of the 1979 season. It was the year when Nelson Piquet became Brabham's full-time driver, taking the main role in 1980. He scored three wins with BT50 and finished second in the points, behind Alan Jones. In 1981, the Brazilian took his first (out of three) championship titles. Two years later, Piquet added one more title on his account, but also on the account of his boss Bernie.
1974 – the foundation of Formula One Constructors Association
While having ups and downs as a team boss, Ecclestone was evolving as a businessman. In 1974, he formed the Formula One Constructors Association (FOCA), together with Frank Williams, Colin Chapman, Teddy Mayer, Ken Tyrrell and Max Mosley. In 1978, Ecclestone became the chief executive of FOCA, with Mosley as his legal advisor.
Ecclestone started the war against FISA
They started the so-called FISA-FOCA war, wishing that FISA (Federation Internationale du Sport Automobile) rearranges a distribution of money from the television rights. Ecclestone won the war. From 1981, FOCA had the right to negotiate. According to 1981 deal, a big part of the money (23 %) went to Formula One Promotions and Administrations, a company established by Ecclestone. This firm is a predecessor of a current Formula One Group.
Collecting F1 money since 1981
So, since 1981, Ecclestone became the number one personality in the Formula One business operations and the puppet master of the world's most popular motorsport series. He was leading Brabham team until 1987. Nelson Piquet left the team after the 1985 season, Gordon Murray moved to McLaren a year after, so at the end of the 1987 season, Ecclestone also ended his Brabham story. He sold the team to the Swiss businessman Joachim Luhti for circa $5 million, which is 40 times more than he spent when he was buying the team.
From 1988 onwards, when he was no longer the team owner, Ecclestone's involvement in Formula One became a pure business. In the next couple of decades, we witnessed numerous money and share transactions, selling and buying operations, controversial decisions and accusations… The battle for the television rights (which means money) never stopped. Different deals and agreements reshuffled the balance between FIA, teams, Ecclestone and his companies. Bernie has always been the one who at the end gets everything he wants.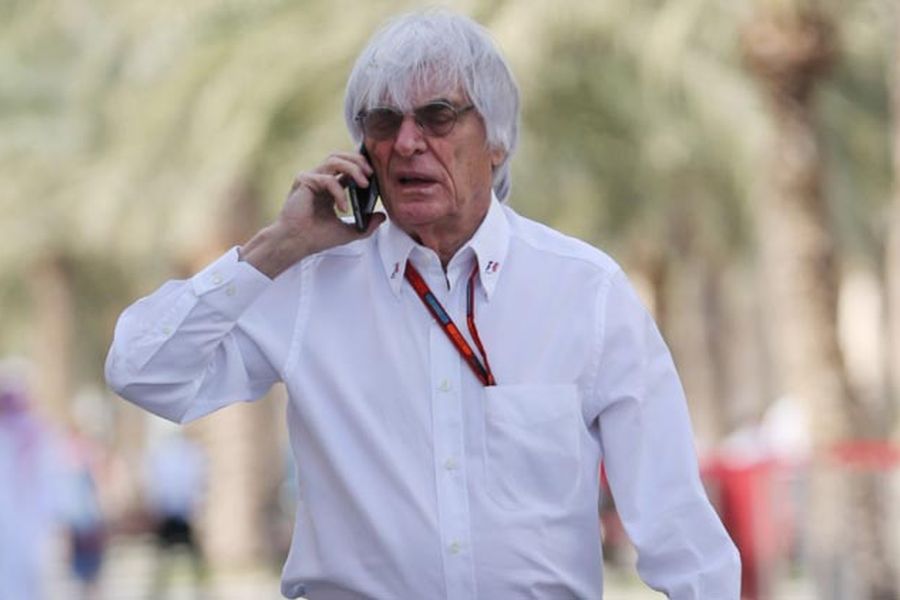 Photos: Getty Images, thisisf1.com, bangshift.com, 500race.org,