Career Summary:
Bill Elliott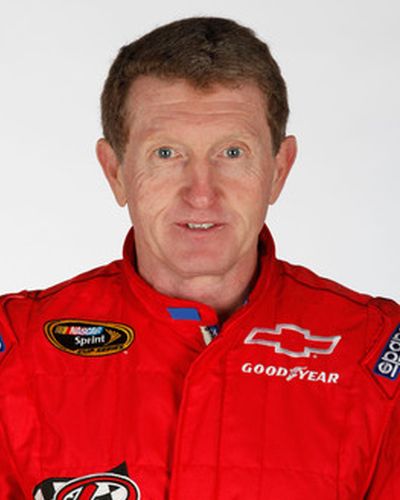 October 08, 1955

67

United States

Not Active

918

48

117

58

2

5.23%

12.75%
William Clyde Elliott, better known as Bill Elliott, is a former NASCAR Winston Cup champion and one of the most popular drivers in the history of NASCAR.
NASCAR debut in 1976
He was born on 8th of October, 1955 in Dawsonville in Georgia as the youngest of three brothers. His father created a Ford dealership, so it was logical for Bill to make a racing debut driving a car owned by his father. In 1976, Elliott drove his first Winston Cup race at Rockingham and took the 33rd place. Over the season he raced in another three races for Elliott Racing before moving to Champion Racing. With a new team, he did slightly better, scoring a 14th place at Nashville.
From 1977 to 1981 Bill Elliott competed without a proper financial backing and a corporate sponsorship, so he was able to enter only selected events. However, he was slowly established as an accomplished driver. In 1977, Elliott scored two top 10 finishes, in 1978, he had five top 10s while in 1979 Bill finished 2nd at Darlington and 28th overall.
Start with Melling Racing
His results and driving style weren't unnoticed so in 1980, for the first time, Elliott got his major sponsorship backing by Melling Racing for one race. The partnership has continued in 1981 when Melling Racing bought the Elliott Racing after they previously gave the sponsorship for 12 races. The progress was evident after Bill scored one top 5 and 6 top 10 finishes that year.
Elliott's real impact in NASCAR began in 1982, even though he missed nine races in his first year with Melling Racing. Bill had eight top 5 finishes that year and moved up to the 25th place in the final standings which was just a beginning of a glorious career.
First NASCAR Winston Cup victory in 1983
The season of 1983 was Bill's first full-time campaign. Driving a Ford #9 Elliott achieved his first victory in the Cup. It was in the last race of the season at Riverside International Raceway. Before that, he scored numerous top 5 finishes, including the 2nd place at Daytona 500, behind Cale Yarborough. But what was more important is the fact that Elliott finished 3rd overall, behind Bobby Allison and Darrell Waltrip.
Since then and until the early 1990s, Bill Elliott was among the best NASCAR Cup drivers. In 1984, after he earned lucrative sponsorship from Coors, he continued his stream of success. He had three victories, at Michigan, Charlotte, and Rockingham, 13 Top 15 and 24 Top 10 finishes and again finished 3rd in the very tight championship, behind Terry Labonte and Harry Gant.
First triumph at Daytona 500 race and 1987 Cup runner-up
In 1985, Elliott took the 2nd place in the final classification, 101 points behind the champion Darrell Waltrip. Bill scored no less than 11 victories that year, including first out of two triumphs at Daytona 500. He also had the same number of pole positions, 16 top 5 and 18 top 10 finishes. After his excellent performances, Elliott earned a few nicknames, like 'Awesome Bill from Dawsonville' and 'Million dollar Bill'.
Elliott was considered as the favorite in the battle for the title in 1986 but he finished 4th at the end of the year. He had two wins, both at Michigan, 8 top 5 and 16 top 10 finishes in the season in which Dale Earnhardt won his second crown.
The beginning of 1987 was perfect. Elliott for the second time triumphed in the season-opening Daytona 500, had a couple of strong finishes in the first half of the season, but in the second half of the season, his form drastically improved. Bill won the races at Talladega, Michigan, Charlotte, Rockingham, and Atlanta. Unfortunately, that wasn't enough for the Cup trophy. Bill finished the season as a vice-champion, losing to Dale Earnhardt by 489 points.
Bill Elliott finally wins the Cup in 1988
Despite missing the title, Elliott was very popular and he knew he had to be patient and wait for the good things to come. The big momentum finally arrived in 1988 when he became NASCAR Winston Cup Series champion. It was a tight battle between Elliott, Rusty Wallace, and Dale Earnhardt but Bill was lucky enough to grab a trophy despite the relatively slow start of the season.
He won the races at Bristol and Dover, later added triumphs at Daytona and Pocono to his account, before winning at Darlington and again at Dover. What probably was the most important in his quest was the fact that he managed to score four top 5 finishes in the last five races that year which was enough to secure the title with an advantage of only 24 points.
Departure from Melling Racing
Unfortunately, the beginning of 1989 wasn't so well. Elliott broke his wrist in the accident during testing at Daytona. That's why he missed a couple of races at the beginning of the season in which he took the 6th position after scoring three race wins, at Michigan, Pocono, and Phoenix. The following season, Bill moved up to the 4th place overall but won only one race, at Dover.
The season of 1991 was the last one in the seat of Melling Racing's Ford #9. He dropped down to the 11th position in the Cup, again with only one win in Pepsi 400 at Daytona. Bill also had six top 5 and 12 top 10 finishes but despite having a relatively poor campaign, one of the most popular drivers in the history of NASCAR still had a lot to give.
Close battle with Kulwicki in 1992
In 1992, Elliott signed with Junior Johnson and Associates, replacing Geoffrey Bodine in Ford #11 sponsored by Budweiser. The start with a new team was joyous. Bill won four races in a row (Rockingham, Richmond, Atlanta, Darlington) and also won the season-closing race at Atlanta and finished the season as a runner-up, losing to Alan Kulwicki by only 10 points.
The following two years with Junior Johnson weren't good. He scored only one win, at Darlington in 1994, and dropped in the standings to the 8th place in 1993 and to the 10th in 1994. He left the team and formed his own team for which he raced until 2000. His downfall has continued, despite some notable results.
Racing for his own team
Driving a #94 Ford, Elliott failed to win a single race for six years. In 1995, Bill finished 8th overall while in 1996 he dropped to the 30th place but he missed seven races that year after surviving a huge crash at Talladega. He recovered well for the 1997 campaign and scored 5 top 5 and 14 top 10 places before finishing 8th overall.
From 1998 to 2000 the results were far below the expectations. Elliott could barely score top 5 or top 10 finish, so it wasn't a surprise when he took the 18th place in 1998 and 21st in the next two seasons.
Elliott had the last try with Evernham Motorsports
It was obvious that Bill passed the peak of his career, but the retirement was never in his plans. He sold the team to Ray Evernham and continued to race in Dodge #9. In 2001, Elliot broke his winless streak winning the race at Homestead which was his first triumph after seven years. The same year he won the pole position for Daytona 500, the race in which Dale Earnhardt was killed in the crash. Elliott finished 15th in the points but showed he was still capable of achieving notable results.
That was proved in 2002 when Bill scored two consecutive wins, at Pocono and Indianapolis. He had a total of 6 top 5 and 13 top 10 finishes before he took 13th position in the final classification. In 2003, his last full-time season, Elliott scored his last victory, at Rockingham. He announced a retirement at the end of the year in which he has finished in 9th place.
Time to say goodbye
Many were thinking that Bill Elliott was still capable of achieving notable results but he knew it was time to leave, but not entirely. Over the years he continued to drive for the various teams, like Wood Brothers Racing, Phoenix Racing, Michael Waltrip Racing, etc. However, the results were poor and in 2012 Elliott definitely ended his racing career. During his career, he has also sporadically competed in other NASCAR top divisions in which he scored one win in 1993 Busch Series, in the race at Watkins Glen.
During his career Bill Elliott 16 times was the Most Popular Driver
During his career, Elliott raced in 828 Cup races and scored 44 wins, 320 top tens, and 55 pole positions. One of the biggest achievements in Bill's career is The Most Popular Driver award, which he received 16 times.
In 1998, he was named one of NASCAR's 50 Greatest Drivers. In 2007, Elliott was inducted into the Motorsports Hall of Fame of America and finally in 2015 Bill was inducted into the NASCAR Hall of Fame.
Bill Elliott has also been honored by the state legislature with a stretch of roadway in his native Dawsonville renamed Elliott Family Parkway while the Governor of Georgia declared 8th of October as Bill Elliott Day in the state.
Bill's son Chase Elliott was 2014 NASCAR Nationwide Series champion and he later moved to the NASCAR Sprint Cup driving for Hendrick Motorsports.