Career Summary:
Mauro Baldi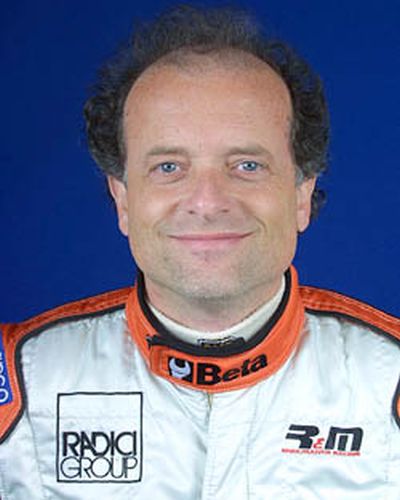 January 31, 1954

69

Italy

Not Active

259

Sauber Mercedes,Lancia,Peugeot,Arrows,Alfa Romeo,Spirit

48

107

37

30

18.53%

41.31%
Mauro Baldi is an Italian former racing driver who achieved an amazing success during the 1980s and 1990s, winning the Triple Crown of the endurance racing (1994 Le Mans 24h, 1998 Daytona 24h, 1998 Sebring 12h) and becoming the world champion in 1990.
Before he started driving prototypes, Baldi recorded 36 starts in Formula One between 1982 and 1985 with three different teams, but without notable results. Early in a career, Baldi was a successful Formula 3 racer who won the European Championship in 1981.
Rallying first, then touring cars and Formula 3
Mauro Baldi was born on January 31, 1954, in Reggio Emilia in northern Italy. After spending few years rallying, from 1972 to 1975, he switched to circuit racing and entered the Italian Renault 5 Cup. In 1977, he was the Cup winner and after that, he moved to Formula 3 in 1978.
Baldi was among F3 front-runners in 1979, he finished third in the Italian championship and fourth in the European championship. In 1980, he was again fourth-placed European F3 driver and then his greatest F3 success followed in 1981. Driving the March 813 (Alfa Romeo) for Euroracing team, Baldi became the European champion with eight wins in 14 races, beating Alain Ferte and Philippe Alliot.
Formula One debut at 1982 Brazilian Grand Prix
In 1982, Baldi progressed to Formula One, signing for the Arrows Racing Team to drive the #30 Arrows A4-Cosworth alongside Brian Henton in the #29 car. After three rounds, Henton was replaced by Marc Surer.
Baldi started his F1 career failing to qualify for the South African Grand Prix. In the next race, the Brazilian Grand Prix at Jacarepagua, he started 19th and finished 10th. Later in the season, Baldi had three more DNQs but also reached points in two races, finishing sixth both at Dutch Grand Prix and Austrian Grand Prix. With two points on his account, Baldi was classified 25th at the end of the season.
During 1982, Baldi also participated in several races with sports prototypes. He and Giampiero Moretti finished 7th overall and first in GTX class at FIA WEC race at Silverstone, driving the #78 Momo Porsche 935. They achieved similar success at 1000 km of Spa, finishing seventh overall and first in Group 5.
Fifth place as the best Formula 1 result
For the 1983 Formula One season, Baldi moved to Marlboro Team Alfa Romeo, where Andrea de Cesaris was his teammate. Driving the #23 Alfa Romeo 183T with a 1.5-litre V8 turbo engine, Baldi finished sixth at Monaco Grand Prix.
In August, at Dutch Grand Prix at Zandvoort, he scored his career-best F1 result, finishing fifth and taking two points. He collected three points in total and finished 16th in the 1983 F1 classification, eight places behind his younger and faster teammate De Cesaris, who scored two podiums during the year.
Two F1 seasons with Spirit team
Baldi lost his seat in the Alfa Romeo for the 1984 season, so he joined a small British team Spirit Racing, to drive #21 Hart-powered Spirit 101. In six races, Baldi's best result was the 8th place in South Africa and San Marino. He was then replaced by Huub Rothengatter. Later, he returned to the team, for the last two races of the season and he finished in 8th place at European Grand Prix at Nurburgring.
Baldi had three more starts with Spirit team in the 1985 Formula One season, in Brazil, Portugal and San Marino but he didn't finish any race. San Marino Grand Prix in May 1985 was his last F1 race, after that he focused on the sports car racing career, becoming one of the world's leading drivers in the next fifteen years.
Le Mans 24h debut with Lancia LC-2
In 1984, he joined Martini Racing to drive Lancia LC-2 in the World Endurance Championship and at Le Mans 24h. Baldi participated in five WEC races, sharing the #5 Lancia with Paolo Barilla. Their best result was the third place at Monza.
In his Le Mans debut, in June 1984, Baldi was sharing the #5 Lancia LC-2 with Paolo Barilla and Hans Heyer. They started the race from the second place on the grid and then they retired after 275 laps due to camshaft failure and overheating.
Maiden world championship win with Lancia
In 1985, Baldi continued to drive for Martini Racing in the World Championship, with Bob Wollek as his new full-time co-driver in the #5 Lancia LC-2. They scored only one win at Spa-Francorchamps, partnered by Riccardo Patrese.
At 1985 24 hours of Le Mans, Baldi's partner in the #5 car was Henri Pescarolo. After they made 358 laps around Circuit de la Sarthe, they finished in 7th place, one place behind the teammates in the #4 Lancia.
Switch to Porsche in 1986
Besides driving Lancia, Baldi had two guest appearances in the IMSA GTP Championship, together with Bob Wollek in the Bayside Disposal Racing's Porsche 962. They finished third at Pocono and second in Columbus.
In 1986, Baldi completely switched to Porsche, diving Liqui Moly-sponsored #14 Porsche 956 for Richard Lloyd Racing. In the World Sports-Prototype Championship, he scored one win, together with Bob Wollek at Brands Hatch. At 1986 Le Mans race, Baldi was sharing the #14 Porsche with Americans Rob Dyson and Price Cobb. They finished ninth overall.
Baldi spent one more season with Richard Lloyd Racing, again taking one victory in the 1987 World Championship. He and Jonathan Palmer won the race at Norisring, sharing the #15 Porsche 962C.
Double schedule in 1988
In 1988, Baldi had a double programme, competing with Busby Racing's Porsche 962C in North America and with Sauber Mercedes C9 in the World Sportscar Championship. In the first race of the season, at Daytona 24h, he finished in second place together with Bob Wollek and Brian Redman.
In the WSC, Baldi scored his first win with #61 Sauber C9 at Jerez, sharing the car with Jean-Louis Schlesser and Jochen Mass. Baldi won one more race, with Stefan Johansson at Spa-Francorchamps and finished third in the world championship classification. Sauber Mercedes skipped Le Mans race that year due to problems with Michelin tires.
First Le Mans podium with Sauber C9
In 1989 World Sportscar Championship season, Sauber Mercedes was a dominant team and C9 prototype was a victorious car in seven out of eight races. Baldi was the winner three times, together with Jean-Louis Schlesser at Suzuka and Nurburgring, with Kenny Acheson at Brands Hatch. In the final classification, he finished in third place, behind teammates Schlesser and Mass.
At 1989 Le Mans, the #63 Sauber C9 scored a victory, driven by Jochen Mass, Manuel Reuter and Stanley Dickens. Baldi was in the #61 car and he finished in second place, together with Kenny Acheson and Gianfranco Brancatelli.Their car marked the event with record speed during qualifying, reaching 400 km/h at the Mulsanne Straight.
Mauro Baldi was the 1990 World Sportscar Champion
In 1990, Mercedes concentrated on the championship, not participating at Le Mans race because it wasn't on the WSC calendar. After winning the opening round of the season at Suzuka with an older C9 car, Baldi was the winner five more times with Mercedes-Benz C11  and he became the world champion. He shared all six wins with Jean-Louis Schlesser and they took the championship title together.
During 1990, Baldi had a brief return to Formula One, serving as a test driver for Modena Lambo team. He retained that duty for one more season.
Baldi joined Peugeot in 1991
In 1991, Baldi opened a new chapter in his career, joining Peugeot Talbot Sport in the World Sportscar Championship. He had a victorious opening of the season, winning the race at Suzuka together with Philippe Alliot in the #5 Peugeot 905.
It remained his only win of the season and he finished third in the championship points. In his return to Le Mans, Baldi shared the car with Alliot and Jean-Pierre Jabouille. They retired after just 22 laps.
Two Le Mans podiums with Peugeot
Baldi spent one more full season with Peugeot, finishing again third in the 1992 World Sportscar Championship. His partner was Philippe Alliot and they won two races together, at Donington and Magny-Cours.
At 1992 Le Mans, the #1 Peugeot 905 Evo was a victorious car, driven by Derek Warwick, Yannick Dalmas and Mark Blundell. Baldi was in the #2 car, finishing third, together with Philippe Alliot and Jean-Pierre Jabouille. The same trio returned to Le Mans one more time, in 1993. The result was similar – Peugeot swept the podium, Baldi and his co-drivers finished in third place.
1994 Le Mans victory for Baldi, Dalmas, Haywood
1993 Le Mans participation was Baldi's only race in 1993. He returned to sports car racing in 1994, participating with Euro motorsport's Ferrari 333 SP in several races of the IMSA Championship. While in America, in August 1994, Baldi had a one-off appearance in the Indy Car World Series, driving for Payton/Coyne Racing at Mid-Ohio Sports Car Course.
On the other side of Atlantic, he appeared at Circuit de la Sarthe with Joest Racing/Le Mans Porsche Team. Together with Yannick Dalmas and Hurley Haywood, Baldi was driving the #36 Dauer 962 Le Mans, which was the modified version of Porsche 962. They sensationally won the race, beating Toyota 94C-V and another Dauer 962.
Racing with Ferrari in America
With Le Mans trophy in his hands, Baldi joined Scandia Racing for the 1995 IMSA season, to drive Ferrari 333 SP. In the season-opening Daytona 24h, he didn't reach the finish.In the next race, the 12 hours of Sebring, Baldi finished fourth, sharing the car with Michele Alboreto and Eric van de Poele. Later in the season, he was sharing the car with Fermin Velez. With one victory in eleven races, Baldi finished 3rd in the points.
In 1996, Baldi participated in two endurance races with Ferrari, scoring DNF at Daytona and finishing second at Sebring. His was standing at Sebring's podium alongside Michele Alboreto and Andy Evans.
Forgettable season with Konrad's Porsche
Another change followed in 1997 when Baldi joined Konrad Motorsport to drive Porsche 911 GT1 in the FIA GT Championship. In nine races, he scored no podiums or wins. At 1997 Le Mans, the #28 Porsche lasted for 138 laps until an accident. Baldi's co-drivers in that race were Franz Konrad and Robert Nearn.
Victories at Daytona and Sebring in the same year
After not so successful season with Konrad's Porsche, Baldi stepped into Ferrari 333 SP again in 1998, joining Doran/Moretti Racing. It turned out to be a really successful year, as he won both the 24 hours of Daytona and 12 hours of Sebring.
First, at Daytona International Speedway, the #30 Ferrari 333 SP won the race with team owner Giampiero Moretti, Didier Theys, Arie Luyendyk and Mauro Baldi at the wheel. Seven weeks later, the #30 triumphed at Sebring, driven by Moretti, Theys and Baldi. With that victory, Baldi joined the list of drivers who won the Triple Crown of endurance racing.
In June 1998, Baldi took one more class podium at Le Mans, after finishing 14th overall and 3rd in LMP1 class with Ferrari, together with Moretti and Theys.
Racing with Ferrari all over the world
In 1999, Baldi continued to race with Ferrari 333 SP in three different competitions: Grand-Am Rolex Series, American Le Mans Series and Sports Racing World Cup. He finished fifth in the Sports Racing World Cup, scoring one victory (Spa) with JB Giesse Team's Ferrari.
At 1999 Le Mans race, Baldi's partners in the #29 Ferrari were Jerome Policand and Christian Pescatori. They retired after 71 laps due to gearbox failure.
Last Le Mans participation with Panoz prototype
In 2000, while driving Doran's Ferrari in the American competitions, Baldi competed in the Sports Racing World Cup with Italian team R&M, using the Riley & Scott Mk III (Judd) prototype. With one victory, at Monza, he finished 13th in the points.
In June 2000, Baldi recorded his last participation at 24 hours of Le Mans. He was a member of Team Den Blå Avis from Denmark, together with John Nielsen and Klaus Graf. They were driving the #10 Panoz LMP1 Roadster, managing to run 205 laps around Circuit de la Sarthe, which wasn't enough to be classified in the final standings.
One more Daytona win at the end of a career
In 2001 and 2002, Baldi had a double programme, driving for Lista Doran Racing in the Grand-Am Rolex Series and for R&M team in the FIA Sportscar Championship. In 2001, his best results were two wins with Doran's Ferrari 333 SP at Watkins Glen and Road America. His co-drivers were Didier Theys and Fredy Lienhard.
And then, in February 2002, Baldi was Daytona 24h winner one more time. He was a member of Doran Lista Racing's crew in the #27 Dallara LMP-Judd, together with Didier Theys, Fredy Lienhard and Max Papis. Later in the season, Baldi scored two more wins and finished 7th in the 2002 Rolex Series classification.
It was practically the end of his career, as he participated only in three races in 2003, including Daytona 24 hours, where he finished 11th with Ferri Competizione's Ferrari 360 Modena. His last official race was the ALMS race at Mosport with Ferrari 360 Modena. Baldi's very last race was the non-championship event 6 hours of Vallelunga in November 2003, where he was driving Ferrari F40.
Photos: f1fanatic.co.uk, mercedes-seite.de, gettyimages.com, sportscardigest.com,