Career Summary:
Al Holbert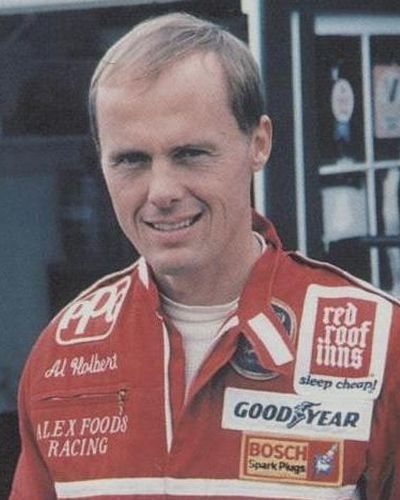 November 11, 1946

September 30, 1988

United States

Not Active

245

63

116

21

25

25.71%

47.35%
Al Holbert was an American racing driver and team owner, mostly known for driving Porsche prototypes and GT cars. He was five-time IMSA champion (1976, 1977, 1983, 1985 and 1986) and three-time 24h Le Mans overall winner (1983, 1986 and 1987).
In the American endurance classics, he won Daytona 24h two times and Sebring 12h two times. Holbert was killed in an aircraft accident in September 1988, at the age 41, when he was a head of Porsche North America's motorsport division and he led his own racing team Holbert Racing.
A young Al followed racing footsteps of his father Bob
Alvah Robert Holbert was born on November 11, 1946, in Abington, Pennsylvania. His father Bob Holbert was a racing driver and an owner of the Volkswagen/Porsche dealership, so for young Al, it was so natural to be interested in cars, especially the race cars. While studying at Lehigh University, Al was working for Roger Penske. Holbert started racing in 1971, driving the Porsche 914/6 in the SCCA Championship.
In March 1972, he debuted at American endurance classic, the Sebring 12-hour race, driving the #69 Porsche 911 T alongside Dieter Oest and Mike Tillson. They finished 16th overall and 7th in GT2.5 class. During 1972, Holbert continued to drive Porsche 914/6 in SCCA races.
In February 1973, Holbert, Oest and Tillman came together to another endurance classic, the Daytona 24-hour race. Their #89 Porsche 911 S didn't reach the finish line. During 1973, Holbert's main competition was the SCCA Trans-Am Championship and he was driving the #14 Porsche 911 Carrera RSR. Since then, the number 14 became the recognizable Holbert's mark.
1974 - scoring first IMSA and SCCA wins
The first successful season followed in 1974 when Holbert scored few wins in the IMSA and SCCA Trans-Am races (Road Atlanta, Lime Rock, Mid-Ohio). In 1975, he started the season participating both at Daytona and Sebring, together with Elliott Forbes-Robinson in the #14 Porsche 911 Carrera RSR. Later during the year, Holbert competed in the IMSA Camel GT Challenge, winning six races in GTO class.
1976 - IMSA champion with Chevrolet and Sebring winner with Porsche
In 1976, Holbert was even more successful, winning six championship rounds and becoming the IMSA Camel GT Challenge champion. His victorious cars for most of the season was the #14 Chevrolet Monza. At Daytona and Sebring he was driving his old Porsche 911 Carrera RSR. At Daytona 24h, Holbert finished second, sharing the car with Claude Ballot-Lena. At Sebring 12h, Holbert scored his first victory, sharing the car with Michael Keyser.
In October 1976, Holbert debuted in NASCAR, participating in National 500 race at Charlotte Motor Speedway. He was in the race for just nine laps, retiring due to engine failure on his #9 Ford, which he was driving for George Elliott.
1977 - one more IMSA title and Le Mans debut
In 1977, Al continued to drive #14 Chevrolet Monza, defending his championship title. For his second title, four wins were enough. He won at Road Atlanta, Mid-America, Lime Rock and Pocono. As the IMSA champion, Holbert participated for the first time in the Race of Champions, finishing seventh of twelve drivers.
In June 1977, Holbert participated for the first time at 24 hours of Le Mans. He partnered Jean-Pierre Beltoise in the #1 Inaltera-Ford prototype. They finished 13th overall and fifth in S+2.0 class. It was the first of his seven participations at Le Mans and the only one when he wasn't driving Porsche.
1978 - third place in a debut Can-Am season
After starting the 1978 season with two DNFs at Daytona and Sebring, driving the Porsche 934 for Belcher Racing, Holbert changed the racing discipline, entering the full season of the SCCA Can-Am Challenge with Hogan Racing.
He was driving Chevrolet-powered Lola T332 and Lola T333CS, finishing third in the points, behind Alan Jones and Warwick Brown. Holbert has won one race, at Laguna Seca.
Eighteen NASCAR races in two seasons
During 1978, he expanded his NASCAR experience to twelve races, driving the #48 Chevrolet for James Hylton.  His best result was seventh place at Darlington. In 1979, Holbert returned to NASCAR Winston Cup for six more races, driving his own #7 Chevrolet. His best result was 8th place in Charlotte.
Besides NASCAR, Holbert participated in eight races of the Can-Am Challenge, driving the Hogan HR001-Chevrolet. Without wins, he was seventh in the points.
1980 - Can-Am Challenge runner-up
In 1980, Holbert entered SCCA Can-Am Challenge with his own team, running the Chevrolet-powered CAC-1 prototype. He won two races (Road America, Riverside) and finished as the championship runner-up, behind Patrick Tambay.
Parallel to his Can-Am season, Holbert increased his racing programme with Porsches, participating in all famous endurance races. At 1980 Daytona, Holbert and John Paul finished second, driving the Porsche 935 for Preston Henn's Swap Shop. At Sebring, Henn was driving along Holbert and Paul, they finished fourth. At Le Mans, Holbert partnered Derek Bell in factory-entered #3 Porsche 924 Carrera GT. They finished 13th overall and 6th in GTP class.
1981 - one more Sebring 12h victory
In the 1981 SCCA Can-Am season, Holbert again finished on the podium. He was third in the points, behind Geoff Brabham and Teo Fabi. Holbert was driving CAC-2 prototype, winning three races (Watkins Glen, Trois Rivieres, Riverside).
In the sports car races, driving the Porsche 935, the highlight of the season was Sebring's victory together with Hurley Haywood and Bruce Leven.
1982 - maiden Le Mans podium with factory's Porsche 936
The same trio (Holbert/Haywood/Leven) participated at Daytona and Sebring in 1982, again with Bayside Disposal Racing's Porsche 935. At Daytona, they finished 13th. At Sebring, they were fifth. In June 1982, Holbert returned to Le Mans to drive for Porsche factory team again. Teaming with Hurley Haywood and Jurgen Barth in the #3 Porsche 936, Haywood reached his first Le Mans podium, finishing third overall.
While driving Porsches in endurance races, Holbert continued to compete in the Can-Am series. In 1982 season, he was again among front-runners, winning four races with VDS001 (Chevrolet) and finishing second in the points, behind Al Unser Jr.
1983 - IMSA GTP champion and Le Mans winner
In 1983, Holbert switched his focus on IMSA GTP Championship, driving Porsche 935 or March prototypes. After retiring at Daytona, he won the Grand Prix of Miami. It was the first of his seven wins which brought him his third championship title.
Holbert was also invited to drive for Rothmans Porsche team in one race of the World Endurance Championship, at Monza. He and Derek Bell finished seventh. At 1983 24 hours of Le Mans, Holbert, Hurley Haywood and Vern Schuppan became winners in the #3 Rothmans Porsche 956 after a dramatic finish. Holbert had some problems with a car on the last lap, so he crossed the finish line with a smoking car, 17 seconds before fast closing Derek Bell.
1984 - Indy Car season and fourth place at Indianapolis 500
With IMSA championship title and Le Mans trophy in his hands, Holbert entered Indy Car World Series in 1984, driving for Alex Morales Racing. He participated in fourteen races, scoring no wins and podiums, to finish 18th in the points. He finished in the sensational 4th place at Indianapolis 500.
In the same time, he continued to drive Porsches (935, 935 K4, 962) in the IMSA GTP Championship for three different teams, including his own team. In fourteen races, he won four times and finished 4th in the points.
1985 - IMSA GTP Championship title with #14 Porsche 962
And then the 1985 IMSA GTP season came, in which Holbert was a dominant driver in his own #14 Porsche 962, winning nine (of 17) races and taking his fourth IMSA title in a career. Daytona 24h and Sebring 12h were not on his list of wins, he finished second in both races. For most of the season, Holbert's partner was Derek Bell, but not in all races, so Holbert was the sole championship winner while Bell finished in the second place.
After missing Le Mans in 1984, Holbert was back in 1985, driving the #3 Rothmans Porsche 962C alongside Vern Schuppan and John Watson. They ran well but retired after 299 laps.
1986 - IMSA title, Daytona and Le Mans wins, all in one season
One more sensational season followed in 1986, with Holbert defending the IMSA GTP title but also winning the Daytona 24h and Le Mans 24h. Holbert Racing's #14 Porsche 962 was victorious in six (of 14) races, Holbert took the title ahead of Price Cobb and Derek Bell.
Derek Bell was Holbert's teammate in victory at Daytona, but also in the #1 Rothmans Porsche 962C at Le Mans. The third driver in the #1 car was Hans-Joachim Stuck.
1987 - Holbert was a winner at Daytona and Le Mans
The 1987 season started with a second consecutive victory at Daytona. Four drivers who shared the #14 Holbert Racing Porsche 962 were Al Holbert, Derek Bell, Al Unser Jr and Chip Robinson. A few weeks later, at Sebring, Robinson and Holbert finished second.
One more fantastic victory followed at Circuit de la Sarthe in June. The victorious car was the #17 Porsche 962C, the crew was the same as the year before - Holbert, Bell and Stuck. After winning Daytona and Le Mans, Holbert failed to repeat a success from 1986 because he didn't win the championship. He was fourth in the points. The champion was his teammate Chip Robinson.
Holbert's last race was the IROC event at Watkins Glen
In 1988, Holbert slowed down his racing activities, focusing on leading the team. He participated only at Daytona 24h and Sebring 12h. In his last race with the famous #14 Porsche, he started from pole at Sebring International Raceway but retired due to engine failure.
In 1988, Holbert was also invited to participate in the International Race of Champions. His last race was the IROC event at Watkins Glen on August 13.
After Al's death, Holbert Racing left the championship, IMSA retired number 14
A month and a half after that, on September 30, Holbert lost his life after he crashed  with his private Piper PA-60 aircraft, shortly after a takeoff near Columbus. Prior to that, he attended an IMSA race at Columbus. His team was running the #14 until the end of the season, leaving the championship after that. To honor Holbert's achievements, IMSA retired his race number 14.
In 1993, Al Holbert was inducted into the International Motorsports Hall of Fame.
Photos: Getty Images, turnology.com, hemmings.com, comicozzie.com,