Career Summary:
Allan Grice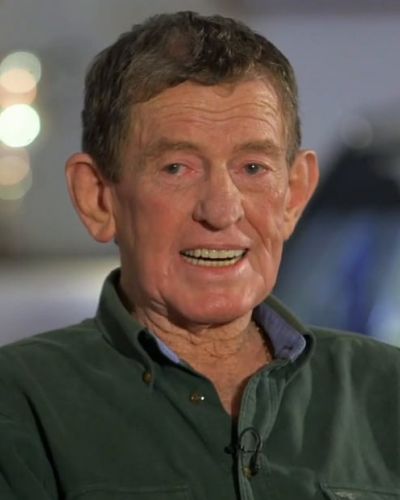 October 21, 1942

80

Australia

Not Active

323

49

104

19

33

15.17%

32.20%
Allan Grice, nicknamed Gricey, is a former Australian racing driver who was active for almost forty years in different Australian and international racing competitions. He started a racing career in 1966 and ended it in 2005, at the age 63. Grice recorded 26 starts in the most famous Australian race Bathurst 1000, finishing on a podium seven times, including two victories in 1986 and 1990. He also won the inaugural Bathurst 12 Hour race in 1991.
He never won the Australian Touring Car Championship, finishing best in the third place in 1975, but captured few other championship titles, such were Australian Sports Sedan Championship, Australian GT Championship, AMSCAR Series or South Pacific Touring Car Championship.
Racing debut in 1966, first Bathurst attempt in 1968
Born in October 1942 in Maitland, New South Wales, Allan Maxwell Grice started his racing career in 1966, in the Australian Drivers' Championship, what was the main national single-seater competition in that time.
Two years later, he made a debut at Hardie-Ferodo 500 race at Mount Panorama Circuit in Bathurst, driving a Fiat 124 Sport for Scuderia Veloce together with journalist Bill Tuckey. In 1968, the cars were classified by the purchase price and their Fiat was in Class D, together with fastest cars Holden Monaro GTS327 and Ford Falcon. They finished 18th overall and ninth in the class.
Maiden Bathurst podium in 1978
Four years later, in 1972, while he was active in the Australian Formula 2 and Australian Drivers' Championship, Grice returned to Bathurst with Holden LJ Torana GTR XU-1 but failed to start. A year later, he started a race with the same car, sharing it with Keith Murray, but they retired after 42 laps. It was the first race which lasted 1000 kilometers, instead of previous 500 miles.
Grice was regularly returning to Bathurst in the following years, using different versions of Holden Torana. His co-drivers were Graham Moore, Jim Hunter or Frank Gardner. And then, in 1978, while sharing a car with John Leffler, Grice scored his maiden Bathurst podium. They finished second, behind Holden factory drivers Peter Brock and Jim Richards.
Two Sports Sedan Championship titles in a row
In 1978, Grice also won the Australian Sports Sedan Championship title, driving a Chevrolet Corvair for Frank Gardner and Craven Mild Racing. He won four of eight races, beating Jim Richards in a fight for a title.
Next year, Grice defended a title, again in a Chevrolet Corvair. This time, three race wins were enough for the first place in the championship. In 1980, Grice was second in the points, losing a title to Tony Edmondson.
Third place in the controversial 1975 Australian Touring Car Championship
During the 1970s, Grice contested in the Australian Touring Car Championship and recorded his best result. In 1975, he finished third in the championship in a Holden Torana of Craven Mild Racing. The 1975 championship was one of the most controversial in the ATCC history.
Grice was a championship leader when he was disqualified from the fifth round at Surfers Paradise for a technical infringement. He continued racing under appeal until the end of the season, but the penalty was upheld and he lost all points from the final three rounds, finishing third in the standings behind Colin Bond and Murray Carter.
Grice was driving Craven Mild Racing Holden for five more seasons in the ATCC, until 1980, always finishing a championship among top 10 drivers but he was never so close to the title as in 1975.
A season with JPS Team BMW
In 1981, Grice joined JPS Team BMW to drive BMW cars in different competitions. He was driving mostly a BMW 635 CSi, finishing second in the Better Brakes 3.5 Litre Series and scoring few good results in other races,  including second place in the ATCC race at Sandown. In Bathurst 1000, he and David Hobbs finished in the seventh place.
In the Australian Sports Sedan Championship, Grice was driving a BMW 318i turbo, scoring three wins and finishing fifth in the final points.
Two more Bathurst podiums in 1982 and 1983
In 1982, Grice returned to a cockpit of Holden, winning the Better Brakes Touring Car Series in a Re-Car Racing's Holden VH Commodore SS. In the ATCC, he was fifth in the points with one victory and one podium. He reached his second Bathurst podium in October 1982, finishing second in the #4 Holden Commodore together with Alan Browne. Grice started from pole, what remained his only pole position at Bathurst.
In 1983, Grice was on a podium again, finishing third in the #6 STP Roadways Racing Holden Commodore. His co-driver was Colin Bond.
Australian GT Champion in 1984
While driving Roadways Racing's Holdens in the ATCC, Grice also participated in the Australian GT Championship in a Re-Car Racing's Chevrolet Monza, winning the championship title in 1984. He was a winner in nine of ten races.
In June 1984, Grice made a debut at Le Mans 24 Hours, joining Charles Ivey Racing in the #21 Porsche 956. His co-drivers were Chris Craft and Alain de Cadenet. They retired after 274 laps.
Maiden Bathurst 1000 victory in 1986
After two Bathurst podiums in 1982 and 1983 with Roadways Racing's Holdens, Grice recorded two DNFs in 1984 and 1985. And then, in 1986, in his 16th attempt at Mount Panorama, he finally reached top podium spot. Grice won a race together with Graeme Bailey in the #2 Holden VK Commodore.
In the same season, Grice and Bailey participated with Holden in the European Touring Car Championship, representing the Australian National Motor Racing Team. The results were disappointing, as they scored points just once in nine races. On the other side, Grice has won the South Pacific Touring Car Championship, combining  Holden Commodore and Nissan Skyline.
Three NASCAR starts between 1987 and 1989
In 1987, Grice's main competition was the Australian Touring Car Championship with Roadways Racing. He finished 8th in a Holden Commodore. At Bathurst, he and Win Percy didn't finish the race. Grice also took part in the World Touring Car Championship, participating in three races with Holden and joining Team Schnitzer at Spa 24 Hours in a BMW M3.
Besides touring car racing, Grice made a debut in NASCAR, driving the #03 Oldsmobile for John Sheppard in the Coca-Cola 600 race at Charlotte Motor Speedway. He retired after 161  laps. Grice made one more appearance on the same race track two years later, driving his own #47 Pontiac. In 1988, he participated at Goodyear 500 at Calder Park Thunderdome, the first ever NASCAR race outside North America.
1988 – ETCC season and Le Mans attempt with Nissan
In 1988, Grice was driving Nissan Skyline HR31 GTS-R for Nissan Europe in the European Touring Car Championship. He participated in seven races, finishing best in the sixth place at Spa 24 Hours, where he was sharing a car with Win Percy and Anders Olofsson. Grice also had a one-off appearance with Nissan in the British Touring Car Championship, finishing fourth at Donington Park.
Besides touring cars, he was driving Nissan prototypes in two races. First, he joined Aguri Suzuki and Masahiro Hasemi in the Fuji 1000 km race, a part of the Japanese Sports Prototype Championship. They were 8th in a Nissan R88C. And then, in June, Grice participated with the same car at 24 hours of Le Mans, sharing a car with Win Percy and Mike Wilds. They finished in 14th place.
Bathurst 1000 win in 1990, Bathurst 12 Hour win in 1991
In the early 1990s, Grice slowed down his racing activities but he was still successful in endurance races. In September 1990, he participated at Bathurst 1000 for the first time as a member of Holden Racing Team, driving the #16 Holden VL Commodore. He and Win Percy won the race, achieving Percy's maiden win at Bathurst 1000.
In March 1991, Grice participated in the inaugural Bathurst 12 Hour race, driving the #2 Toyota Supra Turbo for Fitzgerald Racing. He, Peter Fitzgerald and Nigel Arkell won the race. With that victory, Grice became the first driver to win both the 1000km and 12-hour race.
Racing at Mount Panorama until 2002
Grice participated two more times at Bathurst 12 Hours, in 1992 and 1993, without notable results. In 2002, he was driving Porsche 996 GT3 RS for Cirtek Motorsport in the first ever Bathurst 24-hour race, not finishing the race.
In the Bathurst 1000, Grice appeared seven more times after his second win in 1990. He and Win Percy were driving for Holden Racing Team two more times, finishing second in 1991 and fifth in 1992. Grice scored his last podium in 1995, finishing second in the Peter Jackson Racing's Ford Falcon with F1 champion Alan Jones. Grice recorded last Bathurst 1000 appearance in 2002, at the age 60, with Nilsson Motorsport's Ford Falcon.
Racing retirement at the age 63
Between 2002 and 2005, Grice competed in the V8 Ute Racing Series, driving a Ford AU Falcon Ute XR8 in all four seasons. He was most successful in 2002, scoring one victory and finishing sixth in the points. Grice was active in racing until the end of the 2005 season, retiring from racing after four decades of fantastic achievements all around a world.
Allan Grice is still a regular guest in historic racing events and he also supports a career of his son Benjamin Grice (born 1990).
Photos: wikipedia.org, motorsportretro.com,